Condron Family Ballpark Seating Charts
Condron Family Ballpark - Baseball Seating Map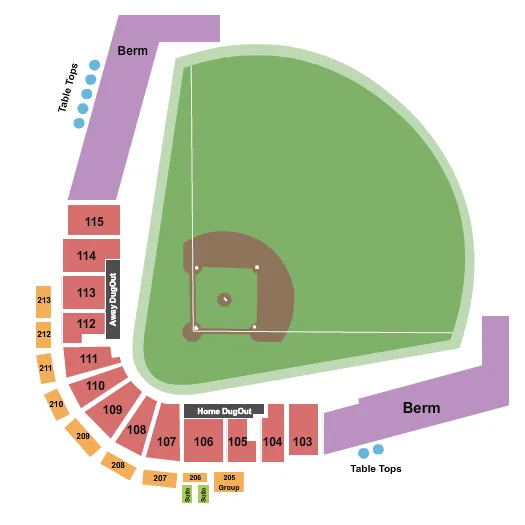 See Condron Family Ballpark - Baseball events that use this seating chart configuration
Learn more about Condron Family Ballpark
The Florida Ballpark in Gainesville, Florida, is the perfect place to watch college baseball. Although construction on Alfred A. McKethan Stadium began in the 1880s, the stadium has undergone extensive improvements and now has a capacity of 7,000 spectators. It has cutting-edge technology for college sports broadcasting media outlets like The SEC Network. Gainesville has a lot to offer in the way of attractions and activities. Explore the great outdoors by kayaking on Orange Lake, a scenic walk around San Felasco Park, or bird watching at Payne's Prairie State Park. Find yourself lost in one of the city's tree-lined neighborhoods with gorgeous old homes. Many cultures and restaurants range from classic Southern food to cutting-edge international fare. Don't forget the exciting nightlife – dance clubs, live music venues, and comedy clubs. If you're ever in Gainesville, check out the Florida Ballpark. With comfortable chairback seats, 700 club seats, and berm seating down the lines and into the outfield, you undoubtedly have a memorable experience.
Florida Ballpark Reviews, Interactive Seating Charts and Seat Views
Finding Florida Ballpark seating charts with seat views or 3D views from your seat has proven to be a difficult task - until now. Event Tickets Center provides fans with unbiased Florida Ballpark reviews on our
venue guides
, including information on Florida Ballpark seat numbers, row numbers, and tips on how to find great seats!
Are VIP Packages or Accessible Seating offered at Florida Ballpark?
Florida Ballpark VIP seating packages and accessible seating section locations may vary per event. Please click the seating chart below or contact our customer service department to discuss options for accessible seating or VIP package purchases.
Event Dates and Pricing Information
| Performer | Date | Price | Tickets Available |
| --- | --- | --- | --- |
| Florida Gators Baseball | Feb 16, 2024 | From $37 | 25 |
| Florida Gators Baseball | Feb 17, 2024 | From $43 | 25 |
| Florida Gators Baseball | Feb 18, 2024 | From $37 | 25 |
| Florida Gators Baseball | Feb 21, 2024 | From $19 | 25 |
| Florida Gators Baseball | Feb 23, 2024 | From $19 | 23 |
| Florida Gators Baseball | Feb 24, 2024 | From $19 | 25 |
| Florida Gators Baseball | Feb 25, 2024 | From $19 | 25 |
| Florida Gators Baseball | Feb 28, 2024 | From $19 | 25 |
| Florida Gators Baseball | Mar 5, 2024 | From $19 | 25 |
| Florida Gators Baseball | Mar 6, 2024 | From $31 | 25 |