FirstEnergy Stadium - Cleveland, OH
The home of the
Cleveland Browns
, FirstEnergy Stadium is a multi-purpose facility primarily used for football games. Once known as the Cleveland Browns Stadium, FirstEnergy Stadium opened in 1999 with the Browns playing against their division rivals, the
Pittsburgh Steelers
. Since then, FirstEnergy Stadium has been the venue of a number of events including Cleveland Browns home games, numerous high school and college football games, United States men's (USMNT) and women's national soccer (USWNT) team matches, and live music concerts.
The 1.64 million-square-foot lakefront facility can accommodate 67,895 fans. It underwent a series of renovations from 2013 to 2015, resulting in an impressive modernization of the stadium. Renovations included the installation of new video boards, a new sound system, increased lower bowl seating, revamping of the concessions areas, adding new graphics honoring Browns history and current players, upgrades of clubs and suite spaces, and increased connectivity with stadium-wide Wi-Fi. Today, FirstEnergy Stadium Cleveland features 143 suites, two clubs with a seating capacity of 8,801, five premium clubs with a seating capacity of 1,100, 42 concession stands and several pro shops. Parking within the vicinity is limited, and guests are encouraged to take the RTA bus, cab or Uber to the venue. There are also a number of hotels within a half-mile radius to the stadium.
FirstEnergy Stadium is about five minutes from the heart of Cleveland, known for a number of attractions that can be visited before or after a game. Its top sights include the Rock 'n' Roll Hall of Fame, which boasts the largest collection of rock artifacts in the world; the West Side Market, which was named America's "Best Food Lover's Market" by the Food Network Magazine; and the Crawford Auto-Aviation Museum, which boasts an eclectic collection of classic vehicles. Families should be sure to check out the 183-acre Cleveland Metroparks Zoo, which houses about 3,000 animals representing over 600 species. The Cleveland Art Museum features a collection of more than 45,000 art works from around the world. Use Event Tickets Center to get FirstEnergy Stadium tickets, or check out FirstEnergy Stadium seating charts to find your seats to FirstEnergy Stadium events!
View FirstEnergy Stadium seating charts for live games! If you're planning to visit FirstEnergy Stadium in Cleveland, you'll want to make sure you have great seats. Get acquainted with FirstEnergy Stadium by using our seating chart below. This seating map features a complete layout of FirstEnergy Stadium seats and the locations of different ticket tiers. Simply click on a section to browse tickets and you'll be on your way to an unforgettable event experience!
FirstEnergy Stadium - Cleveland - Football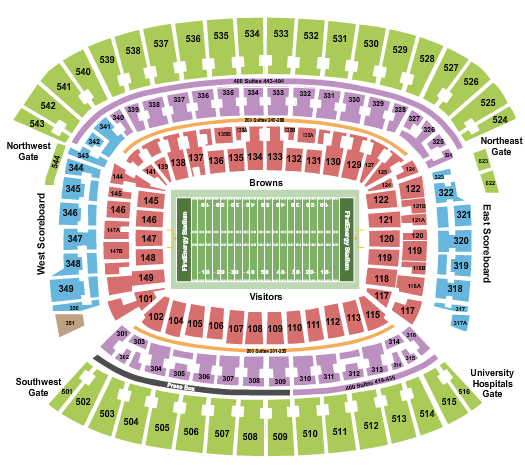 See FirstEnergy Stadium - Cleveland - Football events that use this seating chart configuration
FirstEnergy Stadium - Cleveland - Generic Floor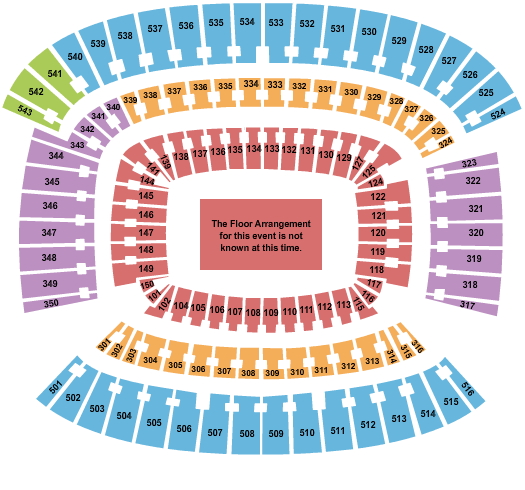 See FirstEnergy Stadium - Cleveland - Generic Floor events that use this seating chart configuration
Frequently Asked Questions
Q: What time do doors open at FirstEnergy Stadium?
A: Doors typically open anywhere between 90 minutes to 2 hours prior to showtime at FirstEnergy Stadium. Be sure to check the listing on your ticket as showtimes will vary.
Q: Who plays at FirstEnergy Stadium?
A: The Cleveland Browns are the home team at the FirstEnergy Stadium.
Q: FirstEnergy Stadium Seat Numbers, Sections and Seating Chart
A: When looking at seating charts for sports events, seats are arranged so that the lower numbered seats within a section are located closer to the preceding section. For example; if a venue shows three sections (A, B, and C), seat #1 in section B will be located next to section A. As the seat numbers progress within section B, they move closer to section C. FirstEnergy Stadium, a venue designed to host sports games, may be set up in a similar fashion. While concerts and other events held at FirstEnergy Stadium may not follow this layout, most sports events happening at FirstEnergy Stadium will follow this configuration. Concert seating is typically laid out so that the higher the seat number, the further you are from the stage/performance area. If you're seeing a concert at FirstEnergy Stadium, it's likely that the seats closest to the stage will have low seat numbers and low section numbers.
Q: FirstEnergy Stadium Reviews, Interactive Seating Charts and Seat Views
A: Finding FirstEnergy Stadium seating charts with seat views or 3D views from your seat has proven to be a difficult task – until now. Event Tickets Center provides fans with unbiased FirstEnergy Stadium reviews on our venue guides, including information on FirstEnergy Stadium seat numbers, row numbers, and tips on how to find great seats!
Q: Are VIP Packages or Accessible Seating offered at FirstEnergy Stadium?
A: FirstEnergy Stadium VIP seating packages and accessible seating section locations may vary per event. Please click the seating chart below or contact our customer service department to discuss options for accessible seating or VIP package purchases.
Q: Where is the Cleveland Browns Sideline at FirstEnergy Stadium?
A: The Cleveland Browns home bench is located in front of Section 132, Section 133, Section 134, and Section 135 and the away team bench is in front of Section 107, Section 108, Section 109, and Section 110.
Q: How many seats are in a row at FirstEnergy Stadium?
A: The number of seats in a row at FirstEnergy Stadium varies from section to section and row to row and can be numbered from 1 to 32 seats.
Q: What are Dawg Pound seats?
A: Dawg Pound seats are seats for die hard fans behind the east end zone.