Alabama Shakespeare Festival Stage Tickets and Seating Charts - Montgomery, AL
Festival Stage - Alabama Shakespeare Festival Seating Charts
Festival Stage - Alabama Shakespeare Festival - End Stage Seating Map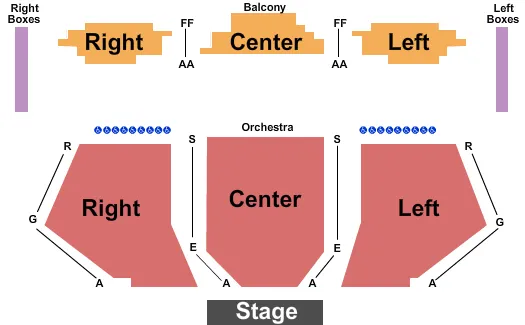 See Festival Stage - Alabama Shakespeare Festival - End Stage events that use this seating chart configuration
Festival Stage - Alabama Shakespeare Festival - Octagon Seating Map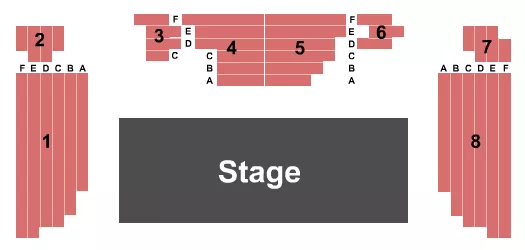 See Festival Stage - Alabama Shakespeare Festival - Octagon events that use this seating chart configuration
Learn more about Festival Stage - Alabama Shakespeare Festival
The Alabama Shakespeare Festival Stage is a world-renowned event venue in Montgomery, AL. It's one of the ten largest Shakespeare festivals in the world and offers an incredible selection of performances every year. Whether you're a theater lover or just looking for something interesting to do on your next night out, the ASF should be at the top of your list. Prepare to be entertained and amazed by some truly remarkable performances.

The ASF has had a long and distinguished history. In 1972 with its first production of "Richard III", the venue has been bringing classic works (as well as new plays) to the area. Over time, it has grown to become one of the largest–and top-tier–regional theaters in America. With its over 3300 seating capacity, Alabamians rely on the ASF for stunning productions that entertain and educate audiences each year. It is dedicated to providing educational outreach activities and diverse programming that celebrates cultures from around the globe, making it a valuable part of Montgomery's vibrant community.

The city of Montgomery is brimming with natural beauty and historic landmarks. At the crossroads of the Deep South, it offers travelers a unique set of experiences. Not only is it home to some top-notch museums dedicated to Alabama history, but visitors can also take in the lush greenery and outdoor activities like hiking and camping. It also features breathtaking botanical gardens where you can explore art exhibits, nature trails, and live events all year round, as well as locally owned boutiques where you can get your hands on some truly unique local goods. There's plenty of delicious food to enjoy too–from renowned chefs in downtown restaurants featuring cuisine from around the world.

A visit to the ASF is a true treat for anyone who enjoys a good stage production or music performance - or anyone who simply loves the atmosphere of live theater. You won't find better offerings than at the ASF in Montgomery, Alabama!
Event Dates and Pricing Information
| Performer | Date | Price | Tickets Available |
| --- | --- | --- | --- |
| A Christmas Carol | Dec 14, 2023 | From $107 | 38 |
| A Christmas Carol | Dec 15, 2023 | From $106 | 24 |
| A Christmas Carol | Dec 16, 2023 | From $109 | 4 |
| A Christmas Carol | Dec 16, 2023 | From $107 | 14 |
| A Christmas Carol | Dec 17, 2023 | From $107 | 12 |
| A Christmas Carol | Dec 20, 2023 | From $105 | 22 |
| A Christmas Carol | Dec 21, 2023 | From $106 | 22 |
| A Christmas Carol | Dec 22, 2023 | From $105 | 24 |
| A Christmas Carol | Dec 22, 2023 | From $105 | 32 |
| A Christmas Carol | Dec 23, 2023 | From $106 | 22 |