FedExField Tickets and Seating Charts - Landover, MD
Washington Commanders fans aren't the only ones who will claim that home games at FedExField Landover are some of the most popular of the football season—there are numbers to back it up.
Besides serving as the home of the NFL's
Washington Commanders
, the stadium also hosts international soccer games and concerts, including performances by the Rolling Stones, Coldplay and U2.
Fans enjoy a variety of concession stands scattered throughout the stadium, including chicken and waffles, craft beer and a variety of natural sausages. The 21-and-older crowd can find a healthy cheering section in several party zones, such as the Tailgate Club and the Touchdown Club. Parking is available in 24 different onsite lots; visitors can either purchase a permit in advance or pay in cash at the lot entrance. FedExField is also accessible through the Metrorail system—take the blue line and hop off at the Morgan Boulevard Station.
Tailgating is allowed and encouraged throughout the various lots. The venue asks fans to keep the environment safe and inclusive. Visitors must pass a security checkpoint before entering. Fans can bring in necessary items in small, transparent bags. Prohibited items include outside food and drink, seat cushions, umbrellas, noisemakers and hard-sided containers. Use Event Tickets Center to get FedExField tickets, or check out FedExField seating charts to find your seats to FedExField events!
View FedExField seating charts for live games! If you're planning to visit FedExField in Landover, you'll want to make sure you have great seats. Get acquainted with FedExField by using our seating chart below. This seating map features a complete layout of FedExField seats and the locations of different ticket tiers. Simply click on a section to browse tickets and you'll be on your way to an unforgettable event experience!
FedexField - Ed Sheeran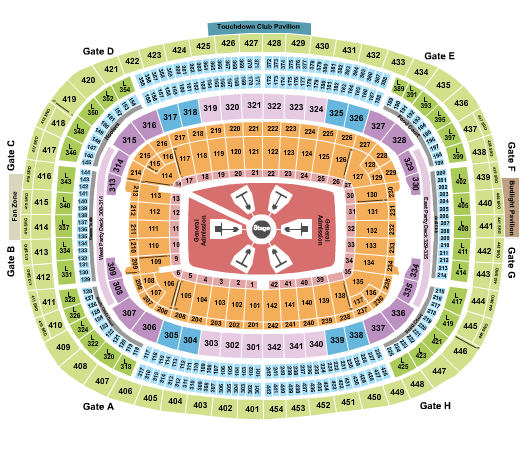 See FedexField - Ed Sheeran events that use this seating chart configuration
FedexField - Football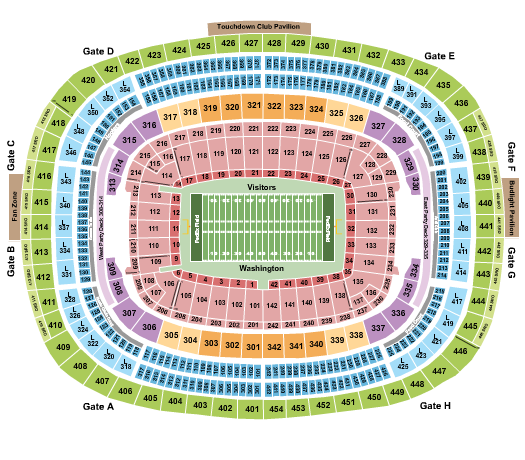 See FedexField - Football events that use this seating chart configuration
Frequently Asked Questions
Q: What time do doors open at FedExField?
A: Doors typically open anywhere between 90 minutes to 2 hours prior to showtime at FedExField. Be sure to check the listing on your ticket as showtimes will vary.
Q: Who plays at FedExField?
A: The Washington Commanders are the home team at the FedExField.
Q: FedExField Seat Numbers, Sections and Seating Chart
A: When looking at seating charts for sports events, seats are arranged so that the lower numbered seats within a section are located closer to the preceding section. For example; if a venue shows three sections (A, B, and C), seat #1 in section B will be located next to section A. As the seat numbers progress within section B, they move closer to section C. FedExField, a venue designed to host sports games, may be set up in a similar fashion. While concerts and other events held at FedExField may not follow this layout, most sports events happening at FedExField will follow this configuration. Concert seating is typically laid out so that the higher the seat number, the further you are from the stage/performance area. If you're seeing a concert at FedExField, it's likely that the seats closest to the stage will have low seat numbers and low section numbers.
Q: FedExField Reviews, Interactive Seating Charts and Seat Views
A: Finding FedExField seating charts with seat views or 3D views from your seat has proven to be a difficult task – until now. Event Tickets Center provides fans with unbiased FedExField reviews on our venue guides, including information on FedExField seat numbers, row numbers, and tips on how to find great seats!
Q: Are VIP Packages or Accessible Seating offered at FedExField?
A: FedExField VIP seating packages and accessible seating section locations may vary per event. Please click the seating chart below or contact our customer service department to discuss options for accessible seating or VIP package purchases.
Q: Where is the Washington Commanders Sideline at FedExField?
A: The Washington Commanders home bench is located in front of Section 42, Section 101, Section 102, Section 141, and Section 142 and the away team bench is in front of Section 23, Section 120, Section 121, Section 122, and Section 123.
Q: How many seats are in a row at FedEx Field?
A: The number of seats in a row at FedEx Field varies from section to section and row to row. Seats in the 100 and 200 sections range from 1 - 22, 300 sections range from 1-38 and 400 sections range from 1-26.
Q: What sections are club level at FedEx Field?
A: Sections 309-313, Sections 314-316, Sections 330-334 are where club level seats are located at FedEx Field.
Q: What is included in dream seats at FedEx Field?
A: Dream seats at FedExField are the first three rows of field level access, which includes food and non alcoholic drinks delivered to your seats.
Q: Which side of FedEx Field is sunny?
A: The visitors section in the north side of the stadium in the lower bowl are exposed to the sun.
Q: Does the Washington Commanders' stadium have a roof?
A: The Washington Commanders' stadium does not have a roof, but certain areas of the stadium are covered.
Q: Date Opened:
A: September 14, 1997