Fargodome Tickets and Seating Charts - Fargo, ND
Fargodome Seating Charts
Fargodome - Endstage 2 Seating Map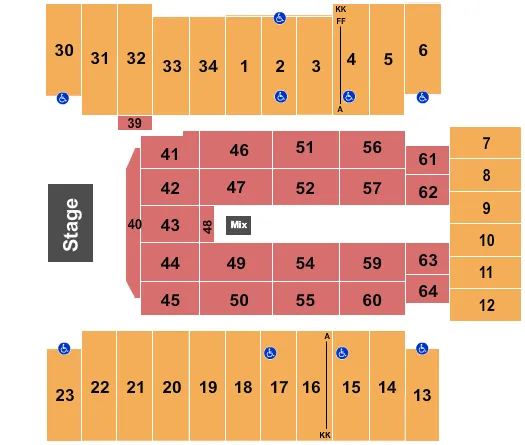 See Fargodome - Endstage 2 events that use this seating chart configuration
Fargodome - Football 2 Seating Map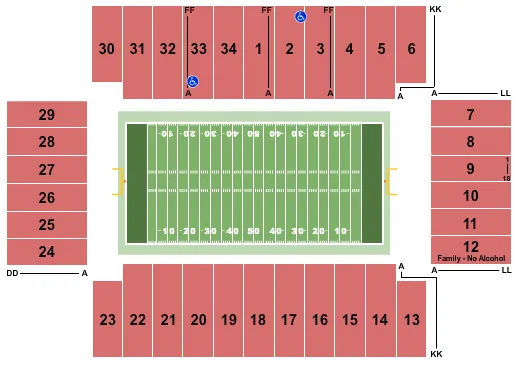 See Fargodome - Football 2 events that use this seating chart configuration
Fargodome - Monster Jam Seating Map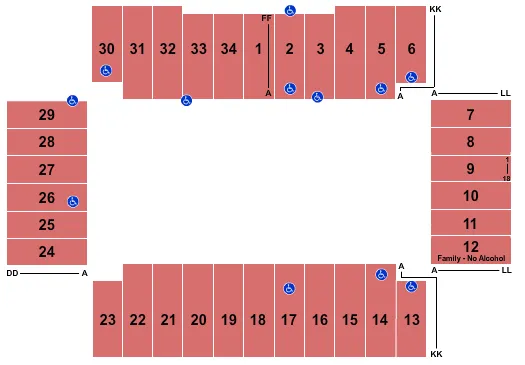 See Fargodome - Monster Jam events that use this seating chart configuration
Fargodome - Nickelback Seating Map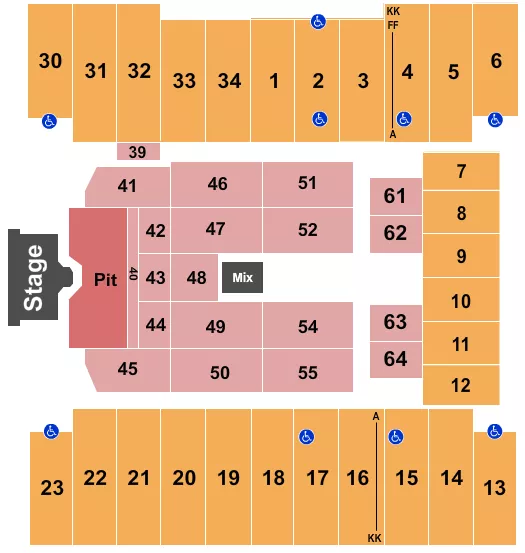 See Fargodome - Nickelback events that use this seating chart configuration
Learn more about Fargodome
The Fargodome is located in Fargo, North Dakota. In December of 1992 the venue opened for business after the completion of a $48 million construction project. As you can imagine, the Fargodome is one of the top venues in the state. After all, there are not many indoor arenas located in North Dakota. But even with that being said, this venue does not have any problems holding its own against other like-sized arenas across the country.


This venue is popular for sporting events and concerts in the area. In the past, many big-name performers have played at the Fargodome. A few of the most popular include Van Halen, the Blue Man Group, Metallica, Kenny Rogers, AC/DC, Cher, and many more.

For football games, the Fargodome can accommodate 19,000 fans. The seating capacity increases to 25,000 for concerts.

When it comes to indoor venues in the state of North Dakota, it does not get much better than the Fargodome.


FAQs about Fargodome
What time do doors open at the Fargodome?
Doors typically open anywhere between 90 minutes to 2 hours prior to showtime at the Fargodome. Be sure to check the listing on your ticket as showtimes will vary.
Are VIP Packages or Accessible Seating offered at the Fargodome?
Fargodome VIP seating packages and accessible seating section locations may vary per event. Please click the seating chart below or contact our customer service department to discuss options for accessible seating or VIP package purchases.
Facts about Fargodome
Capacity:
18,700
Date Opened:
December 2, 1992
Event Dates and Pricing Information
| Performer | Date | Price | Tickets Available |
| --- | --- | --- | --- |
| Nickelback | Oct 5, 2023 | From $76 | 713 |
| North Dakota State Bison Football | Oct 21, 2023 | From $50 | 372 |
| North Dakota State Bison Football | Oct 28, 2023 | From $59 | 712 |
| Shania Twain | Nov 5, 2023 | From $50 | 2,749 |
| North Dakota State Bison Football | Nov 11, 2023 | From $61 | 764 |
| Monster Jam | Feb 3, 2024 | From $46 | 1,816 |
| Monster Jam | Feb 3, 2024 | From $43 | 1,707 |