Family Arena Seating Charts
Family Arena - Baby Shark Live Seating Map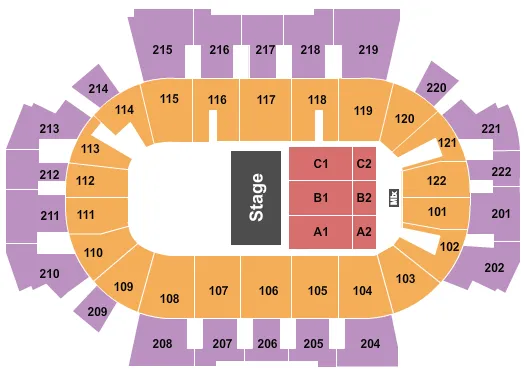 See Family Arena - Baby Shark Live events that use this seating chart configuration
Family Arena - Family Feud Seating Map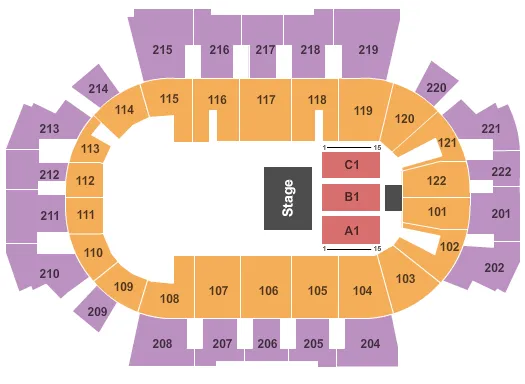 See Family Arena - Family Feud events that use this seating chart configuration
Family Arena - Moolah Shrine Circus Seating Map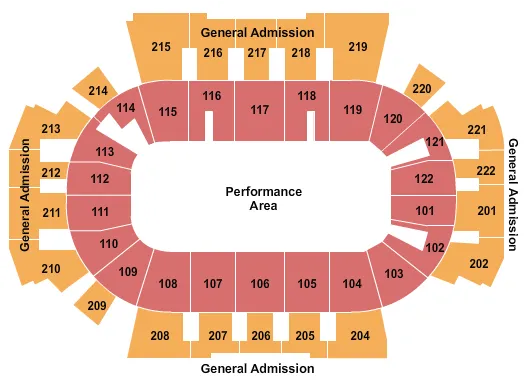 See Family Arena - Moolah Shrine Circus events that use this seating chart configuration
Family Arena - Soccer 2 Seating Map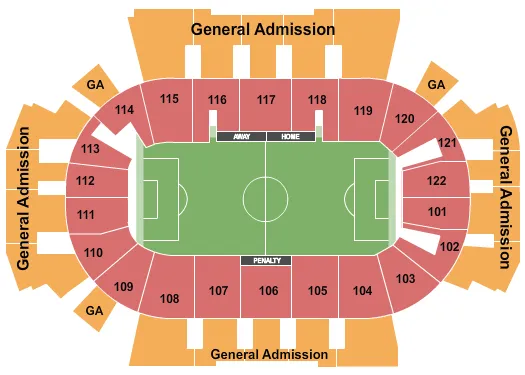 See Family Arena - Soccer 2 events that use this seating chart configuration
Learn more about Family Arena
The Family Arena is located in Saint Charles, Missouri, and is easily one of the top multipurpose venues in the state. Since being built in 1999, the arena has been used for a wide variety of events ranging from concerts to sporting games to circuses and family shows. Simply put, this venue is always popping!

Family Arena tickets are easy to come by in most cases thanks to a large seating capacity of up to 11,500. How many tickets are sold is based mainly on the event. For instance, the capacity is 9,755 for football games but more than 11,000 for concerts.

In the past, many nationally televised wrestling events have also taken place at the Family Arena. In 2007, the Total Nonstop Action Wrestling Lockdown played out in front of a capacity crowd.

There are thousands of Family Arena tickets available for every event. Start your search today to ensure that you are close to the action!


Capacity:
11,522
Date/Year Built/Opened:
1999
FAQs about Family Arena
Are VIP Packages or Accessible Seating offered at Family Arena?
Family Arena VIP seating packages and accessible seating section locations may vary per event. Please click the seating chart below or contact our customer service department to discuss options for accessible seating or VIP package purchases.
What time do doors open at Family Arena?
Doors typically open anywhere between 90 minutes to 2 hours prior to showtime at the Family Arena. Be sure to check the listing on your ticket as showtimes will vary.
Who plays at the Family Arena?
The St. Louis Ambush are the home team at the Family Arena.
Facts about Family Arena
Capacity:
10,467
Opened:
October 3, 1999
Event Dates and Pricing Information
| Performer | Date | Price | Tickets Available |
| --- | --- | --- | --- |
| St. Louis Ambush | Dec 9, 2023 | From $42 | 1,220 |
| Cirque Musica Holiday Wonderland | Dec 15, 2023 | From $48 | 988 |
| St. Louis Ambush | Dec 17, 2023 | From $39 | 1,561 |
| St. Louis Ambush | Dec 31, 2023 | From $39 | 1,593 |
| St. Louis Ambush | Jan 12, 2024 | From $39 | 1,435 |
| St. Louis Ambush | Jan 13, 2024 | From $39 | 1,485 |
| St. Louis Ambush | Jan 20, 2024 | From $39 | 1,578 |
| St. Louis Ambush | Feb 2, 2024 | From $39 | 1,582 |
| St. Louis Ambush | Feb 4, 2024 | From $39 | 1,466 |
| St. Louis Ambush | Feb 10, 2024 | From $39 | 1,568 |