Fairchild Theatre - East Lansing Seating Charts
Fairchild Theatre - East Lansing - End Stage Seating Map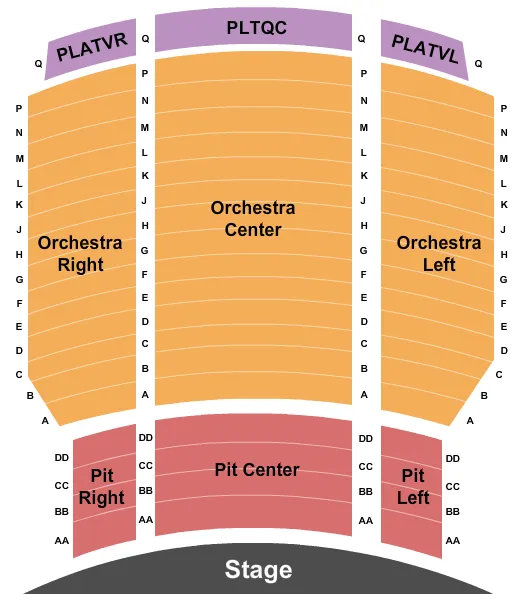 See Fairchild Theatre - East Lansing - End Stage events that use this seating chart configuration
Learn more about Fairchild Theatre - East Lansing
Fairchild Theatre is a great venue located on the campus of Michigan State University in East Lansing, Michigan. Since its opening in 1976, the theater has seated 2,000 guests for a variety of plays, musicals, concerts, and other events. Famous artists such as Bob Dylan, Janis Joplin, and Earth Wind & Fire have performed here, drawing large crowds year after year.

East Lansing is known for its vibrant cultural and natural attractions. Potter Park Zoo is a popular spot to visit, with a variety of animals from around the world showcased in an easily accessible setting. Additionally, there are numerous nature parks for exploring on foot or bike. Downtown Lansing offers plenty of shops and restaurants, as well as several theaters perfect for catching a show with friends or family members.

No matter what you're looking for, Fairchild Theatre - East Lansing is an ideal destination. With events and live entertainment all year round, tickets are available now - so don't hesitate and grab yours today!
Event Dates and Pricing Information
| Performer | Date | Price | Tickets Available |
| --- | --- | --- | --- |
| A Jazzy Little Christmas | Dec 16, 2023 | From $39 | 20 |
| A Celebration of the Beautiful Voice | Jan 20, 2024 | From $41 | 23 |
| Happy Birthday, Mozart! | Jan 22, 2024 | From $33 | 17 |
| Nermis Mieses | Jan 23, 2024 | From $29 | 11 |
| Christian Lindberg | Jan 24, 2024 | From $29 | 11 |
| Jane Bunnell | Mar 6, 2024 | From $24 | 19 |
| Now Ensemble | Mar 7, 2024 | From $31 | 24 |
| Mozarts Don Giovanni | Mar 20, 2024 | From $38 | 37 |
| Mozarts Don Giovanni | Mar 22, 2024 | From $38 | 37 |
| Mozarts Don Giovanni | Mar 23, 2024 | From $38 | 39 |