Emerald Queen Casino Tickets and Seating Charts - Tacoma, WA
Emerald Queen Casino Seating Charts
Emerald Queen Casino - Endstage 2 Seating Map
See Emerald Queen Casino - Endstage 2 events that use this seating chart configuration
Emerald Queen Casino - MMA Seating Map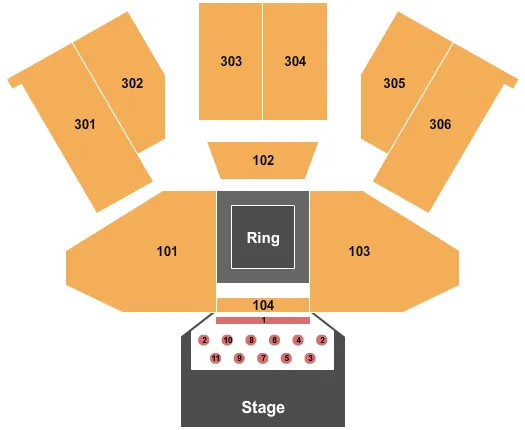 See Emerald Queen Casino - MMA events that use this seating chart configuration
Learn more about Emerald Queen Casino
The Emerald Queen Casino is located in Tacoma, Washington. At this venue you will have more fun than you ever imagined. Not only can you have a great time playing casino games, but the Emerald Queen Casino has many live shows too.

In addition to the casino, the Emerald Queen features a hotel with 140 rooms. So instead of driving home after a night of gambling and a great show, you can hit the sheets for a good night of sleep.

Some of the top acts to play at the Emerald Queen Casino in the past have been: Billy Squier, Steppenwolf, Brian McKnight, Blue Oyster Cult, Frank Caliendo, and Kansas. As you can see, the venue has no problem attracting top notch talent.

With a seating capacity of 1,400 you need to act fast when searching for Emerald Queen Casino tickets. Most shows sell out in no time at all.

If you like gambling and live entertainment the place to be is The Emerald Queen Casino!


Facts about Emerald Queen Casino
Capacity:
1,800
Opened:
July 13, 2002
Event Dates and Pricing Information