Elliott Hall Of Music Tickets and Seating Charts - West Lafayette, IN
Elliott Hall Of Music Seating Charts
Elliott Hall Of Music - End Stage Seating Map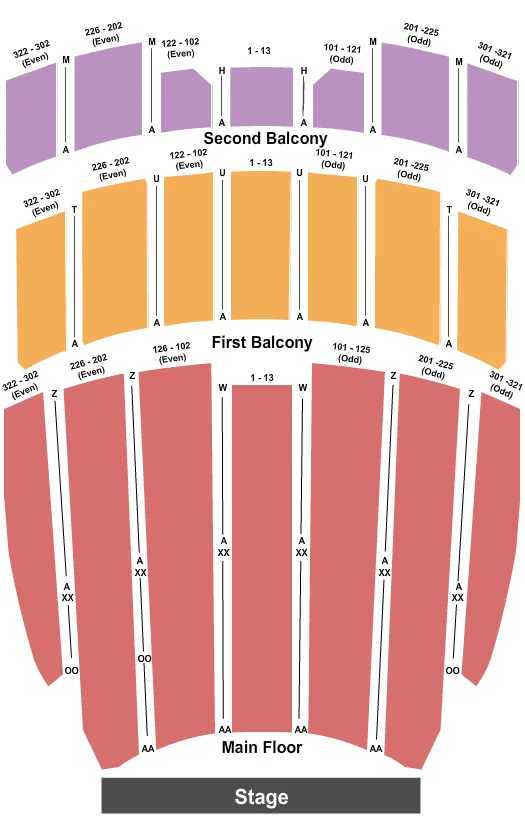 See Elliott Hall Of Music - End Stage events that use this seating chart configuration
Learn more about Elliott Hall Of Music
Elliott Hall of Music is a live performance theater located on the Purdue University campus in West Lafayette, Indiana. It is one of the largest proscenium theaters in the world, surpassing the seating capacity of Radio City Music Hall by roughly 100 seats.

Elliott Hall is often used for large, multi-section class exams. During the spring and winter seasons, it is used for commencement exercises. The Building houses the offices of the Purdue All-American Marching Band, Purdue Bands and Orchestras, WWBAA studio and Hall of Music productions, which provides box services for the Hall of Music.
FAQs about Elliott Hall Of Music
Does Elliott Hall Of Music have wheelchair accessible seating?
Yes, the Elliott Hall of Music does have limited accessible seating. The theatre does have a handicapped parking lot on the North side as well as accessible entrances on the North and South sides of the building.
Facts about Elliott Hall Of Music
Capacity:
6,005
Opened:
May 3, 1940
Event Dates and Pricing Information