Edward W. Powers Auditorium At DeYor PAC Tickets and Seating Charts - Youngstown, OH
Edward W. Powers Auditorium At DeYor PAC Seating Charts
Edward W. Powers Auditorium At DeYor PAC - End Stage Seating Map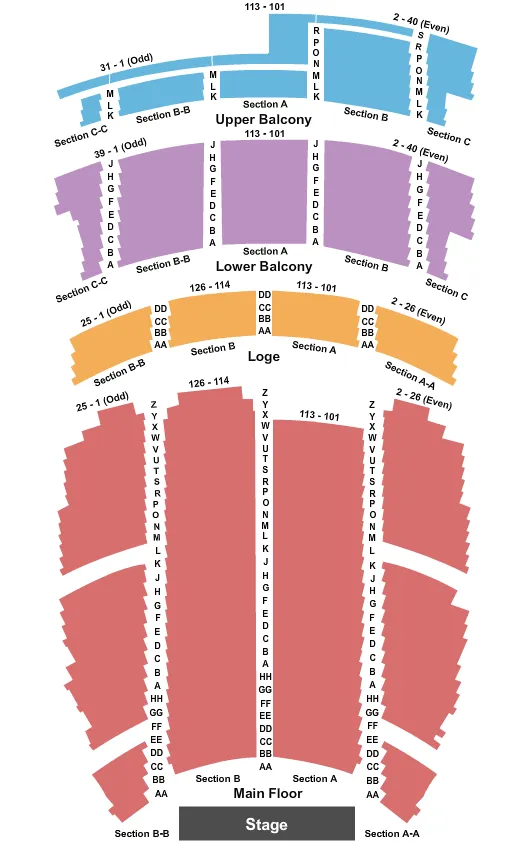 See Edward W. Powers Auditorium At DeYor PAC - End Stage events that use this seating chart configuration
Learn more about Edward W. Powers Auditorium At DeYor PAC
Edward W. Powers Auditorium At DeYor PAC is a popular event venue located in Youngstown, Ohio. This sprawling auditorium, constructed in 1925, is one of the largest in the greater Youngstown-Warren area and regularly hosts some of your favorite acts and performances. From big-name concerts to local theater productions, there's something for everyone at Edward W. Powers Auditorium At DeYor PAC. Not only that, but it also serves as an educational hub - hosting many workshops and other events throughout the year. With its rich history and dedication to providing quality entertainment, this venue is sure to continue as one of Youngstown's best venues in years to come.

When looking for entertainment in the area, consider making it a full stay in the city to explore all that it has to offer. Located on the Mahoning River, this friendly city provides an abundance of attractions and activities. From farm-to-table restaurants and eateries to live music venues, Youngstown has something for every taste. Take a tour along the Mahoning Valley Trail or soar above in a hot air balloon ride – you won't forget either experience. For history buffs, some museums focus on local historical events like steel production and railroads as well as antique stores throughout the town where you can find genuine relics from yesteryear. Wildlife lovers will delight in seeing rare species at Mill Creek Park's MetroParks Farm or Birdwatch near one of seven Lake Erie tributaries in Ohio's Steel Valley Birding Trail. Sports fans certainly won't lack things to do with popular sports teams around town like the Mahoning Valley Scrappers and Riverside Dragons.

Edward W. Powers Auditorium At DeYor PAC is a one-of-a-kind venue that should be on everyone's list of must-visit places in the Youngstown area. The variety of events and shows it hosts makes it an unforgettable evening out. From your favorite touring Broadway productions to the incredible music from The Youngstown Symphony, Edward W. Powers Auditorium At DeYor PAC is a must-check-out!
Event Dates and Pricing Information