E.J. Thomas Hall Seating Charts
E.J. Thomas Hall - End Stage Seating Map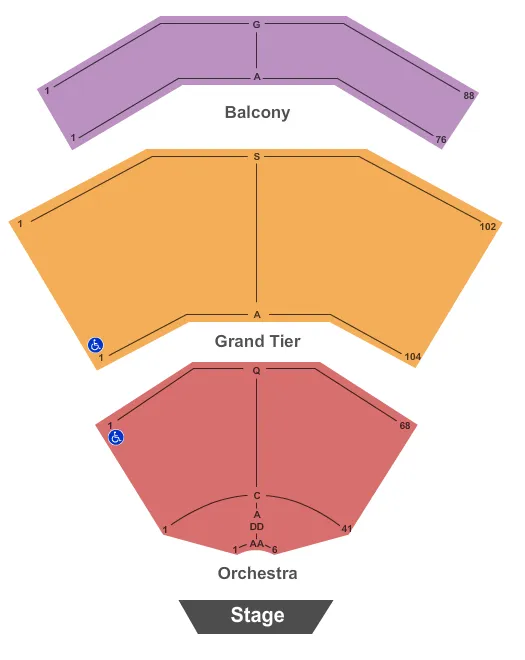 See E.J. Thomas Hall - End Stage events that use this seating chart configuration
Learn more about E.J. Thomas Hall
E J Thomas Hall is located in Akron, Ohio on the campus of the University of Akron. This is the main performing arts hall for the school, and hosts a variety of events throughout the year.

E J Thomas Hall opened in 1973. Even though it is a bit older than some venues in the area, it is still among the most popular. One of the main reasons is its size. The 125,000 square foot venue can accommodate up to 3,000 spectators. This makes E J Thomas Hall a great venue no matter what type of performer is taking the stage.

Some of the top shows to take place at E J Thomas Hall have included: Saving Jane, Roots of Rhythm, Earl Klugh, the University of Akron Symphony Orchestra, the Wedding Singer, and Lewis Black.

E J Thomas Hall tickets are in high demand. Not only do students want to see events at this venue, the same holds true for many locals. If you are interested in an upcoming show, purchase your E J Thomas Hall tickets today.
Facts about E.J. Thomas Hall
Capacity:
2,955
Opened:
October 1973
Event Dates and Pricing Information
| Performer | Date | Price | Tickets Available |
| --- | --- | --- | --- |
| Sparkly Bows & Mistletoe | Dec 10, 2023 | From $57 | 87 |
| Big Bad Voodoo Daddy | Dec 12, 2023 | From $53 | 370 |
| Michael Cavanaugh: A Merry Rockin' Christmas | Dec 15, 2023 | From $470 | 12 |
| The Magical Polar Experience | Dec 16, 2023 | From $53 | 183 |
| White Christmas | Dec 21, 2023 | From $41 | 941 |
| White Christmas | Dec 22, 2023 | From $39 | 786 |
| The Greatest Love of All - Whitney Houston Tribute | Jan 9, 2024 | From $69 | 279 |
| Akron Symphony Orchestra | Jan 13, 2024 | From $39 | 323 |
| Ruben Studdard | Jan 14, 2024 | From $63 | 949 |
| The Cher Show | Jan 30, 2024 | From $46 | 677 |