Dos Equis Pavilion Seating Charts
Dos Equis Pavilion - End Stage Seating Map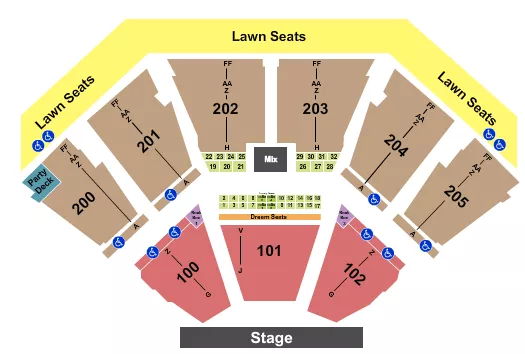 See Dos Equis Pavilion - End Stage events that use this seating chart configuration
Dos Equis Pavilion - Endstage GA Pit Seating Map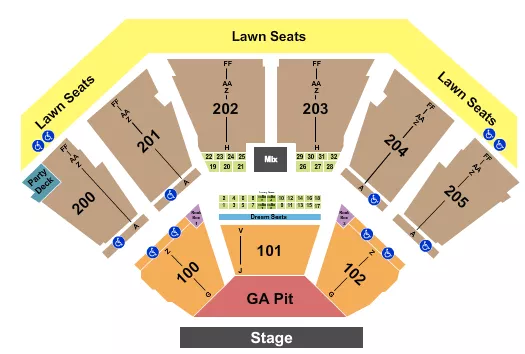 See Dos Equis Pavilion - Endstage GA Pit events that use this seating chart configuration
Learn more about Dos Equis Pavilion
Dos Equis Pavilion, recently known as the Starplex Pavilion, is a venue located in
Dallas'
famous Fair Park. Known to be the longest-running outdoor venue in Dallas, it's used exclusively for live music performances. It has hosted several performances from well-known artists such as Santana,
Coldplay
, Elton John, Tina Turner, and many others.
The pavilion started out as Coca-Cola Starplex Amphitheater, which opened its doors to the public in 1988. Over the years, naming rights were sold to different companies such as Smirnoff Vodka and Superpages.com. The most recent change of name happened in 2018 when it was changed to Dos Equis Pavilion. 7,500 patrons can be accommodated under the canopy while 12,500 patrons can enjoy the view from the green lawn.
Parking fees are charged if not included in the ticket price. VIP parking is also available. Events follow schedule, rain or shine. Patrons are encouraged to bring rain jackets and plastic tarps to sit on in case of rain. No umbrellas are allowed in the venue.
Dos Equis Pavilion also follows certain camera policies. Flash photography, cameras with removable lenses and video cameras are not allowed. Pocket-sized personal cameras and cell phone cameras are allowed. Lawn chairs are not allowed. Food, drinks, coolers, and outside alcoholic beverages are not allowed.
Some of the attractions nearby include Texas Discovery Gardens, Children's Aquarium at Fair Park, the Perot Museum of Nature and Science, and the Dallas Museum of Art.
FAQs about Dos Equis Pavilion
What time do gates open at Dos Equis Pavilion?
Gates typically open anywhere between 90 minutes to 2 hours prior to showtime at Dos Equis Pavilion. Be sure to check the listing on your ticket as showtimes will vary.
Looking for local Dallas Amphitheater concerts?
Our event listing has a list of all Dallas amphitheater concerts happening at Dos Equis Pavilion. You can also check out events in neighboring cities by checking out our list of venues by state.
Where is Dos Equis Pavilion?
The 20,000 seat Dos Equis Pavilion is an outdoor amphitheatre 3.5 miles east of downtown Dallas. Opened in 1988 the Dos Equis Pavilion consistently one or the top amphitheatres in the country.
Is parking free at Dos Equis Pavilion?
Parking is free at Dos Equis Pavilion. There is general parking in lots 11,12 and 13. VIP and rideshare in lot 8. Lots 9 and 10 are for VIP parking.
What are Lonestar Cabanas at Dos Equis Pavilion?
The Lonestar Cabanas are sections on the lawn that are shaded and have private bar, lounge seating and private restrooms.
What is the policy if it rains at Dos Equis Pavilion?
All events are rain or shine at Dos Equis Pavilion. If there is severe weather updates will be given by the venues social media page.
Can I bring food into Dos Equis Pavilion?
Yes, you can bring food into Dos Equis Pavilion but it has to be in a clear, 1-gallon ziplock bag.
Facts about Dos Equis Pavilion
Capacity:
20,000
Past Names/Nicknames:
Coca-Cola Starplex Amphitheater Starplex Amphitheater Smirnoff Music Centre The Music Center at Fair Park Superpages.com Center Starplex Pavilion Gexa Energy Pavilion
Date/Year Built/Opened:
1988
Event Dates and Pricing Information
| Performer | Date | Price | Tickets Available |
| --- | --- | --- | --- |
| Gloria Trevi | Apr 12, 2024 | From $81 | 1,600 |
| Hozier | Apr 28, 2024 | From $84 | 2,176 |
| Hootie & The Blowfish | May 30, 2024 | From $54 | 1,980 |
| Noah Kahan | Jun 11, 2024 | From $98 | 1,120 |
| Alanis Morissette | Jun 14, 2024 | From $49 | 2,040 |
| New Kids on the Block | Jul 14, 2024 | From $65 | 2,081 |
| Niall Horan | Aug 2, 2024 | From $50 | 2,014 |
| Sammy Hagar | Aug 22, 2024 | From $48 | 1,935 |
| Thirty Seconds To Mars | Aug 27, 2024 | From $48 | 1,638 |
| Creed | Sep 11, 2024 | From $85 | 1,219 |