Des Plaines Theatre Seating Charts
Des Plaines Theatre - End Stage Seating Map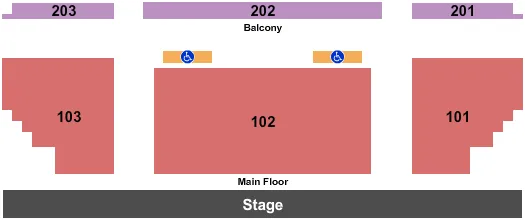 See Des Plaines Theatre - End Stage events that use this seating chart configuration
Learn more about Des Plaines Theatre
Located in the heart of downtown Des Plaines, Des Plaines Theatre is an incredible event venue that offers a wide variety of entertainment. Established in 1928, it is one of the oldest theaters still in operation and has been delighting audiences with films, concerts, and events ever since. Today, it remains a popular local destination for movie showings, as well as music and stage, shows that feature some of the biggest names in entertainment. Des Plaines is a wonderful city nestled in the northern suburbs of Chicago that offers plenty of activities and attractions. Enjoy beautiful parks, shop in quaint stores, or take a walk along one of the many trails! There are numerous golf courses to suit all levels of play, as well as recreational centers with swimming pools and gymnasiums. Spend an afternoon at the Donkey Tail Maze for hours of fun. See live music at one of several local venues or view artwork at galleries and museums around town. Enjoy warm summers by taking a short drive to nearby beaches on Lake Michigan, or relax amid nature in wildflower meadows! When you're ready for an unforgettable night at an iconic venue, come visit the Des Plaines Theatre. From its roaring '20s atmosphere and its grand architecture to the delicious food and drinks available, this theater provides a truly unique experience that is sure to create unforgettable memories. With a variety of musical genres offered as well as top-notch acts from around the world, you're certain to find something that suits your tastes! Plus, with easy access via the Metra Train station and free parking nearby, there isn't any reason not to
FAQs about Des Plaines Theatre
Des Plaines Theatre Seating Chart Seating Maps, Sections and Seating Charts
Des Plaines Theatre Seating Chart offers a variety of seating options for events, including Orchestra, Endstage and Mezzanine sections.Some events at Des Plaines Theatre Seating Chart may also feature sections including General Admission (GA), Lawn or Standing Room Only (SRO), indicating seating or standing areas that are not assigned or reserved.
Des Plaines Theatre Reviews, Interactive Seating Charts and Seat Views
Finding Des Plaines Theatre seating charts with seat views or 3D views from your seat has proven to be a difficult task - until now. Event Tickets Center provides fans with unbiased Des Plaines Theatre reviews on our venue guides, including information on Des Plaines Theatre seat numbers, row numbers, and tips on how to find great seats!
Are VIP Packages or Accessible Seating offered at Des Plaines Theatre?
Des Plaines Theatre VIP seating packages and accessible seating section locations may vary per event. Please click the seating chart below or contact our customer service department to discuss options for accessible seating or VIP package purchases.
Event Dates and Pricing Information
| Performer | Date | Price | Tickets Available |
| --- | --- | --- | --- |
| Abbey Road - Tribute to The Beatles | Dec 7, 2023 | From $37 | 122 |
| The Purple Xperience | Dec 8, 2023 | From $71 | 253 |
| Top Of The World - A Tribute to The Carpenters | Dec 9, 2023 | From $71 | 203 |
| Christmas Wizards: A Night of Trans Siberian Orchestra | Dec 10, 2023 | From $46 | 190 |
| Jump - America's Van Halen Experience | Dec 14, 2023 | From $52 | 269 |
| Gone 2 Paradise - The Ultimate Jimmy Buffett Tribute | Dec 15, 2023 | From $71 | 302 |
| Macy Gray | Dec 17, 2023 | From $84 | 267 |
| George Michael Reborn - A Tribute to George Michael | Jan 20, 2024 | From $84 | 357 |
| All You Need Is Love: A Beatles Tribute Concert | Jan 26, 2024 | From $71 | 172 |
| Morris Day and The Time | Feb 10, 2024 | From $84 | 254 |