Danforth Music Hall Theatre Seating Charts
Danforth Music Hall Theatre - End Stage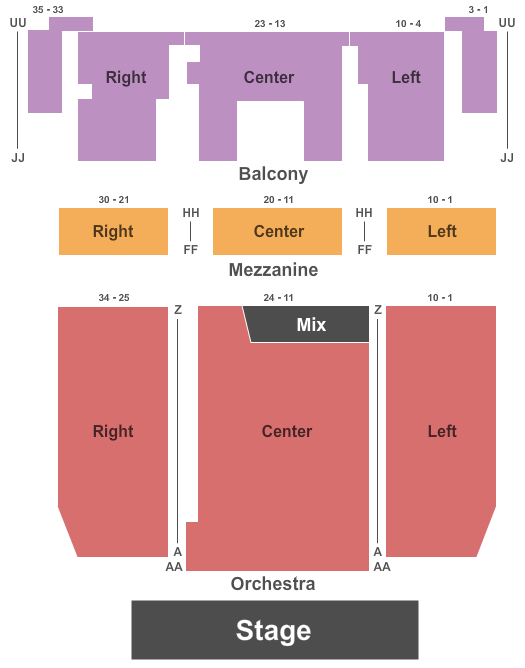 See Danforth Music Hall Theatre - End Stage events that use this seating chart configuration
Danforth Music Hall Theatre - Endstage 2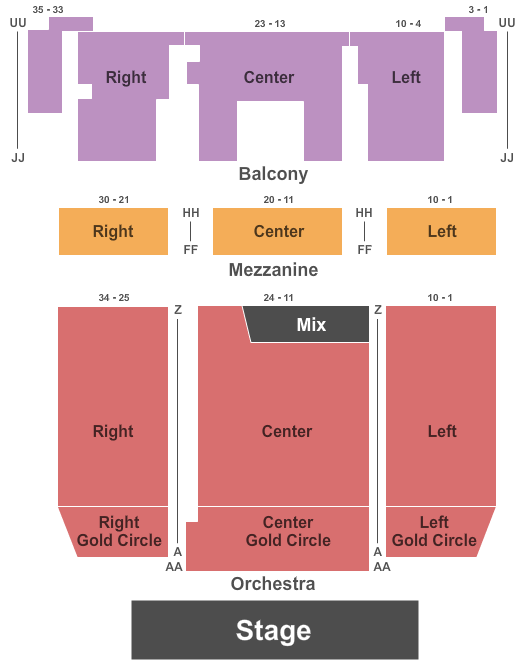 See Danforth Music Hall Theatre - Endstage 2 events that use this seating chart configuration
Danforth Music Hall Theatre - Endstage GA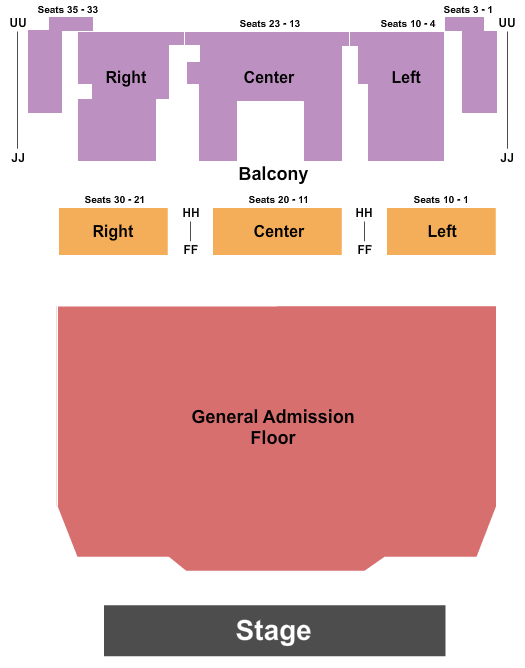 See Danforth Music Hall Theatre - Endstage GA events that use this seating chart configuration
Learn more about Danforth Music Hall Theatre
The Music Hall is a theatre on Danforth Avenue in Toronto, Ontario, Canada. Originally constructed as a movie theatre in 1919, the building was first known as the Allen's Danforth, after its owner the Allen Theatre Chain. Promoted as "Canada's First Super-Suburban Photoplay Palace", the theatre opened in the midst of both a building boom along Danforth Avenue and a boom in the construction of movie theatres following the First World War. Allen's Danforth opened on August 18, 1919.

In 1923, the Allen chain was facing financial pressures, and most of its theatres were acquired by the Famous Players chain. The name of Allen's Danforth was changed to the Century, and was managed by Famous Players subsidiary, the B&F chain. The theatre remained a first-run movie house until the late 1960s, and subsequently served as a Greek language cinema known as the Titania Theatre from 1970 to 1978. The theatre gained the Music Hall name when it started featuring live acts in the late 1970s. Later it began showing second-run films, ultimately becoming part of Toronto's Festival Chain of repertory cinemas in 1998.

The theatre closed in 2004, and remained vacant for a year and a half. Age and neglect had taken their toll, and the building had almost deteriorated beyond repair. New owners acquired the theatre, retaining the Music Hall name, and renovated and restored it, including the installation of a new sound system and new seating. Now operating as a venue for live performances, the theatre was named the Performing Arts Centre of the year at the 2008 Canadian Music Industry Awards.


FAQs about Danforth Music Hall Theatre
Q: What are the Danforth Music Hall Theatre box office hours?
A: The Danforth Music Hall Theatre's box office is open only on show days 1.5 hours prior to opening.
Facts about Danforth Music Hall Theatre
Capacity:
1,500
Date Opened:
August 18, 1919