Constellation Field Seating Charts
Constellation Field - Baseball1 Seating Map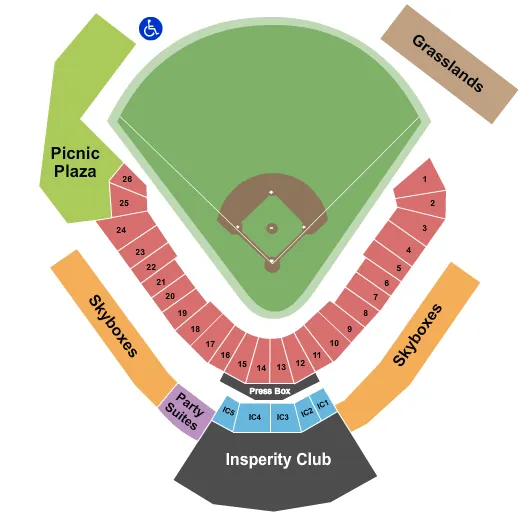 See Constellation Field - Baseball1 events that use this seating chart configuration
Constellation Field - GA Seating Map See Constellation Field - GA events that use this seating chart configuration
Learn more about Constellation Field
In Sugar Land, TX, Constellation Field is a state-of-the-art outdoor sports complex that opened in 2012. It is the home of the Sugar Land Skeeters minor league baseball team and has a seating capacity of 15,000 and 16 luxury suites for larger events. Throughout its existence, Constellation Field has been host to various notable acts, such as Bruce Springsteen and ZZ Top, as well as concerts and international/friendly soccer matches.

Sugar Land is an excellent destination for a vacation, located in the Greater Houston area just southwest of Houston. It's a vibrant city with many nightlife options, art galleries, restaurants, shopping, and guided nature trails. With its easy access from Austin and San Antonio, Sugar Land is easy to get to, and the locals will make you feel welcome.

If you're looking for an entertaining night out, Constellation Field is the perfect destination! There is something for everyone, from watching the Sugar Land Skeeters home team games and concerts to attending rugby union, American football, soccer, and lacrosse competitions. Stop by and see what this amazing venue has to offer!
FAQs about Constellation Field
Constellation Field Reviews, Interactive Seating Charts and Seat Views
Finding Constellation Field seating charts with seat views or 3D views from your seat has proven to be a difficult task - until now. Event Tickets Center provides fans with unbiased Constellation Field reviews on our venue guides, including information on Constellation Field seat numbers, row numbers, and tips on how to find great seats!
Are VIP Packages or Accessible Seating offered at Constellation Field?
Constellation Field VIP seating packages and accessible seating section locations may vary per event. Please click the seating chart below or contact our customer service department to discuss options for accessible seating or VIP package purchases.
Event Dates and Pricing Information
| Performer | Date | Price | Tickets Available |
| --- | --- | --- | --- |
| Sugar Land Holiday Lights | Dec 5, 2023 | From $148 | 4 |
| Sugar Land Holiday Lights | Dec 6, 2023 | From $148 | 4 |
| Sugar Land Holiday Lights | Dec 7, 2023 | From $148 | 4 |
| Sugar Land Holiday Lights | Dec 8, 2023 | From $148 | 4 |
| Sugar Land Holiday Lights | Dec 9, 2023 | From $148 | 4 |
| Sugar Land Holiday Lights | Dec 10, 2023 | From $148 | 4 |
| Sugar Land Holiday Lights | Dec 11, 2023 | From $148 | 4 |
| Sugar Land Holiday Lights | Dec 12, 2023 | From $148 | 4 |
| Sugar Land Holiday Lights | Dec 13, 2023 | From $148 | 4 |
| Sugar Land Holiday Lights | Dec 14, 2023 | From $148 | 4 |