Clowes Memorial Hall Seating Charts
Clowes Memorial Hall - Endstage Seating Map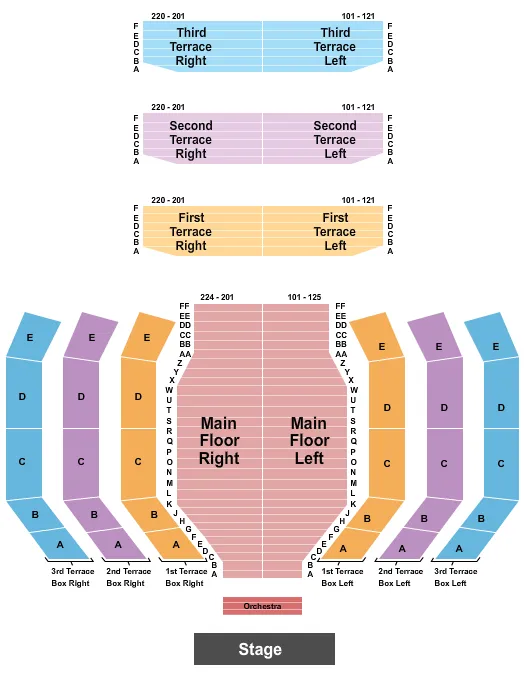 See Clowes Memorial Hall - Endstage events that use this seating chart configuration
Learn more about Clowes Memorial Hall
Clowes Memorial Hall is located on the campus of Butler University in
Indianapolis
, Indiana. Even though this university is not as large as some others in the state, it does not stop Clowes Memorial Hall from attracting and hosting a wide variety of events on a regular basis.
The nicest feature of
Indiana's
Clowes Memorial Hall is the fact that it is capable of hosting many different events. This includes music, theatre, dance, family friendly shows, and much more. No matter what your passion, it is safe to say that a show will stop by Clowes Memorial Hall sooner or later that you want to see.
Since 1963, Clowes Memorial Hall has been hosting events. With a rich history on the campus of a beautiful university, it is easy to see why Clowes Memorial Hall has become a point of interest to locals and tourists alike.
Facts about Clowes Memorial Hall
Capacity:
2,172
Date Opened:
October 18, 1963
Event Dates and Pricing Information
| Performer | Date | Price | Tickets Available |
| --- | --- | --- | --- |
| Indianapolis Symphonic Choir | Dec 13, 2023 | From $72 | 351 |
| American Girl Live | Dec 14, 2023 | From $63 | 551 |
| Abbey Road - Tribute to The Beatles | Dec 16, 2023 | From $93 | 351 |
| That Girl Lay Lay | Dec 17, 2023 | From $87 | 549 |
| A Charlie Brown Christmas | Dec 21, 2023 | From $66 | 392 |
| Doktor Kaboom! | Jan 18, 2024 | From $41 | 532 |
| Mark Normand | Jan 20, 2024 | From $64 | 835 |
| To Kill A Mockingbird | Jan 23, 2024 | From $72 | 540 |
| To Kill A Mockingbird | Jan 24, 2024 | From $72 | 652 |
| To Kill A Mockingbird | Jan 25, 2024 | From $90 | 417 |