City Winery Tickets and Seating Charts - Philadelphia, PA
City Winery - Philadelphia Seating Charts
City Winery - Philadelphia - Endstage 2 Seating Map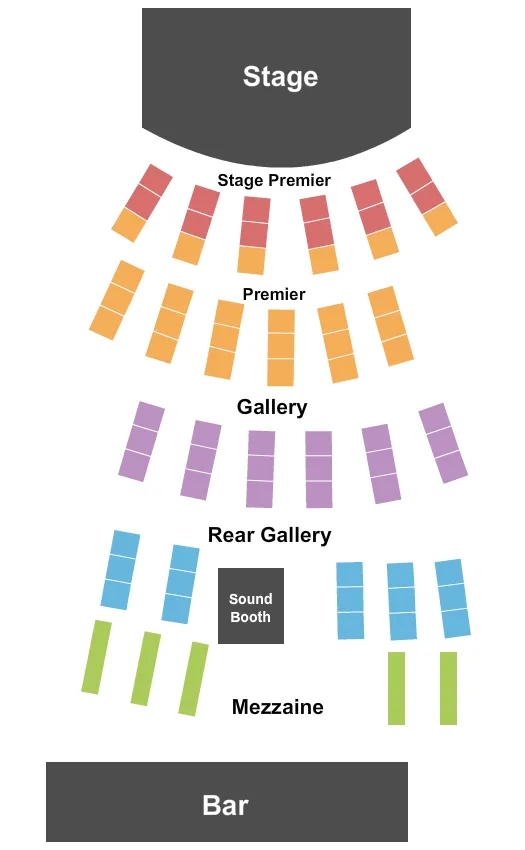 See City Winery - Philadelphia - Endstage 2 events that use this seating chart configuration
Learn more about City Winery - Philadelphia
City Winery is a unique event venue located in Philadelphia that combines several popular attractions into one. From wineries and restaurants to music venues and private events, City Winery offers a one-of-a-kind experience. Founded in 2007, the venue hosts hundreds of artists throughout the year, including well-known acts and up-and-coming musicians. Art shows, movie screenings, comedy performances, and other events are also held at City Winery. Additionally, there's even a belly dancing class offered every weekend for guests to participate in!

Philadelphia is a vibrant city full of history, culture, and good food. Explore the Liberty Bell, Independence Hall, and the world-famous Reading Terminal Market. Visit the Franklin Institute Science Museum, the American Revolution Museum at Valley Forge National Historical Park, and Eastern State Penitentiary Historic Site. For some adventure, you can stroll along the Delaware River at Penn's Landing, or take a quick drive out to King Of Prussia Mall — the largest mall on the East Coast. Enjoy unbeatable nightlife experiences at comedy clubs and eateries such as Tony Luke's sandwich shop and Dimitri's Steakhouse.

The City Winery is a must-visit destination in Philadelphia - with its premium locally crafted wines and its stunning line-up of international artists, it truly offers something for everyone. If you're looking for an unforgettable night out on the town, be sure to check out the City Winery!
FAQs about City Winery - Philadelphia
Additional Venues At City Winery:
Event Dates and Pricing Information
| Performer | Date | Price | Tickets Available |
| --- | --- | --- | --- |
| Squirrel Nut Zippers | Dec 5, 2023 | From $169 | 2 |
| The Tubes | Dec 6, 2023 | From $148 | 28 |
| Kenny Lattimore | Dec 7, 2023 | From $129 | 24 |
| Kenny Lattimore | Dec 7, 2023 | From $129 | 20 |
| Over The Rhine | Dec 8, 2023 | From $97 | 14 |
| Vitamin String Quartet | Dec 10, 2023 | From $97 | 20 |
| Jon McLaughlin | Dec 17, 2023 | From $105 | 20 |
| Forever Tina - A Tribute to Tina Turner | Dec 29, 2023 | From $105 | 30 |
| Dar Williams | Dec 30, 2023 | From $116 | 16 |
| Kindred The Family Soul | Dec 31, 2023 | From $115 | 18 |