Chesterfield Amphitheater Tickets and Seating Charts - Chesterfield, MO
Chesterfield Amphitheater Seating Charts
Chesterfield Amphitheater - Endstage 3 Seating Map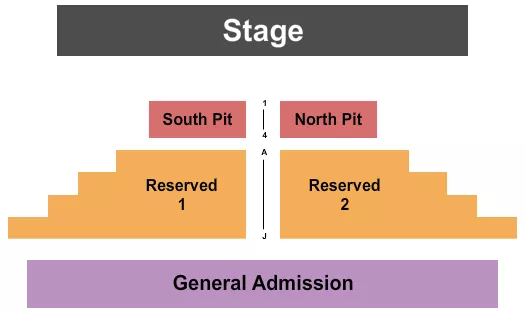 See Chesterfield Amphitheater - Endstage 3 events that use this seating chart configuration
Learn more about Chesterfield Amphitheater
Located in Chesterfield, Missouri, the Chesterfield Amphitheater is an incredible outdoor amphitheater, surrounded by lush green trees and beautiful nature. It opened in 2004 and has since been a favorite summer destination in St. Louis. It features an amphitheater that covers over 20 acres and can accommodate up to 12,000 people. It is also surrounded by lush gardens and trees that provide plenty of shade.

The Chesterfield Amphitheater has hosted some of the biggest names in music, from John Legend to Maroon 5 to Train. Fans can also enjoy festivals like Movies and Music In The Park at the same location.

No matter what kind of event you are looking for, the Chesterfield Amphitheater is sure to have something for everyone. With its large, spacious grounds and state-of-the-art amenities, it has become one of the most popular outdoor event venues in the area.

The surrounding area of Chesterfield has much to explore for travelers. From the tranquil beauty of Faust Park and its historic Meramec River trail to the modern offerings at The Streets of Chesterfield, there is something to suit every traveler's needs. There are world-class retailers just off Boone's Crossing and a fine dining experience at one of the many chef-owned restaurants. With an unbeatable combination of outdoor recreation, specialty shopping and unique restaurants all within easy reach, a stopover in Chesterfield is worth reserving for your next travel adventure!
FAQs about Chesterfield Amphitheater
Where is the Chesterfield Amphitheater?
Chesterfield Amphitheater is located within Central Park in Chesterfield, MO just outside of St Louis. This over ten years old venue holds around 4,000 guest.
Can I bring food into Chesterfield Amphitheater?
Food & Beverage are welcome at Chesterfield Amphitheater Soft-sided coolers to carry your food are permitted also.
Where is the rideshare location for Chesterfield Amphitheater?
Chesterfield Amphitheater has a drop-off and pick-up location at the Chesterfield Family Aquatic Center.
Is re-entry allowed Chesterfield Amphitheater?
Chesterfield Amphitheater does not allow re-entry
Are children allowed in Chesterfield Amphitheater?
Children under 5 are welcome for free in general admission areas. All ages must have a ticket for the reserved sections.
Event Dates and Pricing Information
| Performer | Date | Price | Tickets Available |
| --- | --- | --- | --- |
| JJ Grey & Mofro | Apr 20, 2024 | From $69 | 21 |