Charlotte Motor Speedway Tickets and Seating Charts - Concord, NC
Charlotte Motor Speedway Seating Charts
Charlotte Motor Speedway - Dirt Track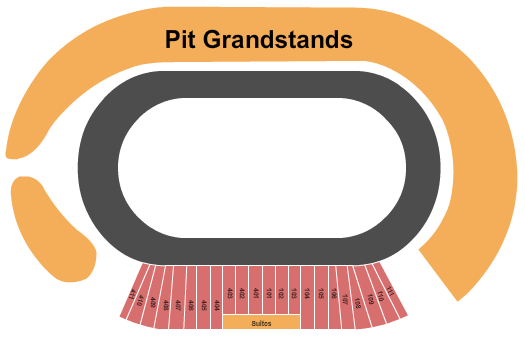 See Charlotte Motor Speedway - Dirt Track events that use this seating chart configuration
Charlotte Motor Speedway - Drag Racing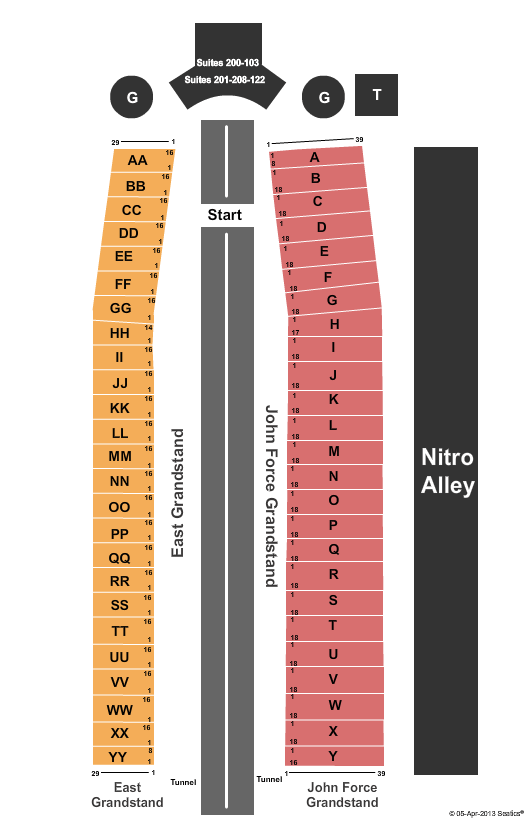 See Charlotte Motor Speedway - Drag Racing events that use this seating chart configuration
Charlotte Motor Speedway - Racing 2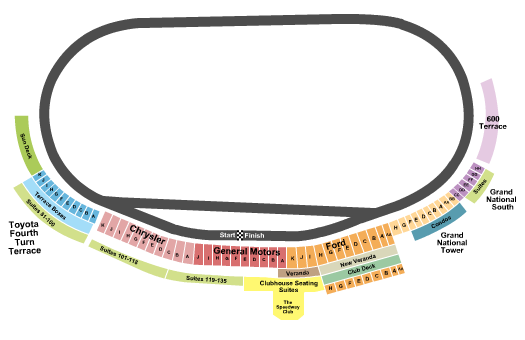 See Charlotte Motor Speedway - Racing 2 events that use this seating chart configuration
Charlotte Motor Speedway is located in Concord, NC, just north of Charlotte. This venue features a 1.5 mile long track and one of the largest seating capacities in the country. There is room for approximately 167,000 fans at the Charlotte Motor Speedway, and another 50,000 can set up in the infield to watch the race unwind. As you can imagine, with so many fans watching the same race the Charlotte Motor Speedway can get quite loud.

In addition to competitive NASCAR events, the Charlotte Motor Speedway is also home to a number of other different events. Each year the Charlotte Motor Speedway hosts approximately 380 to 400 events. This is great for fans of all different types of races, because there is always something different happening at the Charlotte Metro Speedway.

Every racing fan should make it to Charlotte Motor Speedway at least once a year for a race. There are many of them to choose from so finding time is never difficult to do. And once you see one race at this venue it is safe to say that you will be coming back for more time and time again.


Q: What time do gates open at Charlotte Motor Speedway?
A: Gates typically open anywhere between 90 minutes to 2 hours prior to race time at Charlotte Motor Speedway. Be sure to check the listing on your ticket as race times will vary.
Q: What happens if there is a rain delay or inclement weather at Charlotte Motor Speedway?
A: In the event that the track at Charlotte Motor Speedway cannot be safely used due to inclement weather, the race will typically be held the next day.
Capacity:
171,000
Opened:
1960
Track Shape:
Quad-Oval
Lap Record:
0:24.490 Tony Stewart
Former Names:
Charlotte Motor Speedway, Lowe's Motor Speedway
Track Length:
1.5 miles (2.4 km)