Charles Playhouse Tickets and Seating Charts - Boston, MA
Charles Playhouse Seating Charts
Charles Playhouse - Endstage Seating Map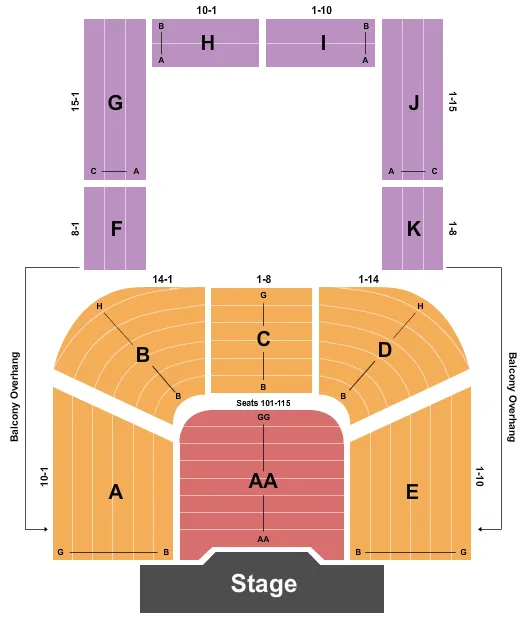 See Charles Playhouse - Endstage events that use this seating chart configuration
Learn more about Charles Playhouse
The Charles Playhouse is located in Boston, Massachusetts at 74 Warrenton Street. When it comes to the best theatres in the Boston area, the Charles Playhouse is always at the top of the list.

The Charles Playhouse offers many benefits on the inside. First and foremost, spectators will always feel as if they are part of the action; this alone is reason enough to see a show at this venue. On top of this, the productions that take place at the Charles Playhouse are among the best of the best. This includes everything from musicals to concerts and much more.

For a great time at a Boston theatre, take the time to visit the Charles Playhouse. You will not be disappointed with your experience, and will probably find yourself going back time and time again.
FAQs about Charles Playhouse
What time do doors open at Charles Playhouse?
Doors typically open anywhere between 90 minutes to 2 hours prior to showtime at Charles Playhouse. Be sure to check the listing on your ticket as showtimes will vary.
Are VIP Packages or Accessible Seating offered at Charles Playhouse?
Charles Playhouse VIP seating packages and accessible seating section locations may vary per event. Please click the seating chart below or contact our customer service department to discuss options for accessible seating or VIP package purchases.
Facts about Charles Playhouse
Capacity:
500
Year Opened:
1957
Event Dates and Pricing Information
| Performer | Date | Price | Tickets Available |
| --- | --- | --- | --- |
| Blue Man Group | Dec 7, 2023 | From $95 | 422 |
| Blue Man Group | Dec 8, 2023 | From $95 | 409 |
| Blue Man Group | Dec 9, 2023 | From $95 | 261 |
| Blue Man Group | Dec 9, 2023 | From $95 | 393 |
| Blue Man Group | Dec 9, 2023 | From $95 | 445 |
| Blue Man Group | Dec 10, 2023 | From $95 | 309 |
| Blue Man Group | Dec 10, 2023 | From $95 | 326 |
| Blue Man Group | Dec 14, 2023 | From $95 | 460 |
| Blue Man Group | Dec 15, 2023 | From $95 | 440 |
| Blue Man Group | Dec 16, 2023 | From $95 | 354 |