Capital Repertory Theatre Tickets and Seating Charts - Albany, NY
Capital Repertory Theatre Seating Charts
Capital Repertory Theatre - Endstage 2 Seating Map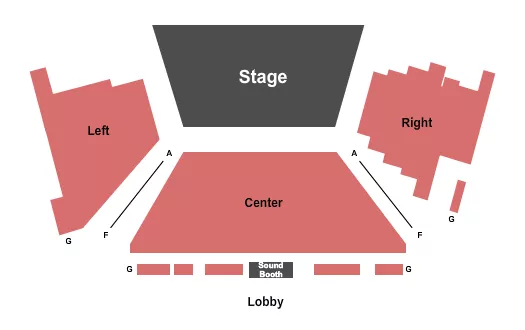 See Capital Repertory Theatre - Endstage 2 events that use this seating chart configuration
Learn more about Capital Repertory Theatre
Capital Repertory Theatre (there) is a world-class event venue located in Albany, New York. With 309 seats, this professionally runs regional theatre is perfect for any size gathering. Whether you're looking to check out a special show or book your event, they will provide an unforgettable experience.

It first opened its doors in 1982 and has since become one of the most iconic theaters in the city. Over the years it has hosted a variety of musicals, plays, and operas from Broadway to local productions, making a lasting impression on visitors with stunning designs, exceptional talent and memorable moments that only live theatre can provide.

Albany is New York's capital and offers a diverse range of attractions. Explore its history with tours at Schuyler Mansion, appreciate works from local artists at The Opalka Gallery, or stroll through Washington Park to take in the beauty of nature. Explore downtown for a variety of eateries, boutiques, and sightseeing opportunities such as The State Museum. Don't forget to venture outside Albany for even more adventure. Try your luck at Saratoga Race Course, hike up Thacher Park, or view eight-story murals at Mural Fest in Troy!

Located in the heart of downtown Albany, Capital Repertory Theatre plays host to some of the finest talents in regional theatre. With its historic renovation and convenient location within the Proctors Collaborative, it's a great option for anyone looking to enjoy a top-notch theatrical performance. Be sure to visit if you're ever in Albany - you won't be disappointed!
Event Dates and Pricing Information
| Performer | Date | Price | Tickets Available |
| --- | --- | --- | --- |
| Million Dollar Quartet Christmas | Dec 9, 2023 | From $337 | 40 |
| Million Dollar Quartet Christmas | Dec 9, 2023 | From $132 | 56 |
| Million Dollar Quartet Christmas | Dec 10, 2023 | From $141 | 36 |
| Million Dollar Quartet Christmas | Dec 12, 2023 | From $138 | 46 |
| Million Dollar Quartet Christmas | Dec 13, 2023 | From $132 | 50 |
| Million Dollar Quartet Christmas | Dec 14, 2023 | From $111 | 42 |
| Million Dollar Quartet Christmas | Dec 15, 2023 | From $93 | 62 |
| Million Dollar Quartet Christmas | Dec 16, 2023 | From $141 | 36 |
| Million Dollar Quartet Christmas | Dec 16, 2023 | From $98 | 48 |
| Million Dollar Quartet Christmas | Dec 17, 2023 | From $141 | 36 |