1st Summit Arena at Cambria County War Memorial Seating Charts
1st Summit Arena at Cambria County War Memorial - Disney On Ice 2 Seating Map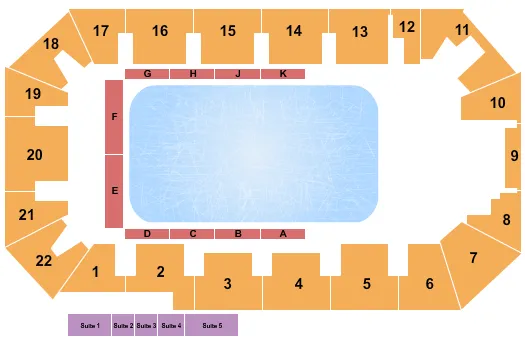 See 1st Summit Arena at Cambria County War Memorial - Disney On Ice 2 events that use this seating chart configuration
1st Summit Arena at Cambria County War Memorial - Half House 2 Seating Map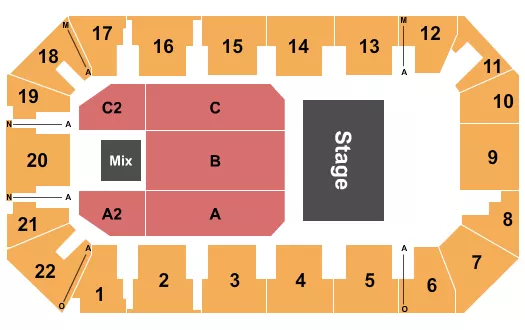 See 1st Summit Arena at Cambria County War Memorial - Half House 2 events that use this seating chart configuration
1st Summit Arena at Cambria County War Memorial - Hockey-2 Seating Map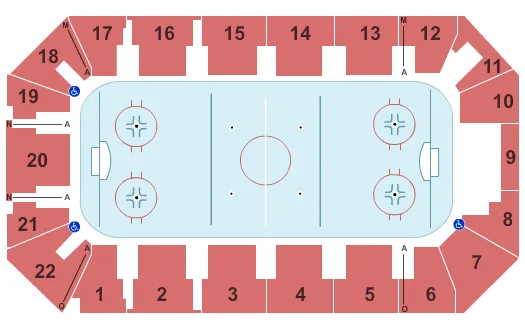 See 1st Summit Arena at Cambria County War Memorial - Hockey-2 events that use this seating chart configuration
1st Summit Arena at Cambria County War Memorial - Open Floor Seating Map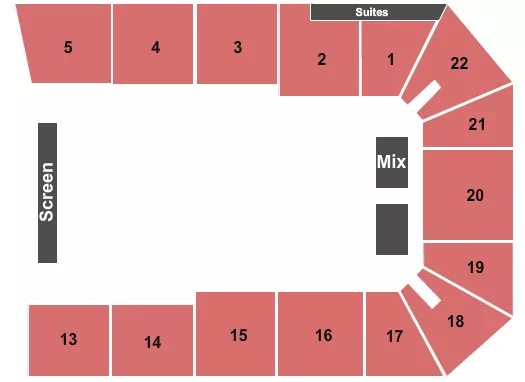 See 1st Summit Arena at Cambria County War Memorial - Open Floor events that use this seating chart configuration
Learn more about 1st Summit Arena at Cambria County War Memorial
The Cambria County War Memorial Arena is an incredible event venue located in Johnstown, Pennsylvania. With a seating capacity of 4,001 people, the arena is perfect for hosting large-scale events like concerts, sports games and theatrical performances. Whatever the occasion may be, the Arena provides a beautiful venue for you to enjoy your favorite performances in style. This beloved landmark has been host to entertainment and events for over 75 years. Built in the 1940s, it originally served as a memorial to those who lost their lives in World War I, II and the Korean War. Today, it hosts minor league sports games, major concerts from top artists, festivals, trade shows, conventions and more. It also features a multi-purpose pavilion and always provides an unforgettable experience steeped with history. Johnstown is a vibrant, active city located in Cambria County. Nestled in the foothills of the southern Allegheny Mountains, it offers scenic views, historic architecture and ample opportunities for outdoor recreation. Explore the city's unique neighborhoods and experience its lively culture. Take a trolley tour of downtown or a boat ride on Lake Conemaugh for bird watching experiences. Visit local farmers markets, boutiques and galleries, or enjoy delicious dishes featuring locally sourced ingredients at one of the many popular restaurants. Nearby attractions such as Joseph Johns Life House and hiking trails like the Baker Trail and Point Stadium Conservation Area offer breathtaking scenery year-round. Finish your day at the award-winning vineyards enjoying modern flavors as well as traditional local favorites like Gewur. With a story of resilience and plenty of exciting sporting events, the Arena is the place to be - the greatest fans in hockey await your visit!
FAQs about 1st Summit Arena at Cambria County War Memorial
What time do doors open at 1st Summit Arena?
Doors typically open anywhere between 90 minutes to 2 hours prior to showtime at the 1st Summit Arena. Be sure to check the listing on your ticket as showtimes will vary.
Who plays at the 1st Summit Arena?
The Johnstown Tomahawks are the home team at the 1st Summit Arena.
Are VIP Packages or Accessible Seating offered at 1st Summit Arena?
1st Summit Arena VIP seating packages and accessible seating section locations may vary per event. Please click the seating chart below or contact our customer service department to discuss options for accessible seating or VIP package purchases.
Facts about 1st Summit Arena at Cambria County War Memorial
Capacity:
4,001
Opened:
October 16, 1950
Event Dates and Pricing Information
| Performer | Date | Price | Tickets Available |
| --- | --- | --- | --- |
| PBR - Unleash The Beast | Dec 8, 2023 | From $63 | 9 |
| PBR - Unleash The Beast | Dec 9, 2023 | From $75 | 187 |
| PBR - Unleash The Beast | Dec 10, 2023 | From $39 | 251 |
| Johnstown Tomahawks | Dec 15, 2023 | From $28 | 1,184 |
| Johnstown Tomahawks | Dec 16, 2023 | From $28 | 1,314 |
| Johnstown Tomahawks | Dec 17, 2023 | From $28 | 1,109 |
| Johnstown Tomahawks | Dec 30, 2023 | From $28 | 1,328 |
| Johnstown Tomahawks | Dec 31, 2023 | From $27 | 1,120 |
| Johnstown Tomahawks | Jan 5, 2024 | From $28 | 1,249 |
| Johnstown Tomahawks | Jan 6, 2024 | From $27 | 1,298 |