Burton Cummings Theatre Seating Charts
Burton Cummings Theatre - End Stage Seating Map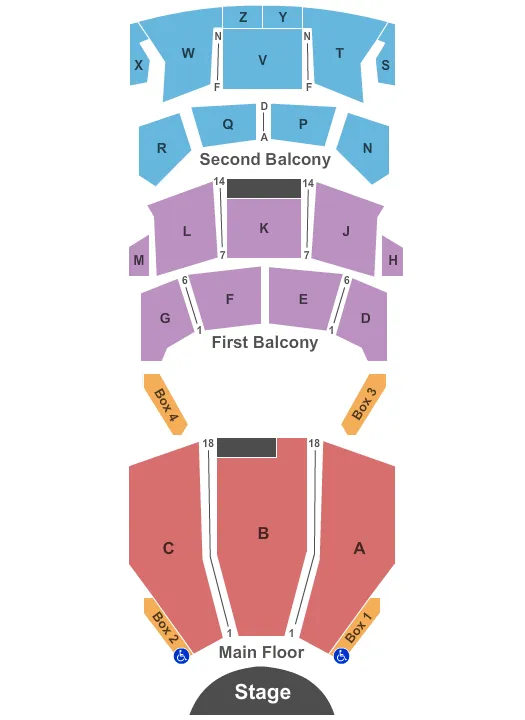 See Burton Cummings Theatre - End Stage events that use this seating chart configuration
Burton Cummings Theatre - GA Floor 2 Seating Map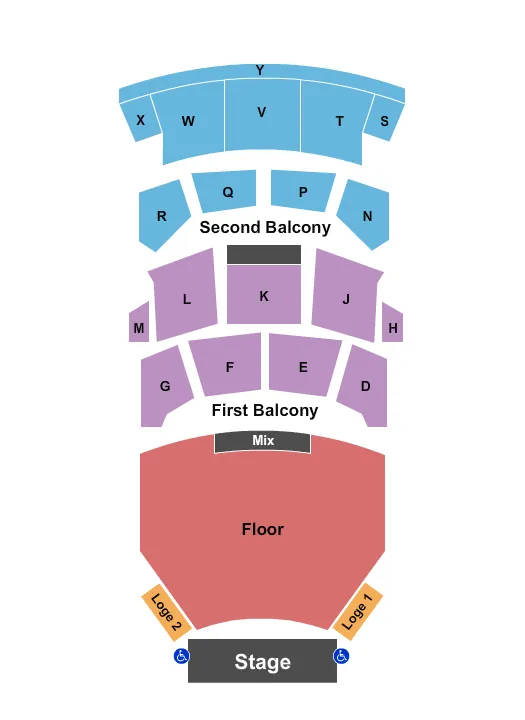 See Burton Cummings Theatre - GA Floor 2 events that use this seating chart configuration
Learn more about Burton Cummings Theatre
Located in the heart of Winnipeg, Manitoba, the historic Burton Cummings Theater has served the city for years with concerts, plays, and shows of all kinds. Built in 1906, this 750-seat venue has played host to some of Winnipeg's most spectacular events and features stunning beauty and an opulent atmosphere. Named after Canadian singer-songwriter Burton Cummings, it has become one of the top-performing locations in Canada due to its expert technical capabilities and state-of-the-art audio equipment.

Winnipeg is a vibrant city with plenty of things to do. Take a stroll around The Forks, an area where two rivers intersect, and enjoy their unique shopping, dining, and cultural experiences. Explore Exchange District's charming streets and check out what this historic neighborhood has to offer. Also, make sure you have time for some of Winnipeg's outstanding folklore—from skating on the world-famous river trail to seeing iconic Portage & Main during your stay. Don't forget about one of North America's largest urban parks - Assiniboine Park – where you can spend time surrounded by lush greenery in the summer months and ice skating rinks are open in winter times! Paid attractions are plentiful too; from Canada's Human Rights Museum to Zoo Thompson's polar bear exhibits, there will be something for everyone here in Winnipeg.

The Burton Cummings Theater is more than just a venue, it's an experience. With such a rich history and constantly amazing entertainment options, it's easy to see why this beloved theater continues to draw guests from near and far year after year. Whether you're local or just visiting Winnipeg, make sure to check out what events are coming up at the Burton Cummings Theater!
Event Dates and Pricing Information
| Performer | Date | Price | Tickets Available |
| --- | --- | --- | --- |
| Joe Gatto - Comedian | Dec 10, 2023 | From $93 | 44 |
| Joe Gatto - Comedian | Dec 10, 2023 | From $7 | 21 |
| Fred Penner | Dec 17, 2023 | From $38 | 156 |
| Machine Head | Jan 28, 2024 | From $57 | 147 |
| National Ballet of Ukraine | Jan 29, 2024 | From $87 | 905 |
| The Trews | Feb 3, 2024 | From $55 | 232 |
| Feist | Feb 6, 2024 | From $54 | 170 |
| Chelsea Handler | Feb 9, 2024 | From $86 | 502 |
| Big Sugar | Mar 4, 2024 | From $57 | 342 |
| Alan Doyle | Mar 5, 2024 | From $52 | 313 |