Brooks Stadium Tickets and Seating Charts - Conway, SC
Brooks Stadium - Conway Seating Charts
Brooks Stadium - Conway - Football Seating Map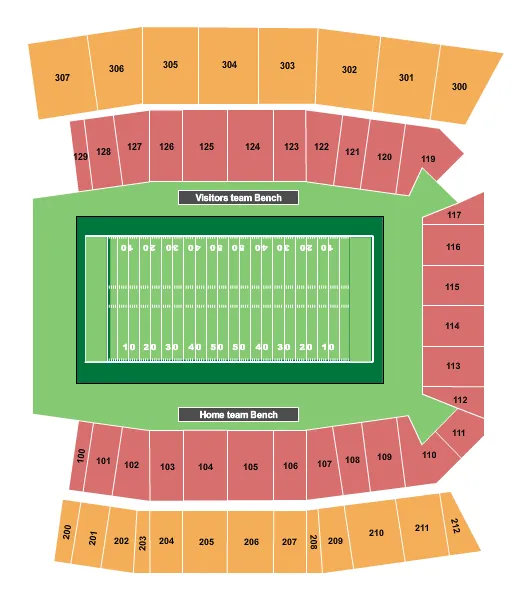 See Brooks Stadium - Conway - Football events that use this seating chart configuration
Brooks Stadium - Conway - Myrtle Beach Bowl Seating Map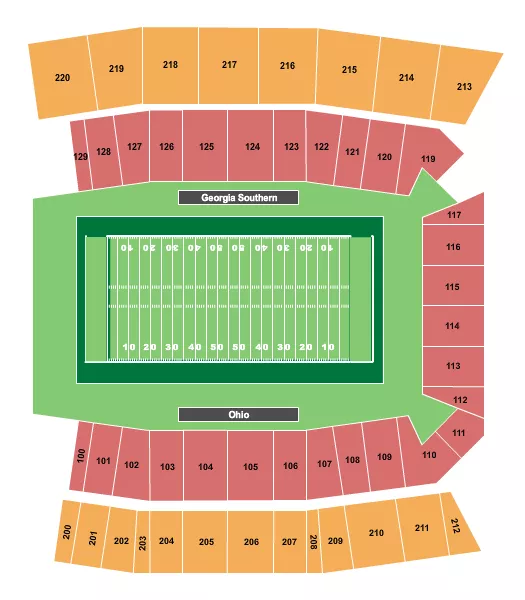 See Brooks Stadium - Conway - Myrtle Beach Bowl events that use this seating chart configuration
Learn more about Brooks Stadium - Conway
Brooks Stadium is a 21,000-seat multi-purpose stadium in Conway, South Carolina. It is home to the Coastal Carolina Chanticleers football team at Coastal Carolina University. The facility opened in 2003 and is named in honor of Coby Garrett Brooks and Boni Belle Brooks, children of Robert Brooks. Brooks was a Loris, South Carolina native and was the chairman of Hooters of America, Inc. The stadium is notable for its teal artificial turf. History and renovation While the current stadium dates only to 2003, the site has a considerably longer football history. In a 2020 interview, Coastal athletic director Matt Hogue, who began working at the school in 1997 as Coastal's basketball play-by-play announcer, told ESPN journalist Ryan McGee, When I started working here, that was the location of Conway High School's football stadium. They decided to build a new stadium on their campus, so it left that lot open for us. But it sat there empty for seven or eight months between their last game and our groundbreaking, so it was completely overgrown with weeds and watermelons. When we went out there to get ready for the groundbreaking ceremony, there were wild watermelons all over the place. Brooks Stadium is an impressive and spacious 21,000-seat multi-purpose stadium. Whether you're attending a football game or cheering on your favorite team at the track meet, there's always something exciting happening there. Opened in 2004, it has since been upgraded and expanded to include a new scoreboard, updated sound and lighting systems. Visitors can also enjoy concession stands and a full-size locker room for players. In Conway, travelers can enjoy browsing through independently-owned boutiques for unique finds, strolls alongside the Waccamaw River, and breathtaking views of Horry County. There is something for everyone in this friendly Southern town. Its charming architecture will appeal to history buffs, while music lovers can explore multiple venues featuring a variety of genres. Great food options provide something for every palate, from down-home southern restaurants to seafood favorites like Grouper and Soft Shell Beignets! Nature lovers will rejoice in getting up close and personal with Waccamaw Wildlife Refuge where they can observe animals in their natural habitat as well as get stunning nature shots such as sunrises over marshland meadows. Brooks Stadium is the perfect destination for a great night of football, fun, and memories. With its exciting atmosphere and top-of-the-line amenities, it has become one of the most popular college stadia in South Carolina and beyond. So make sure to drop by one day soon
FAQs about Brooks Stadium - Conway
Brooks Stadium Reviews, Interactive Seating Charts and Seat Views
Finding Brooks Stadium seating charts with seat views or 3D views from your seat has proven to be a difficult task - until now. Event Tickets Center provides fans with unbiased Brooks Stadium reviews on our venue guides, including information on Brooks Stadium seat numbers, row numbers, and tips on how to find great seats!
Are VIP Packages or Accessible Seating offered at Brooks Stadium?
Brooks Stadium VIP seating packages and accessible seating section locations may vary per event. Please click the seating chart below or contact our customer service department to discuss options for accessible seating or VIP package purchases.
Event Dates and Pricing Information
| Performer | Date | Price | Tickets Available |
| --- | --- | --- | --- |
| Myrtle Beach Bowl | Dec 16, 2023 | From $52 | 56 |
| Coastal Carolina Chanticleers Football | Sep 21, 2024 | From $191 | 16 |