Total Mortgage Arena Seating Charts
Total Mortgage Arena - Hockey Seating Map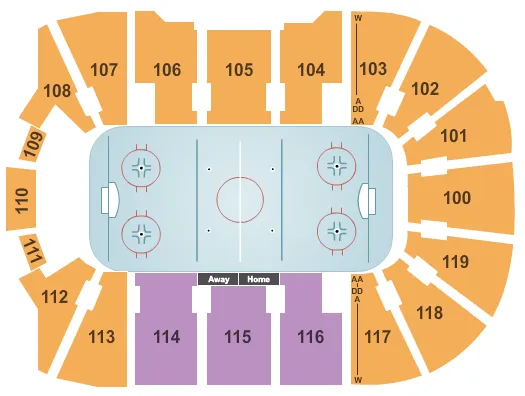 See Total Mortgage Arena - Hockey events that use this seating chart configuration
Buy Bridgeport Islanders Tickets
The Bridgeport Islanders are a professional ice hockey team based in Bridgeport, Connecticut, and compete in the American Hockey League (AHL). The team was founded in 2001 and originally played as the Bridgeport Sound Tigers until they rebranded as the Islanders in 2021. The team is affiliated with the New York Islanders of the National Hockey League (NHL).
The team has a strong rivalry with their in-state rivals, the Hartford Wolf Pack, as well as with the Providence Bruins and the Wilkes-Barre/Scranton Penguins. These matchups always bring a high level of intensity and physicality, making for an exciting game for fans.
The Bridgeport Islanders play their home games at the Total Mortgage Arena, which has a seating capacity of over 8,000. The arena offers a state-of-the-art setting that allows fans to experience the energy and excitement of live hockey up close.
Although the team has yet to win a championship, they have made several playoff appearances, including a trip to the Calder Cup Finals in the 2001-2002 season. The Islanders have also had several players move on to play in the National Hockey League (NHL), including Ryan Pulock, Casey Cizikas, and Devon Toews.
As a fan, there's nothing quite like the experience of seeing the Bridgeport Islanders play live. From the sound of the skates on the ice to the roar of the crowd after a goal, it's a thrilling experience that hockey fans won't want to miss. If you're looking for a great night out with family and friends, make sure to get your Bridgeport Islanders tickets today!
FAQs about Bridgeport Islanders 2023 Game Schedule And Tickets
How and where to buy Bridgeport Islanders tickets?
While it may be difficult to find Bridgeport Islanders tickets, Event Tickets Center has plenty of Bridgeport Islanders tickets available starting from $22. Select your tickets using our interactive seating chart, and follow the steps in checkout. You'll be going to a Bridgeport Islanders event in no time!
How much are Bridgeport Islanders tickets?
On Event Tickets Center, Bridgeport Islanders ticket prices range from $22 up to $570 over a number of different Bridgeport Islanders events.
When do Bridgeport Islanders tickets go on sale?
Typically, Bridgeport Islanders will announce the schedule 3-6 months before the first game, and tickets go on sale within a few weeks of the schedule announcement.
Are Bridgeport Islanders tickets sold out?
No. While tickets to see Bridgeport Islanders may be sold out on other ticketing websites, Event Tickets Center has plenty of tickets available for you to see Bridgeport Islanders live.
Are Bridgeport Islanders tickets on sale?
Yes, Bridgeport Islanders tickets are on sale, and you can buy them right here at Event Tickets Center.
When is the next Bridgeport Islanders event?
The next Bridgeport Islanders event is on December 8, 2023 at Adirondack Bank Center at Utica Memorial Auditorium in Utica, NY. Event Tickets Center has 311 tickets available for this event.
Event Dates and Pricing Information
| Venue | Date | Price | Tickets Available |
| --- | --- | --- | --- |
| Adirondack Bank Center at Utica Memorial Auditorium | Dec 8, 2023 | From $27 | 311 |
| Massmutual Center | Dec 9, 2023 | From $22 | 404 |
| Bojangles Coliseum | Dec 15, 2023 | From $22 | 2,058 |
| Bojangles Coliseum | Dec 16, 2023 | From $24 | 1,872 |
| XL Center | Dec 22, 2023 | From $31 | 1,415 |
| Massmutual Center | Dec 23, 2023 | From $25 | 1,122 |
| Total Mortgage Arena | Dec 27, 2023 | From $25 | 1,726 |
| Massmutual Center | Dec 29, 2023 | From $24 | 923 |
| XL Center | Dec 30, 2023 | From $33 | 911 |
| Total Mortgage Arena | Jan 4, 2024 | From $25 | 1,785 |