Brick & Mortar Music Hall Tickets and Seating Charts - San Francisco, CA
Brick & Mortar Music Hall Seating Charts
Brick & Mortar Music Hall - GA/VIP Seating Map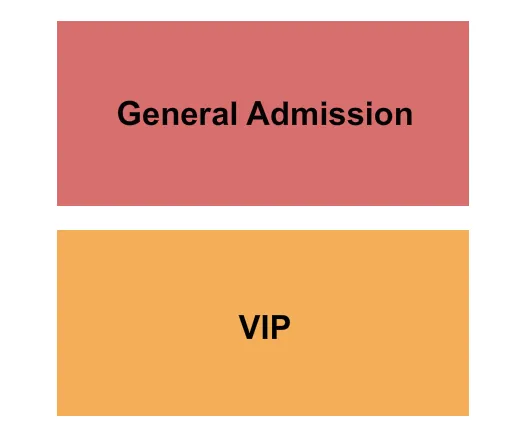 See Brick & Mortar Music Hall - GA/VIP events that use this seating chart configuration
Brick & Mortar Music Hall - General Admission Seating Map See Brick & Mortar Music Hall - General Admission events that use this seating chart configuration
Learn more about Brick & Mortar Music Hall
Brick & Mortar Music Hall is a live music venue located in San Francisco, California, USA. The venue is known for hosting a wide range of musical genres, including rock, indie, electronic, hip-hop, jazz, and world music. It has become a popular destination for music fans in the Bay Area due to its intimate atmosphere and diverse lineup of artists. The venue is housed in a historic building in the Mission District of San Francisco and features a small stage, a bar, and a dance floor. The space has a capacity of around 250 people, creating an intimate and immersive experience for concert-goers. The venue has been praised for its sound system and acoustics, which are designed to provide an excellent listening experience for all types of music.

San Francisco, CA is an absolutely beautiful city known for its diversity, culture, art, and breathtaking views from almost any place in town. Whether you are an outdoor enthusiast or prefer the thrill of cityscapes with the iconic Golden Gate Bridge, you can find something unique to see and experience around every corner. Not to mention all of the amazing culinary experiences including popular restaurants like Zuni Cafe and The Slanted Door, as well as traditional markets such as San Francisco's famous Chinatown. Stroll through Fisherman's Wharf and be sure to take a ride in one of the iconic cable cars while you're in town. Adventure awaits throughout this diverse California coastal city, including Golden Gate Park, offering many outdoor activities right downtown, and ventures out further into Muir Woods National Monument where nature's beauty is abundant with redwood trees galore. Whether you are staying for a day or a week, there will be plenty of opportunities to experience new things and great food so for the ultimate live music experience, head over to Brick & Mortar Music Hall.

The venue has been a mainstay in San Francisco's live music scene since opening its doors in 2010. An intimate venue located between the Mission District and the Financial District, Brick & Mortar offers a constantly rotating mix of curated local and national acts. With performances ranging from jazz to hip hop, electronic, and rock music, the hall executes its mission to bring all corners of sound to its stage. The Vinyl Room also serves as an homage to physical media, providing fans with an outlet to own limited-edition vinyl releases from their favorite shows or purchase records directly at their merchandise booth during events. Since its inception, Brick & Mortar Music Hall continues striving to provide a unique music experience for locals and visitors alike. You are in for a treat!
Event Dates and Pricing Information
| Performer | Date | Price | Tickets Available |
| --- | --- | --- | --- |
| Beauty School Dropout | Dec 9, 2023 | From $48 | 16 |
| Reason | Dec 13, 2023 | From $42 | 32 |
| E Arenas | Dec 16, 2023 | From $50 | 10 |
| Bubble Tea and Cigarettes | Dec 19, 2023 | From $41 | 10 |
| Isabel Dumaa | Dec 20, 2023 | From $41 | 10 |
| Smoke Dza | Dec 21, 2023 | From $49 | 16 |
| Wifisfuneral | Jan 14, 2024 | From $41 | 34 |
| Jane Remover | Feb 10, 2024 | From $41 | 19 |
| The Hails | Feb 11, 2024 | From $28 | 12 |
| Petite Noir | Feb 13, 2024 | From $40 | 20 |