Briar Street Theatre Tickets and Seating Charts - Chicago, IL
Briar Street Theatre Seating Charts
Briar Street Theatre - Endstage Seating Map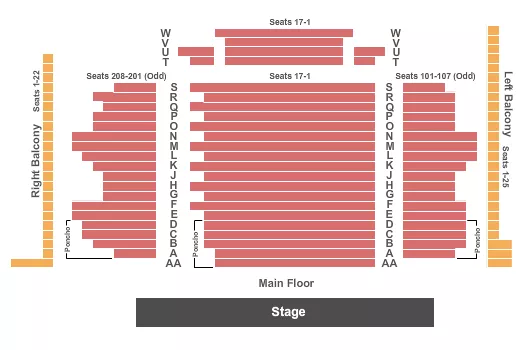 See Briar Street Theatre - Endstage events that use this seating chart configuration
Learn more about Briar Street Theatre
The Briar Street Theatre is located in Chicago, Illinois, and is one of the top venues in the area. Although Chicago is not as well known for its theatres as some other cities, this is one venue that can easily hold its own among the national competition. For this reason, the Briar Street Theatre has become quite popular over the past few years.

The Briar Street Theatre has a seating capacity of 600. Although this may sound small, it goes a long way in ensuring that there is no bad seat in the house. This alone is reason enough for any interested party to attend an even at this venue.

The Blue Man Group performs at the Briar Street Theatre on a regular basis. As you can imagine, this has a lot to do with its popularity.

Overall, the Briar Street Theatre is a comfortable venue that offers a lot to locals as well as tourists.
FAQs about Briar Street Theatre
What time do doors open at Briar Street Theatre?
Doors typically open anywhere between 90 minutes to 2 hours prior to showtime at Briar Street Theatre. Be sure to check the listing on your ticket as showtimes will vary.
Are VIP Packages or Accessible Seating offered at Briar Street Theatre?
Briar Street Theatre VIP seating packages and accessible seating section locations may vary per event. Please click the seating chart below or contact our customer service department to discuss options for accessible seating or VIP package purchases.
Facts about Briar Street Theatre
Capacity:
625
Date Opened:
1985
Event Dates and Pricing Information
| Performer | Date | Price | Tickets Available |
| --- | --- | --- | --- |
| Blue Man Group | Dec 9, 2023 | From $126 | 20 |
| Blue Man Group | Dec 10, 2023 | From $86 | 219 |
| Blue Man Group | Dec 10, 2023 | From $86 | 253 |
| Blue Man Group | Dec 13, 2023 | From $86 | 321 |
| Blue Man Group | Dec 14, 2023 | From $86 | 301 |
| Blue Man Group | Dec 15, 2023 | From $86 | 319 |
| Blue Man Group | Dec 16, 2023 | From $86 | 278 |
| Blue Man Group | Dec 16, 2023 | From $86 | 319 |
| Blue Man Group | Dec 16, 2023 | From $86 | 287 |
| Blue Man Group | Dec 17, 2023 | From $85 | 362 |