Bradley Symphony Center Seating Charts
Bradley Symphony Center - Endstage Seating Map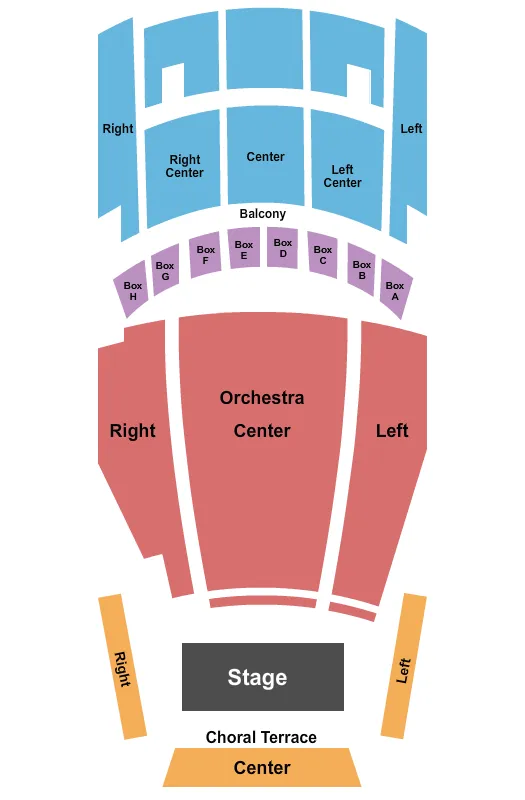 See Bradley Symphony Center - Endstage events that use this seating chart configuration
Learn more about Bradley Symphony Center
The Bradley Symphony Center in Milwaukee, Wisconsin, is a great place to experience the music of the Milwaukee Symphony Orchestra. As one of the oldest orchestras in America, the MILSO provides captivating performances over a variety of different styles and genres for audiences to enjoy. Whether you're a fan of classical music or looking for something more modern, the venue has something for everyone. Located in Milwaukee, Wisconsin, Bradley Symphony Center has been an indispensable part of the city's cultural landscape since its opening in 1988. Its iconic design was created by renowned architects Esherick Homsey Dodge & Davis and features a 900-seat concert hall with stunning views all around. With over 30 years at the heart of Milwaukee's performing arts scene, the Center offers something for everyone: classical music concerts, renowned orchestras from around the globe, theatrical plays, comedy acts, lectures, and movie screenings. Milwaukee is a high-energy, vibrant city with an array of entertainment venues. From the stunning beauty of its open skies to the adventure of its popular outdoor water park and surrounding nature trails, to its historic architecture and cultural attractions, there is something for everyone. Enjoy world-class art galleries and museums, plus year-round festivals of music, dance, and theatre. Explore a dynamic dining scene with a wide variety of locally sourced options. Find unique vintage finds at chic flea markets and charming antique stores. And cheer on Brewers baseball and Green Bay Packers football! Whether you're looking for an evening of musical entertainment or a truly unique cultural experience, the Bradley Symphony Center is the place to be. With its outstanding acoustics and stunning atmosphere, this state-of-the-art venue is sure to captivate any audience. Visit this Milwaukee landmark today and experience the beauty of classical music at its best.
FAQs about Bradley Symphony Center
Bradley Symphony Center Seating Chart Seating Maps, Sections and Seating Charts
Bradley Symphony Center Seating Chart offers a variety of seating options for events, including Orchestra, Endstage and Mezzanine sections.Some events at Bradley Symphony Center Seating Chart may also feature sections including General Admission (GA), Lawn or Standing Room Only (SRO), indicating seating or standing areas that are not assigned or reserved.
Bradley Symphony Center Reviews, Interactive Seating Charts and Seat Views
Finding Bradley Symphony Center seating charts with seat views or 3D views from your seat has proven to be a difficult task - until now. Event Tickets Center provides fans with unbiased Bradley Symphony Center reviews on our venue guides, including information on Bradley Symphony Center seat numbers, row numbers, and tips on how to find great seats!
Are VIP Packages or Accessible Seating offered at Bradley Symphony Center?
Bradley Symphony Center VIP seating packages and accessible seating section locations may vary per event. Please click the seating chart below or contact our customer service department to discuss options for accessible seating or VIP package purchases.
Event Dates and Pricing Information
| Performer | Date | Price | Tickets Available |
| --- | --- | --- | --- |
| Milwaukee Symphony Orchestra | Dec 8, 2023 | From $102 | 88 |
| Milwaukee Symphony Orchestra | Dec 9, 2023 | From $120 | 82 |
| Milwaukee Symphony Orchestra | Dec 10, 2023 | From $116 | 42 |
| Milwaukee Symphony Orchestra | Dec 14, 2023 | From $80 | 61 |
| Milwaukee Symphony Orchestra | Dec 15, 2023 | From $116 | 68 |
| Milwaukee Symphony Orchestra | Dec 16, 2023 | From $159 | 37 |
| Milwaukee Symphony Orchestra | Dec 16, 2023 | From $114 | 75 |
| Milwaukee Symphony Orchestra | Dec 17, 2023 | From $116 | 39 |
| Milwaukee Symphony Orchestra | Dec 19, 2023 | From $99 | 87 |
| Milwaukee Symphony Orchestra | Dec 30, 2023 | From $118 | 49 |