Bourbon Theatre - NE Seating Charts
Bourbon Theatre - NE - GA Floor/GA Balc Seating Map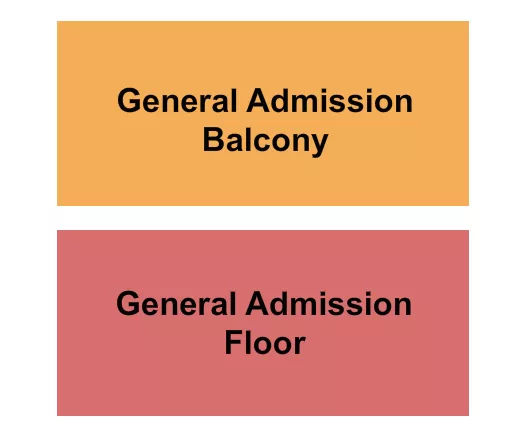 See Bourbon Theatre - NE - GA Floor/GA Balc events that use this seating chart configuration
Bourbon Theatre - NE - GA/Table2&4 Seating Map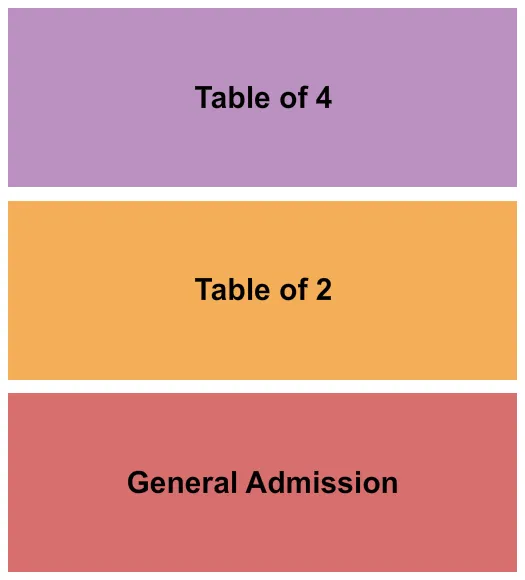 See Bourbon Theatre - NE - GA/Table2&4 events that use this seating chart configuration
Bourbon Theatre - NE - General Admission Seating Map See Bourbon Theatre - NE - General Admission events that use this seating chart configuration
Learn more about Bourbon Theatre - NE
The Bourbon Theatre is an entertainment venue located in Lincoln, Nebraska. Established in 2013, this venue combines both traditional features of an old theatre with modern audio-visual solutions to create an intimate environment for live music. Its carefully curated schedule delivers unique performances ranging from jazz to rock 'n' roll while incorporating elements from regional culture and showcasing lesser-known artists and local talents alike. With a capacity of 800, the Bourbon Theatre has cemented itself as one of the premier destinations for experiencing live music in Lincoln.

The city of Lincoln, Nebraska, is the state capital and serves as its cultural, educational, and economic hub. In addition to offering great opportunities in business, higher education, and quality health care, Lincoln also has a variety of exciting attractions for visitors of all ages. Stroll along the historic Haymarket District or take a bike ride through Arnold Park for unique boutiques, restaurants, art galleries, and antique stores. Explore century-old galleries like the Sheldon Museum of Art or enjoy outdoor activities such as running or kayaking at Oak Lake Park. Visit the campus at the University of Nebraska–Lincoln or take some youngsters down to the new Exploration Children's Museum.

If you're planning to visit the Bourbon Theatre, you'll want to make sure you have great seats. Get acquainted with the Bourbon Theatre by using our seating chart below. Simply click on a section to browse tickets and you'll be on your way to an unforgettable event experience!
Event Dates and Pricing Information
| Performer | Date | Price | Tickets Available |
| --- | --- | --- | --- |
| The Whips | Sep 22, 2023 | From $121 | 6 |
| Casper Allen | Sep 23, 2023 | From $46 | 4 |
| Gregory Alan Isakov | Sep 28, 2023 | From $76 | 38 |
| Bussin' with the Boys Live | Sep 29, 2023 | From $72 | 14 |
| Icewear Vezzo | Sep 30, 2023 | From $69 | 16 |
| Jeff Leeson | Oct 1, 2023 | From $41 | 16 |
| Rittz | Oct 4, 2023 | From $50 | 16 |
| moe. | Oct 5, 2023 | From $50 | 17 |
| Illoh | Oct 7, 2023 | From $27 | 16 |
| Tallah | Oct 10, 2023 | From $32 | 18 |