Blue Man Theater at The Luxor Hotel Tickets and Seating Charts - Las Vegas, NV
Blue Man Theater at The Luxor Hotel Seating Charts
Blue Man Theater at The Luxor Hotel - End Stage Seating Map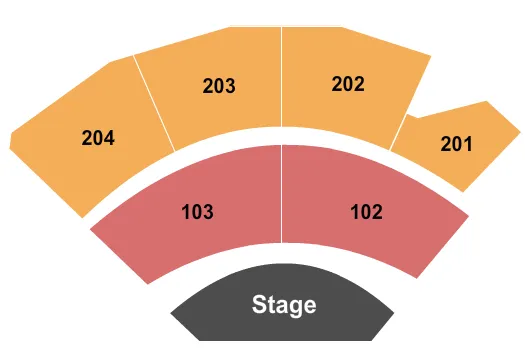 See Blue Man Theater at The Luxor Hotel - End Stage events that use this seating chart configuration
Learn more about Blue Man Theater at The Luxor Hotel
Blue Man Theater at The Luxor is a world-class event venue located in the heart of Las Vegas, Nevada. Established in 1993, this iconic theater has been host to some of the world's best entertainment acts and productions. From concerts to theatrical performances and everything in between, Blue Man Theater has something for everyone.

Las Vegas is a flourishing city full of culture and high-end dining options. Shopping is abundant with malls, boutiques, and great bargains around every corner. From gambling at casino's to attending a concert or show at one of the many renowned venues nearby; the possibilities are endless. With activities for all ages, it's easy to plan a trip or weekend getaway to Las Vegas with fun and excitement! Spend days relaxing poolside in one of many nearby hotels while catching some sun along The Strip. Experience nightlife like never by frequenting rooftop lounges, live music spots or chic nightclubs to celebrate any special occasion. Don't miss local attractions such as The High Roller Observation Wheel and Fremont Street Experience.

The Blue Man Theater at The Luxor Hotel in Las Vegas is a great entertainment venue offering discounted tickets and an upcoming event featuring the Blue Man Group. It's the perfect spot for family friendly fun or a night out with friends - be sure to check it out on your next visit to Las Vegas!
Event Dates and Pricing Information
| Performer | Date | Price | Tickets Available |
| --- | --- | --- | --- |
| Blue Man Group | Oct 4, 2023 | From $121 | 67 |
| Blue Man Group | Oct 5, 2023 | From $121 | 72 |
| Blue Man Group | Oct 5, 2023 | From $121 | 80 |
| Blue Man Group | Oct 6, 2023 | From $119 | 141 |
| Blue Man Group | Oct 6, 2023 | From $119 | 122 |
| Blue Man Group | Oct 7, 2023 | From $119 | 127 |
| Blue Man Group | Oct 7, 2023 | From $119 | 136 |
| Blue Man Group | Oct 8, 2023 | From $119 | 133 |
| Blue Man Group | Oct 8, 2023 | From $119 | 135 |
| Blue Man Group | Oct 9, 2023 | From $76 | 305 |