Belk Theatre at Blumenthal Performing Arts Center Seating Charts
Belk Theatre at Blumenthal Performing Arts Center - End Stage - IntZone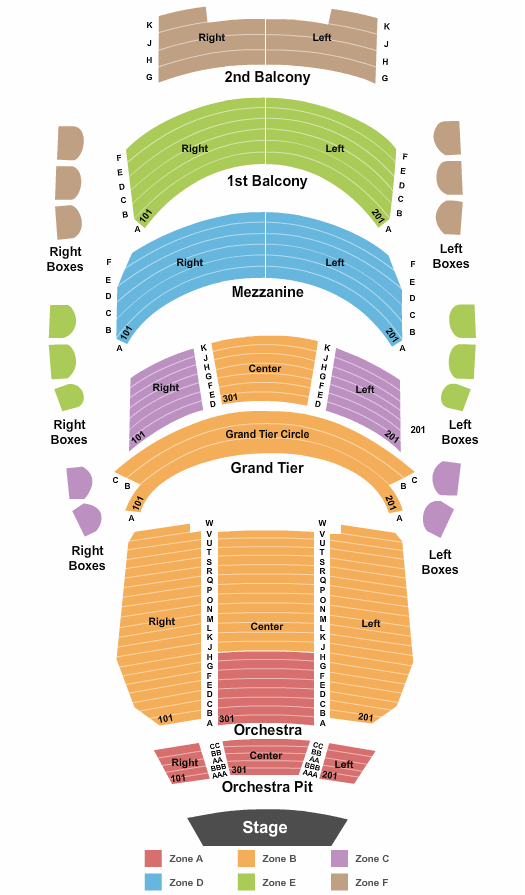 See Belk Theatre at Blumenthal Performing Arts Center - End Stage - IntZone events that use this seating chart configuration
Learn more about Belk Theatre at Blumenthal Performing Arts Center
The Belk Theatre is located in Charlotte, North Carolina within the North Carolina Blumenthal Performing Arts Center. The center opened for business in 1992, which makes it one of the newer venues of its type in the area. With a relatively young age, the venue has plenty to offer in the way of modern amenities.

The Belk Theatre has a seating capacity of 2,100; this makes it the largest venue in the North Carolina Blumenthal Performing Arts Center. Every seat in the Belk Theatre is close enough to the action to feel involved. In fact, the most distant seat is only 135 feet away from the main stage.

The Belk Theatre offers the ability to host a large number of events ranging from concerts to operas to business meetings.

With so much to offer, and a young age, it is safe to say that the Belk Theatre will be popular for many more years to come


FAQs about Belk Theatre at Blumenthal Performing Arts Center
Q: What time do doors open at Belk Theatre?
A: Doors typically open anywhere between 90 minutes to 2 hours prior to showtime at Belk Theatre. Be sure to check the listing on your ticket as showtimes will vary.
Q: Are VIP Packages or Accessible Seating offered at Belk Theatre?
A: Belk Theatre VIP seating packages and accessible seating section locations may vary per event. Please click the seating chart below or contact our customer service department to discuss options for accessible seating or VIP package purchases.
Facts about Belk Theatre at Blumenthal Performing Arts Center
Capacity:
2,097
Date Opened:
November 1992