Belding Theater at Bushnell Theatre Seating Charts
Belding Theater at Bushnell Theatre - Endstage Seating Map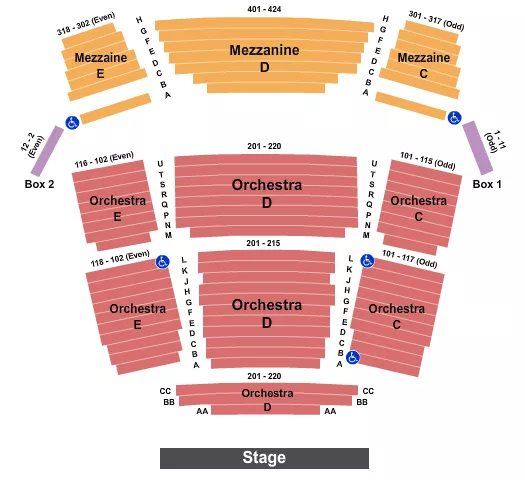 See Belding Theater at Bushnell Theatre - Endstage events that use this seating chart configuration
Learn more about Belding Theater at Bushnell Theatre
The Belding Theater is located in Hartford, Connecticut, and is one of the best places in the state to take in a live show. This venue is also known as the Bushnell Theatre. Fortunately, no matter what you call it you are going to have a great time upon arriving. The many benefits of the venue have made tickets hard to come by over the years.

Some productions that have taken place at the venue in the past have included: Young Frankenstein, Runt of the Litter, Dixie's Tupperware, and Ha! Ha! Hartford! Additionally, the venue brings in other big name performers from time to time such as Joan Rivers.

With a seating capacity of right around 1,000, you don't want to wait too long to purchase Belding Theater tickets. When you buy in advance you can be rest assured that you are going to get exactly what you want.

All in all, the Belding Theater has a lot to offer. If you are going to be in the area, try to get tickets for an event at Belding Theater.
Facts about Belding Theater at Bushnell Theatre
Capacity:
908
Opened:
2002
Event Dates and Pricing Information
| Performer | Date | Price | Tickets Available |
| --- | --- | --- | --- |
| The Nutcracker | Dec 22, 2023 | From $137 | 18 |
| The Nutcracker | Dec 23, 2023 | From $218 | 2 |
| The Nutcracker | Dec 23, 2023 | From $167 | 10 |
| Hartford Symphony Orchestra | Feb 9, 2024 | From $77 | 50 |
| Hartford Symphony Orchestra | Feb 10, 2024 | From $77 | 44 |
| Kathy Griffin | Feb 16, 2024 | From $175 | 14 |
| Bianca Del Rio | Feb 28, 2024 | From $88 | 11 |
| Hartford Symphony Orchestra | Mar 8, 2024 | From $77 | 63 |
| Hartford Symphony Orchestra | Mar 9, 2024 | From $77 | 54 |
| Sasha Velour | Mar 15, 2024 | From $94 | 2 |