Gas South Arena Seating Charts
Gas South Arena - Hockey Seating Map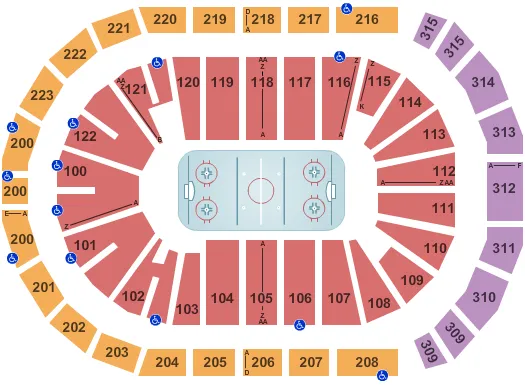 See Gas South Arena - Hockey events that use this seating chart configuration
Buy Atlanta Gladiators Tickets
The Atlanta Gladiators are a professional ice hockey team based in Duluth, Georgia, a suburb of Atlanta. The team plays in the South Division of the ECHL, which is a professional minor league in North America. The Gladiators were founded in 2003 and began playing in the ECHL the following year as an expansion team.
The Gladiators play their home games at the Gas South Arena, which is a multi-purpose venue that can seat up to 13,000 fans for hockey games. The arena is located in Gwinnett County, just northeast of Atlanta.
Although the team has not yet won a league championship, they have had some notable accomplishments in their history. In the 2005-2006 season, the Gladiators made it to the Kelly Cup Finals, which is the championship series of the ECHL, but lost to the Alaska Aces. Additionally, the Gladiators have made the playoffs ten times in their history, most recently in the 2021-2022 season.
The Gladiators have had several notable rivalries over the years, including with the Florida Everblades and the South Carolina Stingrays. These matchups have often been intense and highly competitive, with both teams battling for divisional supremacy.
If you're a fan of hockey in the Atlanta area, be sure to check out the Atlanta Gladiators and experience the excitement of live hockey at the Gas South Arena. With fast-paced action, passionate fans, and thrilling games, the Gladiators offer an unforgettable experience for all hockey fans. So, come out and support the team by purchasing your tickets today!
FAQs about Atlanta Gladiators 2023 Game Schedule And Tickets
How and where to buy Atlanta Gladiators tickets?
While it may be difficult to find Atlanta Gladiators tickets, Event Tickets Center has plenty of Atlanta Gladiators tickets available starting from $24. Select your tickets using our interactive seating chart, and follow the steps in checkout. You'll be going to a Atlanta Gladiators event in no time!
How much are Atlanta Gladiators tickets?
On Event Tickets Center, Atlanta Gladiators ticket prices range from $24 up to $553 over a number of different Atlanta Gladiators events.
When do Atlanta Gladiators tickets go on sale?
Typically, Atlanta Gladiators will announce the schedule 3-6 months before the first game, and tickets go on sale within a few weeks of the schedule announcement.
Are Atlanta Gladiators tickets sold out?
No. While tickets to see Atlanta Gladiators may be sold out on other ticketing websites, Event Tickets Center has plenty of tickets available for you to see Atlanta Gladiators live.
Are Atlanta Gladiators tickets on sale?
Yes, Atlanta Gladiators tickets are on sale, and you can buy them right here at Event Tickets Center.
When is the next Atlanta Gladiators event?
The next Atlanta Gladiators event is on December 13, 2023 at Bon Secours Wellness Arena in Greenville, SC. Event Tickets Center has 1,696 tickets available for this event.
Event Dates and Pricing Information
| Venue | Date | Price | Tickets Available |
| --- | --- | --- | --- |
| Bon Secours Wellness Arena | Dec 13, 2023 | From $36 | 1,696 |
| Gas South Arena | Dec 15, 2023 | From $38 | 2,167 |
| Gas South Arena | Dec 16, 2023 | From $27 | 2,225 |
| Bon Secours Wellness Arena | Dec 20, 2023 | From $30 | 2,375 |
| Gas South Arena | Dec 23, 2023 | From $24 | 2,502 |
| North Charleston Coliseum | Dec 27, 2023 | From $30 | 1,889 |
| Gas South Arena | Dec 29, 2023 | From $30 | 2,367 |
| Gas South Arena | Dec 30, 2023 | From $30 | 2,288 |
| Enmarket Arena | Dec 31, 2023 | From $51 | 157 |
| Gas South Arena | Jan 3, 2024 | From $24 | 2,101 |