Assembly Hall - IN Seating Charts
Assembly Hall - IN - Basketball Seating Map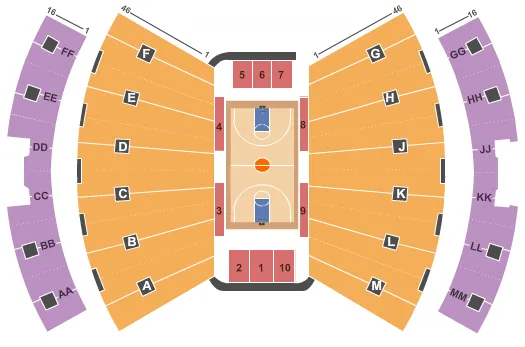 See Assembly Hall - IN - Basketball events that use this seating chart configuration
Learn more about Assembly Hall - IN
Assembly Hall is located in
Bloomington, Indiana
, and serves as the home court for the
Indiana Hoosiers
men's and women's basketball teams. All in all, Assembly Hall is one of the most well known venues in all of college basketball.
Assembly Hall opened its doors to the public in 1972. Although this may sound old, the venue has held up quite well over the years. And in addition to its good condition, the rich history at Assembly Hall makes it quite enjoyable for both players and fans.
The seating capacity at Assembly Hall is 17,456. This is among the largest venues in the
Big Ten Conference
, and can hold its own with any in the country. When it comes to fan atmosphere, it does not get much better than what Assembly Hall has to offer.
Seeing a college basketball game at Assembly Hall is an event that you will not soon forget. If you are in
Indiana
during basketball season, make sure that you stop by Assembly Hall to see just how much it has to offer.
FAQs about Assembly Hall - IN
What time do doors open at Assembly Hall?
Doors typically open anywhere between 90 minutes to 2 hours prior to showtime at Assembly Hall. Be sure to check the listing on your ticket as showtimes will vary.
Are VIP Packages or Accessible Seating offered at Assembly Hall?
Assembly Hall VIP seating packages and accessible seating section locations may vary per event. Please click the seating chart below or contact our customer service department to discuss options for accessible seating or VIP package purchases.
Who plays at Assembly Hall?
The Indiana Hoosiers are the home team at the Assembly Hall.
Facts about Assembly Hall - IN
Capacity:
17,222
Date Opened:
September 12, 1971
Event Dates and Pricing Information
| Performer | Date | Price | Tickets Available |
| --- | --- | --- | --- |
| Indiana Hoosiers Basketball | Dec 16, 2023 | From $72 | 649 |
| Indiana Hoosiers Women's Basketball | Dec 18, 2023 | From $11 | 42 |
| Indiana Hoosiers Basketball | Dec 19, 2023 | From $3 | 1,286 |
| Indiana Hoosiers Basketball | Dec 21, 2023 | From $3 | 1,072 |
| Indiana Hoosiers Women's Basketball | Dec 22, 2023 | From $18 | 28 |
| Indiana Hoosiers Basketball | Dec 29, 2023 | From $21 | 434 |
| Indiana Hoosiers Women's Basketball | Dec 31, 2023 | From $53 | 23 |
| Indiana Hoosiers Women's Basketball | Jan 4, 2024 | From $24 | 41 |
| Indiana Hoosiers Basketball | Jan 6, 2024 | From $66 | 1,141 |
| Indiana Hoosiers Women's Basketball | Jan 10, 2024 | From $9 | 67 |