Angel Stadium Seating Charts
Angel Stadium - Baseball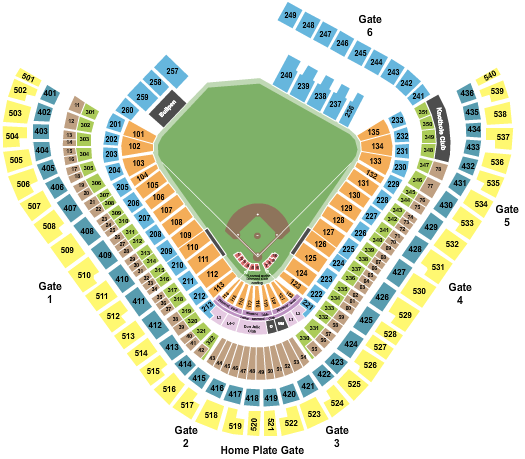 See Angel Stadium - Baseball events that use this seating chart configuration
Angel Stadium - Monster Jam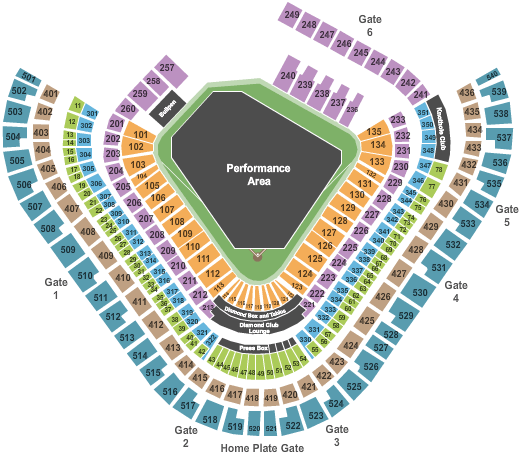 See Angel Stadium - Monster Jam events that use this seating chart configuration
Learn more about Angel Stadium
Home to the
Los Angeles Angels
baseball team, Angel Stadium opened on April 9, 1966 with an exhibition game between the California Angels and the San Francisco Giants. Often referred to as the Big A, the stadium is one of the oldest active Major League Baseball stadiums in the country. The stadium underwent renovations in 1979 to 1980 to increase its seating capacity to accommodate the NFL's Los Angeles Rams, although the Rams left Anaheim for St. Louis, Missouri, in 1995. Today, Angels games are the focal point of the stadium, but it also plays host to a number of events including monster truck jams, sports camps, charity walks, red carpet events, live music concerts and more.
Angel Stadium has a seating capacity of approximately 45,050. The stadium is divided into three levels, including field, clubs/suites and upper. On the field level, the concourse surrounds the entire ballpark, leading to a concession area and seating area in centerfield. For young fans, the stadium has a centerfield play area, which offers a variety of activities and children's concessions. Throughout the park, there are a number of food and beverage concessions selling classic ballpark fare like hot dogs and beer. When the Angels are on the road, the stadium offers walking tours of the facilities.
Watching a baseball game live is exhilarating and fun, and to ensure a hassle-free experience, there are things you should know prior to a game. To avoid the long lines, pre-purchase a will-call ticket. The stadium has will-call windows located at the Home Plate Gate. You can bring items such as personal cameras with a lens less than six inches, personal-sized umbrellas, outside food (but not in bulk), plastic factory-sealed water bottles up to one liter in size, and electronic devices, as long as they don't bother other fans. Don't forget to check the weather advisory before heading to a game, as weather conditions may result in a delay or cancellation.
View Angel Stadium seating charts for live games! If you're planning to visit Angel Stadium in Anaheim, you'll want to make sure you have great seats. Get acquainted with Angel Stadium by using our seating chart below. This seating map features a complete layout of Angel Stadium seats and the locations of different ticket tiers. Simply click on a section to browse tickets and you'll be on your way to an unforgettable event experience!
FAQs about Angel Stadium
Q: What time do doors open at Angel Stadium?
A: Doors typically open anywhere between 90 minutes to 2 hours prior to showtime at Angel Stadium. Be sure to check the listing on your ticket as showtimes will vary.
Q: Who plays at Angel Stadium?
A: The Los Angeles Angels are the home team at the Angel Stadium.
Q: Angel Stadium Seat Numbers, Sections and Seating Chart
A: When looking at seating charts for sports events, seats are arranged so that the lower numbered seats within a section are located closer to the preceding section. For example; if a venue shows three sections (A, B, and C), seat #1 in section B will be located next to section A. As the seat numbers progress within section B, they move closer to section C. Angel Stadium, a venue designed to host sports games, may be set up in a similar fashion. While concerts and other events held at Angel Stadium may not follow this layout, most sports events happening at Angel Stadium will follow this configuration. Concert seating is typically laid out so that the higher the seat number, the further you are from the stage/performance area. If you're seeing a concert at Angel Stadium, it's likely that the seats closest to the stage will have low seat numbers and low section numbers.
Q: Angel Stadium Reviews, Interactive Seating Charts and Seat Views
A: Finding Angel Stadium seating charts with seat views or 3D views from your seat has proven to be a difficult task – until now. Event Tickets Center provides fans with unbiased Angel Stadium reviews on our venue guides, including information on Angel Stadium seat numbers, row numbers, and tips on how to find great seats!
Q: Are VIP Packages or Accessible Seating offered at Angel Stadium?
A: Angel Stadium VIP seating packages and accessible seating section locations may vary per event. Please click the seating chart below or contact our customer service department to discuss options for accessible seating or VIP package purchases.
Q: Where is the Los Angeles Angels Sideline at Gillette Stadium?
A: The Los Angeles Angels home bench is located in front of Section 110 and Section 111 and the away team bench is in front of Section 125 and Section 126.
Facts about Angel Stadium
Capacity:
45,050
Date Opened:
April 19, 1966