Credit Union of Texas Event Center Seating Charts
Credit Union of Texas Event Center - Hockey Seating Map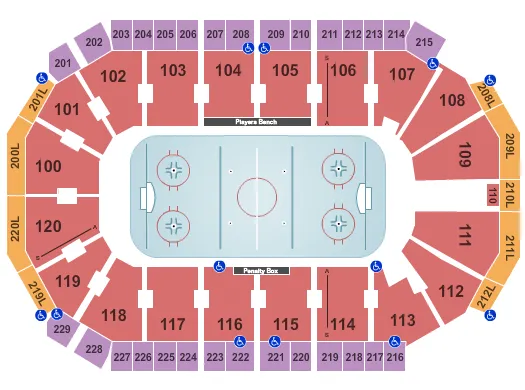 See Credit Union of Texas Event Center - Hockey events that use this seating chart configuration
Buy Allen Americans Tickets
The Allen Americans are a professional ice hockey team based in Allen, Texas. Founded in 2009, they play in the ECHL, one of the top minor professional hockey leagues in North America. The team plays its home games at the Credit Union of Texas Event Center, a 6,275-seat arena that opened in 2009.
The Americans have a relatively short but successful history. They have won five conference championships and two Kelly Cups, which are awarded to the ECHL champions. The team won their first Kelly Cup in the 2014-2015 season and their second in the 2015-2016 season.
The team's biggest rivals include the Wichita Thunder and the Tulsa Oilers, both of which are also ECHL teams located in nearby cities in Oklahoma. The Americans have a strong and dedicated fan base, who are known for their passion and support of the team.
Off the ice, the Americans are heavily involved in the local community, hosting events and fundraisers for charitable causes. The team has also been recognized for their efforts in promoting diversity and inclusivity in hockey.
If you're a hockey fan in Texas, the Allen Americans are not to be missed. With their success on the ice and their commitment to the community, they are a team that truly embodies the spirit of minor league hockey. Be sure to get your tickets to experience the excitement and energy of an Americans game in person.
FAQs about Allen Americans 2023 Game Schedule And Tickets
How and where to buy Allen Americans tickets?
While it may be difficult to find Allen Americans tickets, Event Tickets Center has plenty of Allen Americans tickets available starting from $7. Select your tickets using our interactive seating chart, and follow the steps in checkout. You'll be going to a Allen Americans event in no time!
How much are Allen Americans tickets?
On Event Tickets Center, Allen Americans ticket prices range from $7 up to $295 over a number of different Allen Americans events.
When do Allen Americans tickets go on sale?
Typically, Allen Americans will announce the schedule 3-6 months before the first game, and tickets go on sale within a few weeks of the schedule announcement.
Are Allen Americans tickets sold out?
No. While tickets to see Allen Americans may be sold out on other ticketing websites, Event Tickets Center has plenty of tickets available for you to see Allen Americans live.
Are Allen Americans tickets on sale?
Yes, Allen Americans tickets are on sale, and you can buy them right here at Event Tickets Center.
When is the next Allen Americans event?
The next Allen Americans event is on December 1, 2023 at Credit Union of Texas Event Center in Allen, TX. Event Tickets Center has 731 tickets available for this event.
Event Dates and Pricing Information
| Venue | Date | Price | Tickets Available |
| --- | --- | --- | --- |
| Credit Union of Texas Event Center | Dec 1, 2023 | From $19 | 731 |
| Credit Union of Texas Event Center | Dec 2, 2023 | From $16 | 526 |
| Maverik Center | Dec 6, 2023 | From $13 | 1,922 |
| Maverik Center | Dec 8, 2023 | From $16 | 1,610 |
| Maverik Center | Dec 9, 2023 | From $18 | 1,262 |
| Cable Dahmer Arena | Dec 13, 2023 | From $29 | 1,497 |
| Cable Dahmer Arena | Dec 15, 2023 | From $27 | 1,708 |
| Cable Dahmer Arena | Dec 16, 2023 | From $36 | 1,538 |
| Credit Union of Texas Event Center | Dec 20, 2023 | From $22 | 731 |
| Credit Union of Texas Event Center | Dec 22, 2023 | From $20 | 834 |