Alex Theatre - Glendale Seating Charts
Alex Theatre - Glendale - Endstage Seating Map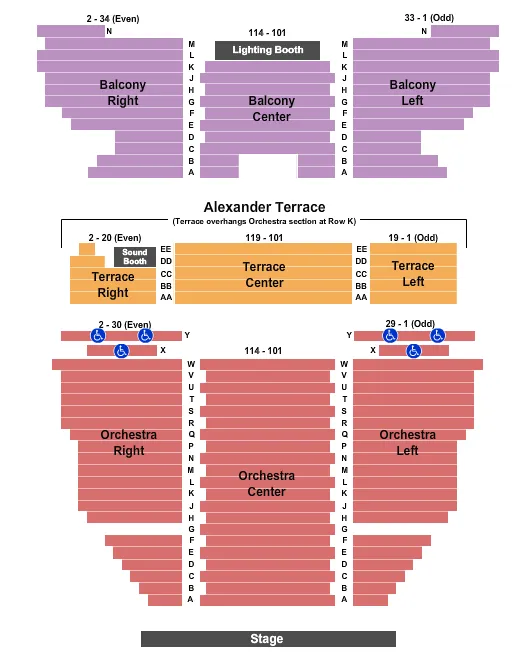 See Alex Theatre - Glendale - Endstage events that use this seating chart configuration
Learn more about Alex Theatre - Glendale
The Alex Theater in Glendale, California, is an iconic venue hall. Since its opening in 1925, it has become a staple of entertainment and culture in the Los Angeles area. With regularly sold-out events of musicals, acoustic concerts, and singalongs, this vintage theater continues to be a fan favorite throughout the city year after year.

Glendale sits on the hillsides of the San Gabriel Mountains, overlooking the Los Angeles skyline. It is a popular destination for tourists and locals alike, thanks to its central location, along with its diverse culture and offerings in terms of shopping, dining, and entertainment. The Verdugo Hills are a highlight - they provide a stunning backdrop while providing recreational opportunities like hiking trails.

The Alex Theater offers a unique one-of-a-kind experience no matter what type of show you decide to attend. With its stunning architectural design and exquisite redecorating, this historic venue offers an atmosphere you won't want to miss and is worth the trip. Don't forget to take advantage of the free backstage tours that come with visiting - it's like having a backstage pass for each event!
Event Dates and Pricing Information
| Performer | Date | Price | Tickets Available |
| --- | --- | --- | --- |
| Reincarnation Live in Concert | Dec 3, 2023 | From $121 | 36 |
| The Nutcracker | Dec 8, 2023 | From $52 | 36 |
| Los Angeles Chamber Orchestra | Dec 9, 2023 | From $59 | 200 |
| The Nutcracker | Dec 10, 2023 | From $69 | 16 |
| The Nutcracker | Dec 10, 2023 | From $48 | 17 |
| Element Band | Dec 17, 2023 | From $64 | 710 |
| Naatucracker - The Dancing Nut | Dec 21, 2023 | From $57 | 503 |
| Rock N Roll Extravaganza | Dec 22, 2023 | From $77 | 218 |
| Katharine McPhee | Dec 23, 2023 | From $87 | 670 |
| Evan & Zane | Jan 5, 2024 | From $96 | 572 |