Rio Grande Credit Union Field at Isotopes Park Seating Charts
Rio Grande Credit Union Field at Isotopes Park - Baseball Seating Map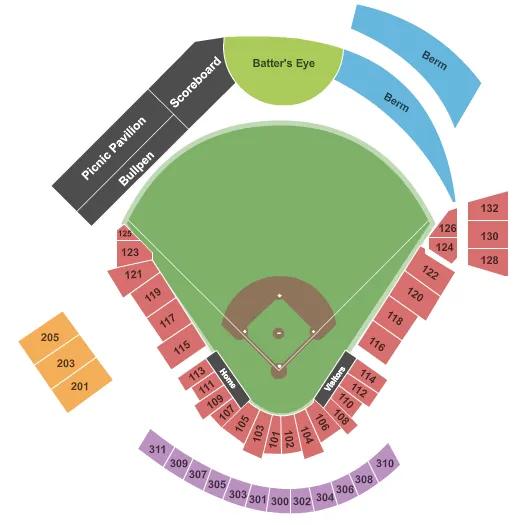 See Rio Grande Credit Union Field at Isotopes Park - Baseball events that use this seating chart configuration
The Albuquerque Isotopes
The Albuquerque Isotopes are a Minor League Baseball and a member of the Pacific Coast League and play their home games at Isotopes Park in Albuquerque, New Mexico.
The Isotopes franchise has a unique history, as it was originally founded as the Calgary Cannons in 1985. The team moved to Albuquerque in 2003 and was rebranded as the Isotopes, a reference to a fictional team in the popular television show "The Simpsons". Since the move, the Isotopes have become a beloved part of the Albuquerque community and have consistently been one of the top MiLB teams in the country.
Isotopes Park, where the team plays its home games, is a beautiful stadium that seats over 13,000 fans. The ballpark has been named one of the best minor league baseball stadiums in the country and features a variety of amenities, including luxury suites, a picnic area, and a kids' playground.
The Isotopes have a few notable rivalries within the PCL. One of their biggest rivals is the El Paso Chihuahuas, another MiLB team from New Mexico's neighboring state, Texas. The two teams have a fierce rivalry and their matchups are always highly anticipated by fans of both teams. The Isotopes also have a rivalry with the Salt Lake Bees/a>, another PCL team that is located in Utah.
Overall, the Albuquerque Isotopes are a great example of a successful Minor League Baseball franchise. With a beautiful stadium, a passionate fan base, and a commitment to community involvement, the Isotopes are a team that any sports fan can appreciate.
FAQs about Albuquerque Isotopes 2023 Game Schedule And Tickets
How and where to buy Albuquerque Isotopes tickets?
While it may be difficult to find Albuquerque Isotopes tickets, Event Tickets Center has plenty of Albuquerque Isotopes tickets available starting from $33. Select your tickets using our interactive seating chart, and follow the steps in checkout. You'll be going to a Albuquerque Isotopes event in no time!
How much are Albuquerque Isotopes tickets?
On Event Tickets Center, Albuquerque Isotopes ticket prices range from $33 up to $99 over a number of different Albuquerque Isotopes events.
When do Albuquerque Isotopes tickets go on sale?
Typically, Albuquerque Isotopes will announce the schedule 3-6 months before the first game, and tickets go on sale within a few weeks of the schedule announcement.
Are Albuquerque Isotopes tickets sold out?
No. While tickets to see Albuquerque Isotopes may be sold out on other ticketing websites, Event Tickets Center has plenty of tickets available for you to see Albuquerque Isotopes live.
Are Albuquerque Isotopes tickets on sale?
Yes, Albuquerque Isotopes tickets are on sale, and you can buy them right here at Event Tickets Center.
When is the next Albuquerque Isotopes event?
The next Albuquerque Isotopes event is on March 29, 2024 at Rio Grande Credit Union Field at Isotopes Park in Albuquerque, NM. Event Tickets Center has 28 tickets available for this event.
Event Dates and Pricing Information
| Venue | Date | Price | Tickets Available |
| --- | --- | --- | --- |
| Rio Grande Credit Union Field at Isotopes Park | Mar 29, 2024 | From $51 | 28 |
| Rio Grande Credit Union Field at Isotopes Park | Mar 30, 2024 | From $51 | 44 |
| Rio Grande Credit Union Field at Isotopes Park | Mar 31, 2024 | From $51 | 44 |
| Chickasaw Field at Bricktown | Apr 2, 2024 | From $33 | 74 |
| Chickasaw Field at Bricktown | Apr 3, 2024 | From $33 | 78 |
| Chickasaw Field at Bricktown | Apr 4, 2024 | From $33 | 78 |
| Chickasaw Field at Bricktown | Apr 5, 2024 | From $38 | 78 |
| Chickasaw Field at Bricktown | Apr 6, 2024 | From $39 | 78 |
| Chickasaw Field at Bricktown | Apr 7, 2024 | From $33 | 78 |
| Rio Grande Credit Union Field at Isotopes Park | Apr 9, 2024 | From $51 | 44 |