Alameda County Fairgrounds Tickets and Seating Charts - Pleasanton, CA
Alameda County Fairgrounds Seating Charts
Alameda County Fairgrounds - Spectator/Youth Seating Map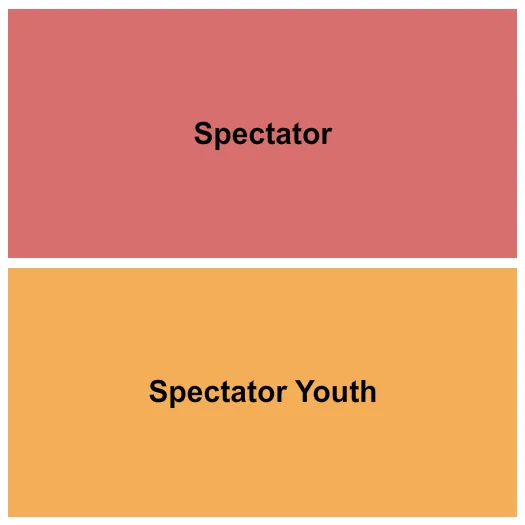 See Alameda County Fairgrounds - Spectator/Youth events that use this seating chart configuration
Learn more about Alameda County Fairgrounds
The Alameda County Fairgrounds is a 270-acre (110 ha) facility located in Pleasanton, California. The fairgrounds have a long and vibrant history that dates back to 1912. Situated in the city of Pleasanton in 1949, it initially served as a venue for agricultural and horticultural events. As interest in these events grew, so did the grounds themselves. In addition to horse racing, community fairs and celebrations were held at the Alameda County landmark. It has hosted thousands of concerts featuring musical legends such as Van Morrison and Bob Dylan, interspersed with car shows, motorcycle festivals, and other family-friendly activities planned around each year's theme which celebrates the region's agricultural roots.

Pleasanton is a great destination for both weekend getaways and longer vacation memories. With parks, trails, golf courses, spas, and vineyards spread throughout the area, there are plenty of opportunities to explore. There are also museums, art galleries, restaurants, and other places of interest here. All in all, Pleasanton is the perfect spot for anyone looking for an escape from the hustle & bustle but still wants easy access to cities like San Francisco or Oakland.

The Alameda County Fairgrounds has it all - from historic events to fantastic attractions. With so much to offer, the fairgrounds are sure to have something that interests everyone - from the horse racing track and a concert in the amphitheater to exploring the area. There's an unforgettable experience awaiting you at this amazing venue! Whether you're looking for a carnival experience or an amazing concert series, it has something for everyone. With its spacious grounds and convenient location, it continues to draw in large crowds from all over the Bay Area.
Event Dates and Pricing Information