Hammons Field Seating Charts
Hammons Field - Baseball Seating Map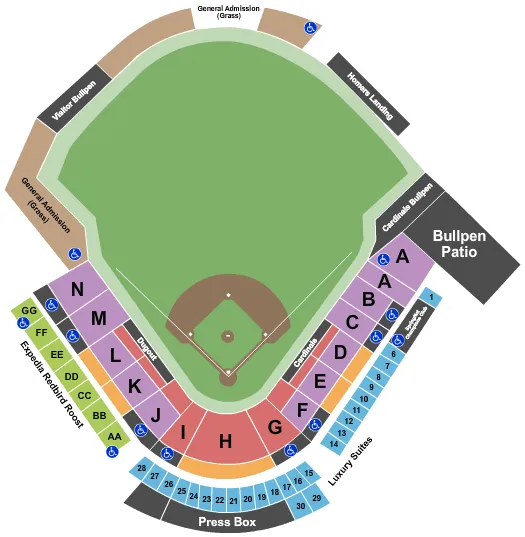 See Hammons Field - Baseball events that use this seating chart configuration
The Minor League Baseball world boasts many successful teams, among them the Springfield Cardinals. Established in 2005, this franchise is a member of the Double-A Central league and is proudly affiliated with the St. Louis Cardinals. Over the years, the Springfield Cardinals have played an essential role in developing several players who've ascended to the Major League.
Located in the heart of Springfield, Missouri, Hammons Field serves as the Cardinals' home turf. This intimate, family-friendly ballpark is a hit among fans, making the Springfield venue a go-to destination for high-quality baseball games. The excitement and energy of a Cardinals game at Hammons Field truly embody the spirit of Minor League Baseball, offering an engaging and vibrant experience for all attendees.
Despite their relatively brief existence, the Springfield Cardinals have already carved out a legacy of success. With a Texas League championship under their belt, they've demonstrated a competitive spirit and consistently high-level performance. Beyond their on-field accomplishments, the franchise has acted as a springboard for players aiming for the Major League spotlight.
A rivalry worth noting is between the Springfield Cardinals and the Northwest Tulas Drillers. The encounters between these two teams have often resulted in thrilling and high-stakes games, adding another layer of anticipation and excitement to each season.
In recent years, the Springfield Cardinals have continued to uphold their commitment to excellence, regularly showcasing promising talent and delivering high-quality gameplay. Their pivotal role in nurturing future Major League stars is undeniable, with each game offering a snapshot of the potential stars of tomorrow.
Being a part of a Springfield Cardinals game is an immersive experience that extends beyond merely watching a baseball match. From the intense rivalries to the potential sighting of future Major League stars, there's a thrill for every baseball fan. So why wait? Get your tickets today and join the vibrant Springfield Cardinals community. Feel the collective roar of the crowd and the buzz of a live game at Hammons Field!
FAQs about Springfield Cardinals 2023 Game Schedule And Tickets
How and where to buy Springfield Cardinals tickets?
While it may be difficult to find Springfield Cardinals tickets, Event Tickets Center has plenty of Springfield Cardinals tickets available starting from $32. Select your tickets using our interactive seating chart, and follow the steps in checkout. You'll be going to a Springfield Cardinals event in no time!
How much are Springfield Cardinals tickets?
On Event Tickets Center, Springfield Cardinals ticket prices range from $32 up to $105 over a number of different Springfield Cardinals events.
When do Springfield Cardinals tickets go on sale?
Typically, Springfield Cardinals will announce the schedule 3-6 months before the first game, and tickets go on sale within a few weeks of the schedule announcement.
Are Springfield Cardinals tickets sold out?
No. While tickets to see Springfield Cardinals may be sold out on other ticketing websites, Event Tickets Center has plenty of tickets available for you to see Springfield Cardinals live.
Are Springfield Cardinals tickets on sale?
Yes, Springfield Cardinals tickets are on sale, and you can buy them right here at Event Tickets Center.
When is the next Springfield Cardinals event?
The next Springfield Cardinals event is on April 5, 2024 at Dickey-Stephens Park in North Little Rock, AR. Event Tickets Center has 30 tickets available for this event.
Event Dates and Pricing Information
| Venue | Date | Price | Tickets Available |
| --- | --- | --- | --- |
| Dickey-Stephens Park | Apr 5, 2024 | From $39 | 30 |
| Dickey-Stephens Park | Apr 6, 2024 | From $39 | 34 |
| Dickey-Stephens Park | Apr 7, 2024 | From $39 | 34 |
| Hammons Field | Apr 9, 2024 | From $32 | 60 |
| Hammons Field | Apr 10, 2024 | From $32 | 60 |
| Hammons Field | Apr 11, 2024 | From $32 | 60 |
| Hammons Field | Apr 12, 2024 | From $32 | 60 |
| Hammons Field | Apr 13, 2024 | From $32 | 60 |
| Hammons Field | Apr 14, 2024 | From $32 | 60 |
| Hodgetown | Apr 16, 2024 | From $32 | 30 |