Westbrook Performing Arts Center Tickets and Seating Charts - Westbrook, ME
Westbrook Performing Arts Center Seating Charts
Westbrook Performing Arts Center - End Stage Seating Map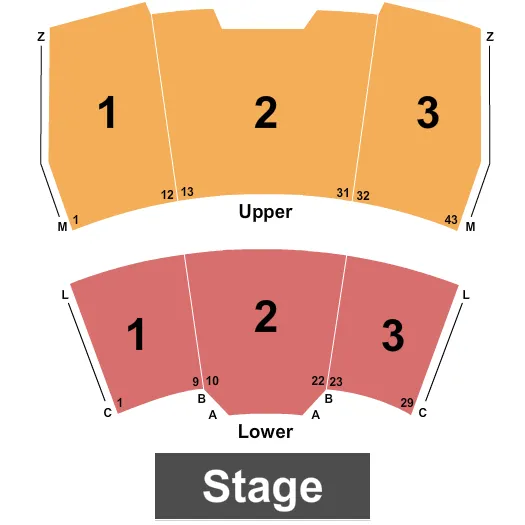 See Westbrook Performing Arts Center - End Stage events that use this seating chart configuration
Learn more about Westbrook Performing Arts Center
The Westbrook Performing Arts Center is an incredible venue located in Westbrook, Maine. With its 1,000 seats and world-class performances, you can be sure to get the best night out at this distinguished performing arts center. It has been providing world-class entertainment to Maine for over six decades. Founded in 1959 as a 1,200-seat theatre, the performing arts center was constructed by city officials as part of an effort to redesign downtown Westbrook into a thriving community cluster. Since then, the venue has hosted some of the biggest names in show business and even welcomed President Obama during his 2008 campaign tour. A three-tiered seating layout provides ample views of that stage while also allowing attendees to enjoy their level of comfort and intimacy with each event. With its long history and beloved legacy among Maine locals, the Westbrook Performing Arts Center offers something for everyone in search of entertainment and culture.

You should also explore all that this charming city has to offer. Westbrook is a peaceful, picturesque New England town with old-world charm along the banks of the Presumpscot River. Home to Saccarappa Falls and Deering Oaks Park, you can enjoy a stroll through the park or take in some unique sights and sounds along the river while boating or fishing. For those feeling adventurous, head out into Sebago Lake State Park to experience hiking trails, endless water activities, and breathtaking views. No matter your interests, maybe there is something for everyone here in Westbrook. From birdwatching at Witch Pocket Nature Preserve and farm visits at Powers Farm & Country Store to taking part in local events such as Segway tours or Farmers' Markets throughout town–you'll never run out of things to do! Plus, be sure to check out great dining options from local eateries like Four Seasons Deli & Bakery offering breakfast sandwiches or classic Italian entrees at Giacomo's Italian Kitchen.

The Westbrook Performing Arts Center is a wonderful facility that offers something for everyone. With its state-of-the-art facilities and a broad array of entertainment, it's an ideal destination for locals and tourists alike. You won't want to miss out on the great events happening here, so be sure to give them a call at (207) 857-3860 or visit their website at www.wpacme.com to check out their upcoming shows and events!
FAQs about Westbrook Performing Arts Center
Facts about Westbrook Performing Arts Center
Event Dates and Pricing Information
| Performer | Date | Price | Tickets Available |
| --- | --- | --- | --- |
| Faye Driscoll | Mar 28, 2024 | From $97 | 44 |