Sloan Park Seating Charts
Sloan Park - Baseball Seating Map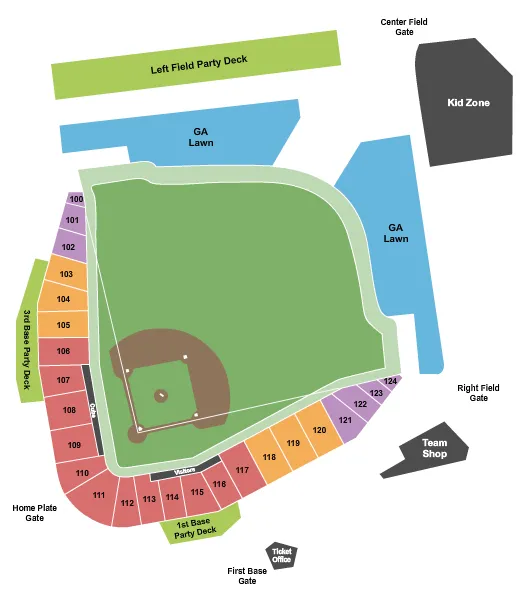 See Sloan Park - Baseball events that use this seating chart configuration
Sloan Park - TikTok Festival Seating Map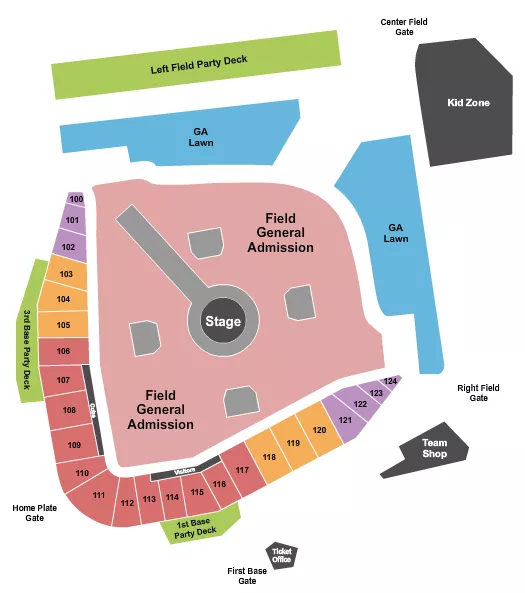 See Sloan Park - TikTok Festival events that use this seating chart configuration
Learn more about Sloan Park
Sloan Park is an iconic and awe-inspiring venue in Mesa, Arizona. Established in 2014, it is home to the Chicago Cubs' Cactus League spring training and has become a central part of life in the city. This state-of-the-art stadium offers modern amenities, great food offerings and incredible viewing angles from any seat in the house, providing guests with an unforgettable experience. The park also features amenities such as concessions stands, bathrooms and souvenir shops, making it a perfect one-stop destination for locals looking to get their fix year-round. Mesa has much more to offer than just Sloan Park. It is the third-largest city in Arizona, and visitors can enjoy breathtaking mountain ranges, hike through dozens of trails and spot wildlife like deer, coyotes and javelina. There are also several parks in town, such as Red Mountain Park and Golfland Sunsplash Park, and a growing downtown arts district with museums, galleries and studios. Shopping centers like Superstition Springs Center offer plenty of stores, restaurants and theaters. Flea markets throughout the city provide great deals on Southwest art decorations and a chance to sample Arizona agricultural products. At night, there are several gaming centers to try your luck at, and for those looking for an extended stay, Wrigley Field is just a short trip away. Make sure to check out a game at Sloan Park - you won't be disappointed!
FAQs about Sloan Park
What time do doors open at Sloan Park?
Doors typically open anywhere between 90 minutes to 2 hours prior to showtime at Sloan Park. Be sure to check the listing on your ticket as showtimes will vary.
Who plays at Sloan Park?
The Chicago Cubs have Spring Training Events here.
Event Dates and Pricing Information
| Performer | Date | Price | Tickets Available |
| --- | --- | --- | --- |
| TikTok In The Mix | Dec 10, 2023 | From $49 | 95 |
| Chicago Cubs | Feb 23, 2024 | From $41 | 530 |
| Chicago Cubs | Feb 25, 2024 | From $40 | 621 |
| Chicago Cubs | Feb 27, 2024 | From $29 | 664 |
| Chicago Cubs | Feb 29, 2024 | From $27 | 603 |
| Chicago Cubs | Mar 1, 2024 | From $41 | 590 |
| Chicago Cubs | Mar 3, 2024 | From $32 | 623 |
| Chicago Cubs | Mar 6, 2024 | From $33 | 640 |
| Chicago Cubs | Mar 8, 2024 | From $39 | 612 |
| Chicago Cubs | Mar 9, 2024 | From $43 | 590 |