Sleeman Centre Seating Charts
Sleeman Centre - Hockey Seating Map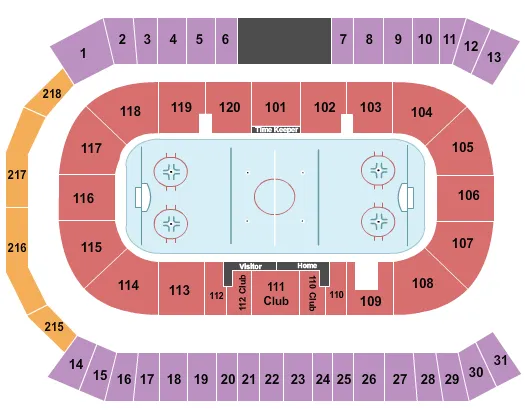 See Sleeman Centre - Hockey events that use this seating chart configuration
Learn more about Sleeman Centre
The Sleeman Centre is a premier event venue located in downtown Guelph, Ontario. With a seating capacity of 4,715, it is ideal for hosting concerts, sports events, and other large-scale shows. It has been an important part of the city's arena landscape for over three decades and continues to be an integral part of life in Guelph and its surrounding area today. The Sleeman Centre hosts many community events such as concerts, large-scale company events, family activities, and trade shows. Major stars have performed at this magnificent venue including Shania Twain, U2, and Billy Joel.

Guelph is conveniently located about an hour west of Toronto on the banks of the Eramosa River. The vibrant city center offers excellent restaurants, pubs, and entertainment for all ages. With its rich history steeped in culture and tradition, there are numerous heritage sites around town, City Hall is one of them. There are also plenty of family-friendly fun places to explore such as parks, trails, lively attractions and culture, local shopping, and farmer's markets. Yearly special events like Summer Lights Festival offer even more reasons why visitors should visit.

The Sleeman Centre has modern infrastructure and world-class facilities, making it one of the most versatile event venues in Canada. Whether you're in town for a hockey game or a concert, or to enjoy any of its other hosted events, the Sleeman Centre is an excellent choice for entertainment!
Event Dates and Pricing Information
| Performer | Date | Price | Tickets Available |
| --- | --- | --- | --- |
| Guelph Storm | Dec 10, 2023 | From $28 | 20 |
| Guelph Storm | Dec 15, 2023 | From $21 | 54 |
| Guelph Storm | Dec 16, 2023 | From $26 | 18 |
| Guelph Storm | Dec 28, 2023 | From $22 | 26 |
| Guelph Storm | Jan 5, 2024 | From $24 | 28 |
| Guelph Storm | Jan 7, 2024 | From $25 | 48 |
| Guelph Storm | Jan 17, 2024 | From $21 | 46 |
| Guelph Storm | Jan 19, 2024 | From $25 | 44 |
| Guelph Storm | Jan 26, 2024 | From $25 | 54 |
| Guelph Storm | Feb 4, 2024 | From $28 | 40 |