Victory Field Seating Charts
Victory Field - Baseball Seating Map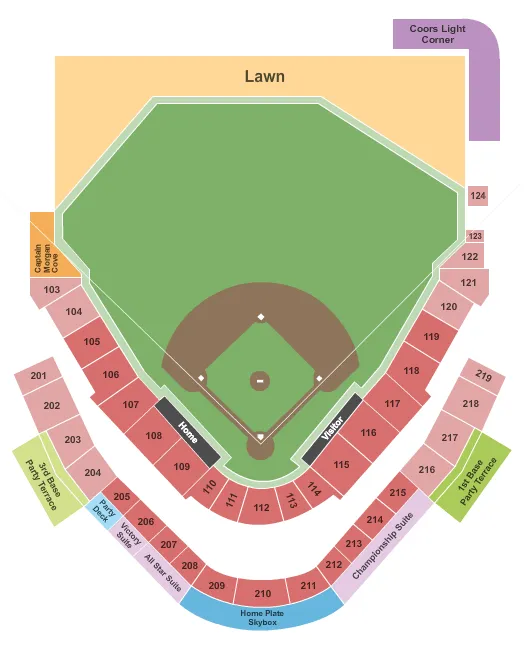 See Victory Field - Baseball events that use this seating chart configuration
The Indianapolis Indians
The Indianapolis Indians, an enduring fixture in Minor League Baseball (MiLB), have a rich history dating back to 1902. The franchise, part of the Triple-A East, serves as the top minor league affiliate for Major League Baseball's Pittsburgh Pirates. Over the years, the Indians have boasted several noteworthy players who went on to achieve significant success in the MLB.
The team calls Victory Field home, a modern stadium located in downtown Indianapolis. Opened in 1996, the ballpark provides fans with a classic baseball experience combined with state-of-the-art facilities. The field's picturesque skyline and the friendly, intimate atmosphere offer an appealing setting for fans and players alike.
When it comes to playoff history, the Indians have had their share of thrilling moments. They've secured numerous league titles, including the coveted Governor's Cup, signifying supremacy in the International League. The team's most recent championship win came in 2000, underlining their continued competitiveness in the MiLB.
No discussion about the Indianapolis Indians would be complete without mentioning their team rivalries. Their fiercest competitors include the Louisville Bats, Columbus Clippers, and Toledo Mud Hens, each matchup creating a riveting display of baseball acumen and fervor.
The franchise's name has been a constant since its inception, unlike many other teams in the MiLB. The Indianapolis Indians have remained loyal to their original moniker, a tribute to Indiana's Native American heritage. This steadfastness is a testament to the team's commitment to its roots and the city it represents.
Apart from their on-field accomplishments, the Indians have been lauded for their community involvement. They've established various programs aimed at fostering a love for baseball among young fans, further cementing their place in Indianapolis's heart. Notably, they were the first minor league team to draw over a million fans in a season, a testament to their enduring appeal.
Overall, the Indianapolis Indians provide a remarkable blend of high-quality baseball and community spirit. Their legacy on and off the field continues to influence and shape the landscape of the MiLB, making them a team to watch in the coming years.
FAQs about Indianapolis Indians 2023 Game Schedule And Tickets
How and where to buy Indianapolis Indians tickets?
While it may be difficult to find Indianapolis Indians tickets, Event Tickets Center has plenty of Indianapolis Indians tickets available starting from $18. Select your tickets using our interactive seating chart, and follow the steps in checkout. You'll be going to a Indianapolis Indians event in no time!
How much are Indianapolis Indians tickets?
On Event Tickets Center, Indianapolis Indians ticket prices range from $18 up to $61 over a number of different Indianapolis Indians events.
When do Indianapolis Indians tickets go on sale?
Typically, Indianapolis Indians will announce the schedule 3-6 months before the first game, and tickets go on sale within a few weeks of the schedule announcement.
Are Indianapolis Indians tickets sold out?
No. While tickets to see Indianapolis Indians may be sold out on other ticketing websites, Event Tickets Center has plenty of tickets available for you to see Indianapolis Indians live.
Are Indianapolis Indians tickets on sale?
Yes, Indianapolis Indians tickets are on sale, and you can buy them right here at Event Tickets Center.
When is the next Indianapolis Indians event?
The next Indianapolis Indians event is on March 29, 2024 at Louisville Slugger Field in Louisville, KY. Event Tickets Center has 48 tickets available for this event.
Event Dates and Pricing Information
| Venue | Date | Price | Tickets Available |
| --- | --- | --- | --- |
| Louisville Slugger Field | Mar 29, 2024 | From $28 | 48 |
| Louisville Slugger Field | Mar 30, 2024 | From $24 | 48 |
| Louisville Slugger Field | Mar 31, 2024 | From $21 | 48 |
| Victory Field | Apr 7, 2024 | From $19 | 81 |
| Fifth Third Field - Toledo | Apr 9, 2024 | From $18 | 206 |
| Fifth Third Field - Toledo | Apr 10, 2024 | From $42 | 128 |
| Fifth Third Field - Toledo | Apr 11, 2024 | From $18 | 208 |
| Fifth Third Field - Toledo | Apr 12, 2024 | From $20 | 236 |
| Fifth Third Field - Toledo | Apr 13, 2024 | From $20 | 234 |
| Fifth Third Field - Toledo | Apr 14, 2024 | From $20 | 236 |