Riverbend Music Center Tickets and Seating Charts - Cincinnati, OH
A popular summer music venue located along the banks of the Ohio River, Riverbend Music Center was originally built for the Cincinnati Symphony Orchestra in 1984. Taft Broadcasting donated about 11 acres of land, and Mr. and Mrs. J. Ralph Corbett contributed $2 million for the construction. It took a year for the amphitheater to be built, and in 1984, Riverbend Music Center was officially opened. In 2008, the Riverbend Music Center's expansion project led to the construction of the more intimate PNC Pavilion venue right next door.

Designed by renowned architect Michael Graves, this 20,500-capacity open-air music venue is located along the Ohio River in Cincinnati, Ohio. Its tent-like pavilion features statues that represent musical muses. At the outer border of the lawn, there is an arcing pergola with a variety of facilities and concessions. Riverbend hosts live concerts, festivals, theatrical acts, and symphony productions. Its stage has been graced by musicians such as John Denver, Ed Sheeran, and Gwen Stefani.

The venue is accessible by public bus, hotel shuttle, or cab. For those who drive, the parking fee is typically included in the ticket price. Tailgate parties are prohibited to ensure a safe environment for all patrons.

All events go on rain or shine, and umbrellas are permitted in case of inclement weather. Guests may also bring in lawn chairs with a seat no higher than 9 inches off the ground, seat cushions, small soft-side coolers, small cameras, and binoculars. Backpacks and audio or video recording devices are not permitted inside the venue.

Due to local noise ordinance, the venue has an 11 p.m. curfew. For those who want to party after the concert, Cincinnati boasts a number of nightlife options including breweries, taverns, and dance clubs. The venue is also near Belterra Park, which features a casino and a racetrack. Upcoming concerts by famous music artists are scheduled this year, and Event Tickets Center offers a wide selection of Riverbend concerts to choose from.
Riverbend Music Center - End Stage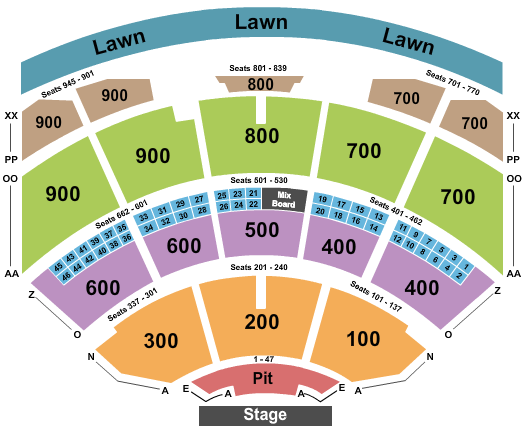 See Riverbend Music Center - End Stage events that use this seating chart configuration
Riverbend Music Center - Endstage Pit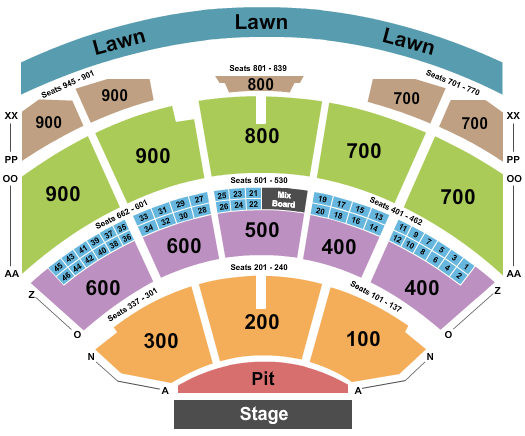 See Riverbend Music Center - Endstage Pit events that use this seating chart configuration
Frequently Asked Questions
Q: What time do gates open at Riverbend Music Center?
A: Gates typically open anywhere between 90 minutes to 2 hours prior to showtime at Riverbend Music Center. Be sure to check the listing on your ticket as showtimes will vary.
Q: Looking for local Cincinnati Amphitheater concerts?
A: Our event listing has a list of all Cincinnati amphitheater concerts happening at Riverbend Music Center. You can also check out events in neighboring cities by checking out our list of venues by state.
Q: Past Names/Nicknames:
A: The Hulbert Taft Jr. Center for the Performing Arts J. Ralph Corbett Pavilion
Q: Date/Year Built/Opened:
A: 1984