Maine Savings Amphitheater Tickets and Seating Charts - Bangor, ME
Maine Savings Amphitheater Seating Charts
Maine Savings Amphitheater - Dierks Bentley Seating Map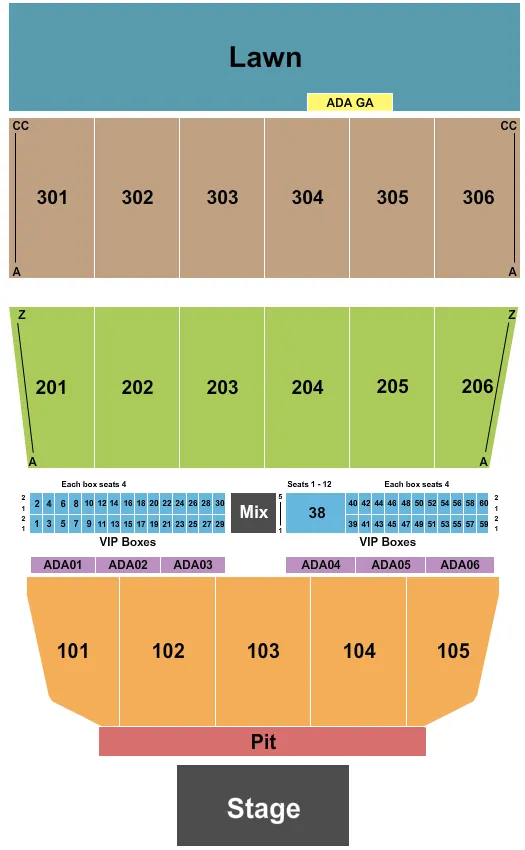 See Maine Savings Amphitheater - Dierks Bentley events that use this seating chart configuration
Maine Savings Amphitheater - Endstage Seating Map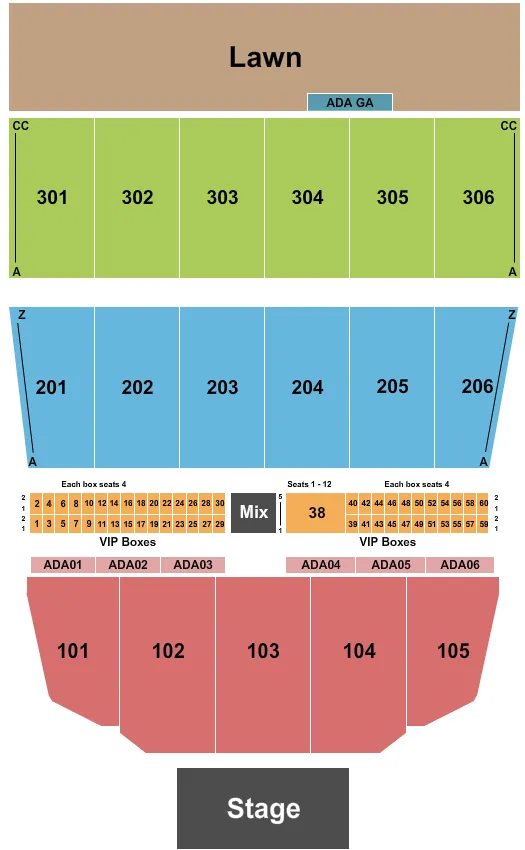 See Maine Savings Amphitheater - Endstage events that use this seating chart configuration
Learn more about Maine Savings Amphitheater
An open amphitheater first opened in 2010, Maine Savings Amphitheater is located inside Waterfront Park, a 58-acre public park on the banks of the Penobscot River in downtown
Bangor, ME
.
The venue has a capacity between 8,000 and 15,000, depending on the seat configuration of the event. General admission and lawn area are standing room sections, while tickets with a section, row, and seat number are seated sections. It is an open pavilion with a lawn. Parking is available in the Pickering Square Parking Garage, in various parking lots and on-street parking areas in the downtown area.
Maine
Savings Amphitheater has hosted a number of concerts, the biggest of which was the Jimmy Buffett and the Coral Reefer Band concert, which drew over 15,000 people from all over the country. Fans can enjoy tailgate parties in the parking lots, and then visit the sights and attractions Bangor is known for.
The show must go on rain or shine, and concerts are rarely postponed due to inclement weather. Umbrellas are not allowed. Coolers and outside food and beverages, including water, are not permitted. Flash photography and video cameras/recorders are strictly prohibited.
The summer season is the perfect time to enjoy live concerts at Maine Savings Amphitheater. Check out the venue's scheduled summer concerts and buy your tickets at Event Tickets Center.
Maine Savings Amphitheater Seating Information
Discover various seating options designed to cater to every concert-goer's preferences. Let's delve into the details of each seating section:
Reserved Seating
Experience the reserved seating spread across three tiers. The front rows of the Level 200 section provide comparable views to VIP Box Seats at a more affordable price. In Level 100, while the seats lack significant slope, they offer more rise, aiding visibility. The Level 300 sections boast rows labeled A-Z for your convenience.
VIP Box Seats
Enjoy the VIP Box Seats between the 100 and 200 Level seating. Lettered A-F, these seats often have exclusive privileges, including a VIP Entrance, premium parking, and in-seat wait service. As a VIP ticket holder, you'll also enjoy access to the exclusive VIP Club.
Accessible Seating
For patrons with accessibility needs, the amphitheater offers four primary accessible seating sections behind the orchestra. Each accessible section is thoughtfully equipped with a wheelchair platform and companion seating for a comfortable experience.
Lawn Seating
Relax and enjoy the concert in the grassy general admission Lawn section. While relatively compact for an amphitheater, it provides a laid-back atmosphere, making it an excellent choice for those seeking a more casual concert experience.
Recommended Hotels Near Maine Savings Amphitheater
When planning a trip to the Maine Savings Amphitheater, selecting the right place to stay is crucial. Here are two recommended hotels situated near the venue:
Hollywood Casino Bangor
Just 0.5 miles or a 12-minute walk from the Maine Savings Amphitheater, Hollywood Casino Bangor is an excellent choice for event attendees. The hotel offers comfortable rooms, a pool, and an on-site restaurant, providing a relaxing retreat after a day of concerts. Additionally, they offer a convenient shuttle service to and from Bangor Airport.
Comfort Inn Bangor
Merely 14 minutes drive from Maine Savings Amphitheater, Comfort Inn Bangor provides comfortable rooms and various amenities. Guests can enjoy an indoor pool, complimentary Wi-Fi, and a breakfast catering to families and business travelers. The hotel's proximity to Bangor Mall ensures easy access to shopping and dining options during your stay.
Maine Savings Amphitheater Concert Ticket and Venue Information:
Capacity:
5,000
Past Names/Nicknames:
Waterfront Park
Darlings Waterfront Pavilion
Date/Year Built/Opened:
July 28, 2010
FAQs about Maine Savings Amphitheater
What time do gates open at Maine Savings Amphitheater?
Gates typically open anywhere between 90 minutes to 2 hours prior to showtime at Maine Savings Amphitheater. Be sure to check the listing on your ticket as showtimes will vary.
Looking for local Bangor concerts?
Our event listing has a list of all Bangor concerts happening at Maine Savings Amphitheater. You can also check out events in neighboring cities by checking out our list of venues by state.
Where is the Maine Savings Amphitheater?
Located in Waterfront Park in Bangor ME the Maine Savings Amphitheater bring some of the top musical acts in the country to Maine. Opened in 2010 the venue plays host to the Waterfront Concert series.
Is parking free at Maine Savings Amphitheater?
General Parking at Maine Savings Amphitheater is $20 and is at the Pickering Square Garage.
Is Maine Savings Amphitheater a cashless venue?
Maine Savings Amphitheater is a cashless venue. Cash can be converted to gift card at two locations. All POS only accept credit cards, debit cards or mobile payments.
Can you bring food and water into Maine Savings Amphitheater?
All outside food and water is prohibited at Maine Savings Amphitheater. Once inside there are plenty of food concessions for you to choose from.
Is Maine Savings Amphitheater covered?
No, Maine Savings Amphitheater is an entirely open air venue with no overhead covering. No umbrellas allowed so bring a poncho if rain is forecast.
Event Dates and Pricing Information
| Performer | Date | Price | Tickets Available |
| --- | --- | --- | --- |
| Parker McCollum | May 26, 2024 | From $53 | 1,591 |
| Hootie & The Blowfish | Jun 14, 2024 | From $68 | 2,656 |
| Niall Horan | Jun 19, 2024 | From $50 | 3,815 |
| Lainey Wilson | Jun 29, 2024 | From $73 | 1,541 |
| Tyler Childers | Jul 5, 2024 | From $121 | 623 |
| Jason Mraz | Jul 7, 2024 | From $54 | 1,961 |
| Hozier | Jul 24, 2024 | From $109 | 1,482 |
| Foreigner | Aug 3, 2024 | From $52 | 3,000 |
| Jordan Davis | Sep 7, 2024 | From $61 | 1,456 |