Kay Yeager Coliseum Seating Chart
View Kay Yeager Coliseum seating charts for live games! If you're planning to visit Kay Yeager Coliseum in Wichita Falls, you'll want to make sure you have great seats. Get acquainted with Kay Yeager Coliseum by using our seating chart below. This seating map features a complete layout of Kay Yeager Coliseum seats and the locations of different ticket tiers. Simply click on a section to browse tickets and you'll be on your way to an unforgettable event experience!
Kay Yeager Coliseum Seat Numbers, Sections and Seating Chart
When looking at seating charts for sports events, seats are arranged so that the lower numbered seats within a section are located closer to the preceding section. For example; if a venue shows three sections (A, B, and C), seat #1 in section B will be located next to section A. As the seat numbers progress within section B, they move closer to section C. Kay Yeager Coliseum, a venue designed to host sports games, may be set up in a similar fashion.
While concerts and other events held at Kay Yeager Coliseum may not follow this layout, most sports events happening at Kay Yeager Coliseum will follow this configuration. Concert seating is typically laid out so that the higher the seat number, the further you are from the stage/performance area. If you're seeing a concert at Kay Yeager Coliseum, it's likely that the seats closest to the stage will have low seat numbers and low section numbers.
Kay Yeager Coliseum Reviews, Interactive Seating Charts and Seat Views
Finding Kay Yeager Coliseum seating charts with seat views or 3D views from your seat has proven to be a difficult task – until now. Event Tickets Center provides fans with unbiased Kay Yeager Coliseum reviews on our
venue guides
, including information on Kay Yeager Coliseum seat numbers, row numbers, and tips on how to find great seats!
Are VIP Packages or Accessible Seating offered at Kay Yeager Coliseum?
Kay Yeager Coliseum VIP seating packages and accessible seating section locations may vary per event. Please click the seating chart below or contact our customer service department to discuss options for accessible seating or VIP package purchases.
Extreme International Motorcycle Ice Racing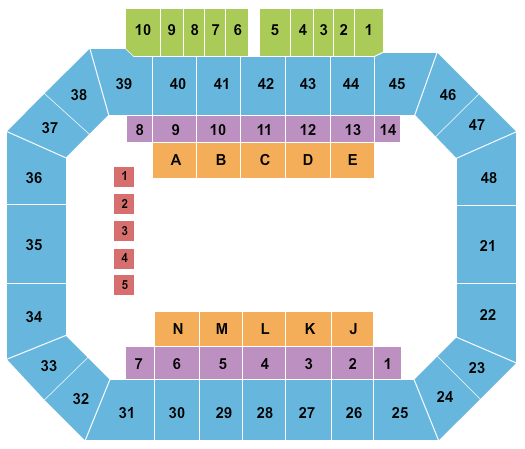 See Extreme International Motorcycle Ice Racing events that use this seating chart configuration