Cleveland Browns at FirstEnergy Stadium
The Cleveland Browns compete in the AFC North Division of the National Football League. The Browns were founded in 1946, and joined the NFL shortly thereafter in 1950. They have been competing in the NFL ever since, and it is safe to say that this is going to be the case for many more years to come.

The Browns play their home games at FirstEnergy Stadium. This venue opened in 1999, and it is owned by the city of Cleveland. The stadium sits on the shore of Lake Erie, and gives the Browns a home field advantage each time that they take the field. Not only are the fans loud, but the temperatures get so cold that opposing teams have a difficult time adjusting on the fly.

Some of the greatest Browns players of all time include Otto Graham, Ernie Davis, Jim Brown, Lou Groza, and Don Fleming among many others.

Any NFL fan knows that the Cleveland Browns have a rich history of success. Browns tickets have always been in demand, and with the progress the team is making this is sure to hold true for many years to come.

FirstEnergy Stadium (formerly Cleveland Browns Stadium) is located in Cleveland, Ohio, and opened for business in 1999 after more than two years of construction. The City of Cleveland owns this stadium, and at a construction cost of nearly $283 million they should be quite proud of the end result. Many people feel that FirstEnergy Stadium is among one of the best in the league, and the way it sells tickets there are not too many who will argue this point.

The Cleveland Browns occupy the stadium for home games. They moved into the venue in 1999 when it opened, and have been playing their ever since. Although the Browns have struggled as of late, this has not stopped fans from showing up for each and every home game.

FirstEnergy Stadium has a seating capacity of 73,200. This is a good size for an NFL venue, and Browns fans never have a hard time making sure that it is always sold out. And not only do fans show up, they do everything that they can in order to make it difficult for the visiting team. When you couple this with the cold wind and snow coming off the lake, it is easy to see why FirstEnergy Stadium is a difficult place for opposing teams to win.
FirstEnergy Stadium - Cleveland - Football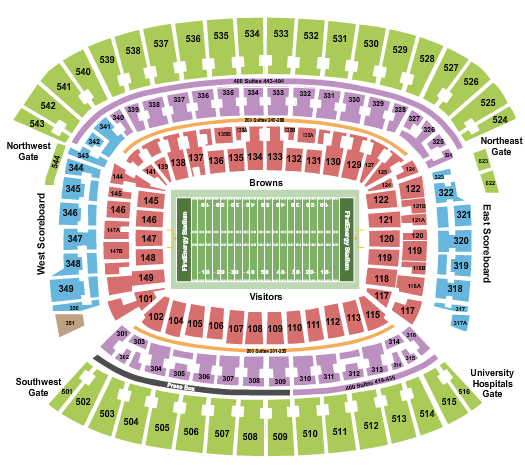 See FirstEnergy Stadium - Cleveland - Football events that use this seating chart configuration