Citizens Bank Park Tickets and Seating Charts - Philadelphia, PA
During the 2008 postseason, Citizens Bank Park hosted its first World Series game. The MLB's
Philadelphia Phillies
stood 1:1 against the Tampa Bay Rays. Country star Tim McGraw began the game by spreading the ashes of his father, former Phillies closer Tug McGraw, over the pitching mound. The Phillies went on to win the game, and four days later, took down the Rays in a suspended game 5 to win the series in front of record crowds.
Besides serving as the home of the Phillies, the open-air ballpark has hosted events like the 2012 NHL Winter Classic game played between the Philadelphia Flyers and the New York Rangers, as well as concerts by Jay-Z and Bruce Springsteen.
Be sure to visit Ashburn Alley—named after the Phillies center fielder and commentator Richie Ashburn—which is located behind center field. The alley holds plaques and statues commemorating notable figures in Phillies history. The ballpark also features rooftop bleachers, a nod to the similar seating in now-demolished Shibe Park during the 1920s and '30s. Home games on Thursdays traditionally see specials and events in this bleacher area.
The park has distinguished itself in the concessions department: PETA voted it the most vegetarian-friendly stadium, and stands offer classic Philadelphia street food like cheesesteaks and hoagies. It's located in South Philadelphia, a diverse borough where Italian, Irish and African-American communities have flourished over the years. The neighborhood today is made up mostly of Italian-Americans and hosts several Catholic saint festivals and other cultural events throughout the year. For those driving from downtown Philadelphia, the stadium is near the junction of Interstates 76 and 95. Parking is available onsite and throughout the complex.
View Citizens Bank Park seating charts for live games! If you're planning to visit Citizens Bank Park in Philadelphia, you'll want to make sure you have great seats. Get acquainted with Citizens Bank Park by using our seating chart below. This seating map features a complete layout of Citizens Bank Park seats and the locations of different ticket tiers. Simply click on a section to browse tickets and you'll be on your way to an unforgettable event experience!
Citizens Bank Park - Chili Peppers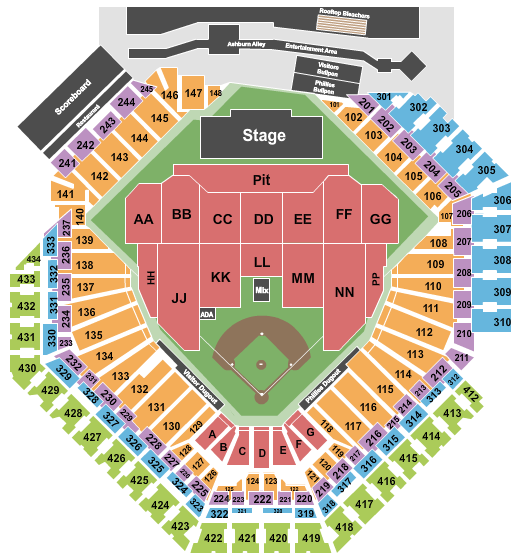 See Citizens Bank Park - Chili Peppers events that use this seating chart configuration
Citizens Bank Park - Morgan Wallen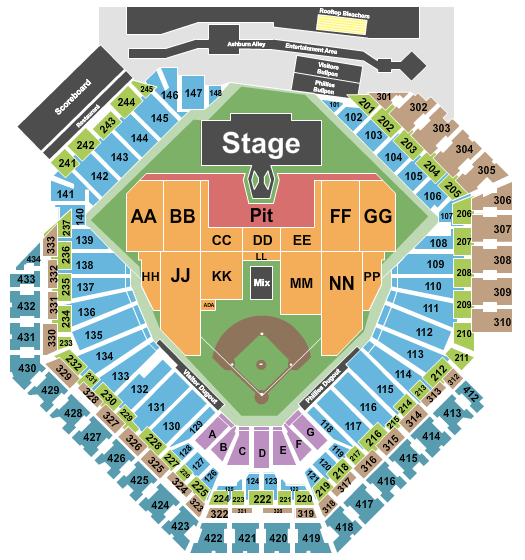 See Citizens Bank Park - Morgan Wallen events that use this seating chart configuration
Citizens Bank Park - Pink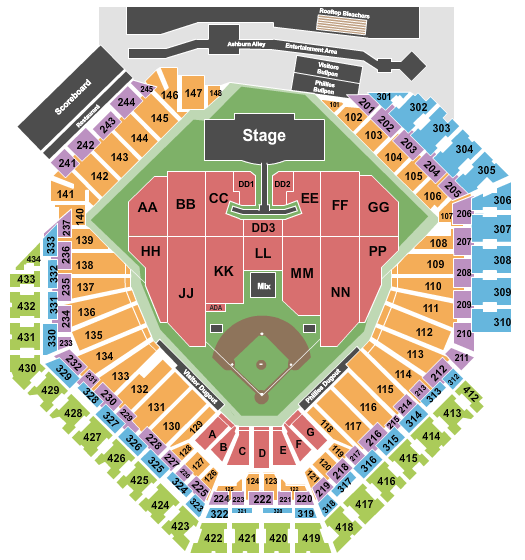 See Citizens Bank Park - Pink events that use this seating chart configuration
Frequently Asked Questions
Q: What time do doors open at Citizens Bank Park?
A: Doors typically open anywhere between 90 minutes to 2 hours prior to showtime at Citizens Bank Park. Be sure to check the listing on your ticket as showtimes will vary.
Q: Who plays at Citizens Bank Park?
A: The Philadelphia Phillies are the home team at the Citizens Bank Park.
Q: Citizens Bank Park Seat Numbers, Sections and Seating Chart
A: When looking at seating charts for sports events, seats are arranged so that the lower numbered seats within a section are located closer to the preceding section. For example; if a venue shows three sections (A, B, and C), seat #1 in section B will be located next to section A. As the seat numbers progress within section B, they move closer to section C. Citizens Bank Park, a venue designed to host sports games, may be set up in a similar fashion. While concerts and other events held at Citizens Bank Park may not follow this layout, most sports events happening at Citizens Bank Park will follow this configuration. Concert seating is typically laid out so that the higher the seat number, the further you are from the stage/performance area. If you're seeing a concert at Citizens Bank Park, it's likely that the seats closest to the stage will have low seat numbers and low section numbers.
Q: Citizens Bank Park Reviews, Interactive Seating Charts and Seat Views
A: Finding Citizens Bank Park seating charts with seat views or 3D views from your seat has proven to be a difficult task – until now. Event Tickets Center provides fans with unbiased Citizens Bank Park reviews on our venue guides, including information on Citizens Bank Park seat numbers, row numbers, and tips on how to find great seats!
Q: Are VIP Packages or Accessible Seating offered at Citizens Bank Park?
A: Citizens Bank Park VIP seating packages and accessible seating section locations may vary per event. Please click the seating chart below or contact our customer service department to discuss options for accessible seating or VIP package purchases.
Q: Where is the Philadelphia Phillies Sideline at Citizens Bank Park?
A: The Philadelphia Phillies home bench is located in front of Section 116, Section 117, Section 118 and the away team bench is in front of Section 129, Section 130, Section 131.
Q: Date Opened:
A: April 3, 2004