Chase Field Seating Charts
Chase Field - Baseball Seating Map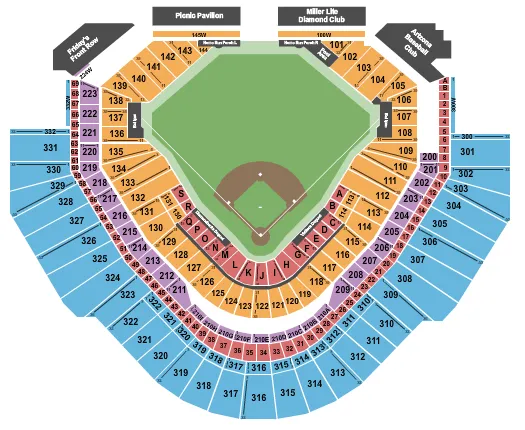 See Chase Field - Baseball events that use this seating chart configuration
Chase Field - Billy Joel Seating Map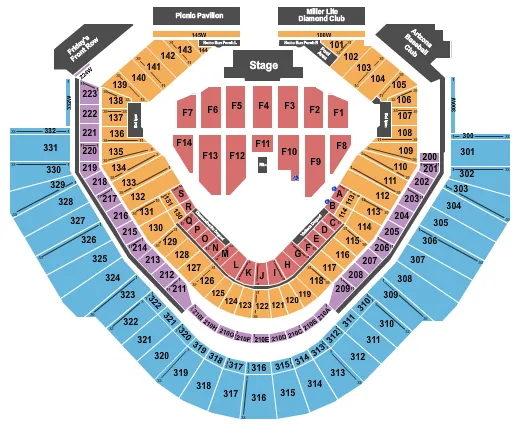 See Chase Field - Billy Joel events that use this seating chart configuration
Chase Field - Guaranteed Rate Bowl Seating Map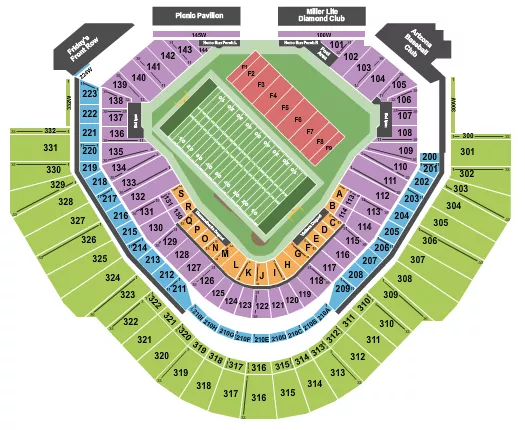 See Chase Field - Guaranteed Rate Bowl events that use this seating chart configuration
Chase Field - Guns N Roses Seating Map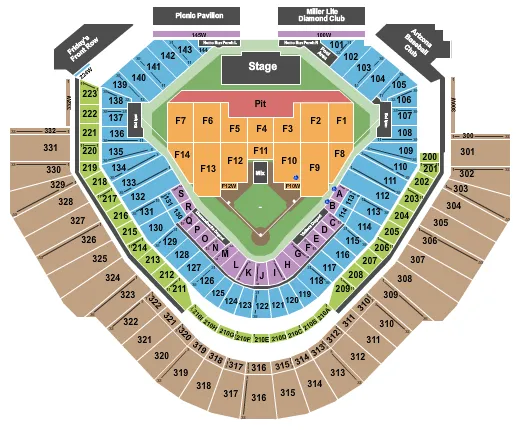 See Chase Field - Guns N Roses events that use this seating chart configuration
Chase Field - Pink Seating Map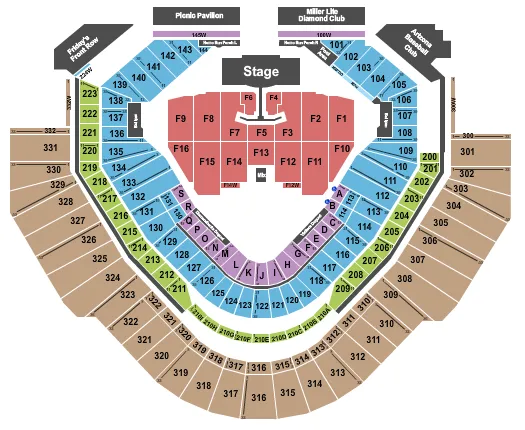 See Chase Field - Pink events that use this seating chart configuration
Learn more about Chase Field
Chase Field, home of the MLB's
Arizona Diamondbacks
, is all about exceeding expectations. Before the stadium was built in 1998, many
Arizona
locals didn't think their city would ever be able to host an
MLB
team. It was just too hot—temperatures during the regular season averaged around 99 degrees Fahrenheit and could climb much higher during the peak of summer. To compensate, Chase Field was equipped with a massive cooling system and retractable roof.
The ballpark hosts many other events including rodeos, college basketball and football, monster truck rallies, international soccer games and motocross races. A dozen or so concerts have taken place at the venue, including performances by
Kenny Chesney
, Joan Jett and Black Sabbath.
The ballpark is completely accessible and can welcome nearly 49,000 fans for Diamondbacks games. Concession stands offering a range of options are scattered throughout the stadium, and they won't break the bank—Chase Field has recorded the lowest Fan Cost Index in the MLB multiple times. Fans can also bring in their own food, as long as it's stored in a small, transparent plastic bag. Sealed water bottles, juice boxes and baby formula are also allowed. Items like hard-sided containers, outside alcohol, masks, professional camera equipment, umbrellas and noisemakers are prohibited.
The park is right in downtown
Phoenix
, so there's plenty to do nearby. Family-friendly attractions like the Arizona Science Center and the Children's Museum of Phoenix are a quick walk away, and there are dozens of hotels close by as well. Drivers will find several parking lots and garages in the vicinity, while commuters can access the park via the Washington and 3rd Street stations on the METRO rail network.
View Chase Field seating charts for live games! If you're planning to visit Chase Field in Phoenix, you'll want to make sure you have great seats. Get acquainted with Chase Field by using our seating chart below. This seating map features a complete layout of Chase Field seats and the locations of different ticket tiers. Simply click on a section to browse tickets and you'll be on your way to an unforgettable event experience!
FAQs about Chase Field
What time do doors open at Chase Field?
Doors typically open anywhere between 90 minutes to 2 hours prior to showtime at Chase Field. Be sure to check the listing on your ticket as showtimes will vary.
Who plays at Chase Field?
The Arizona Diamondbacks are the home team at the Chase Field.
Chase Field Seat Numbers, Sections and Seating Chart
When looking at seating charts for sports events, seats are arranged so that the lower numbered seats within a section are located closer to the preceding section. For example; if a venue shows three sections (A, B, and C), seat #1 in section B will be located next to section A. As the seat numbers progress within section B, they move closer to section C. Chase Field, a venue designed to host sports games, may be set up in a similar fashion. While concerts and other events held at Chase Field may not follow this layout, most sports events happening at Chase Field will follow this configuration. Concert seating is typically laid out so that the higher the seat number, the further you are from the stage/performance area. If you're seeing a concert at Chase Field, it's likely that the seats closest to the stage will have low seat numbers and low section numbers.
Chase Field Reviews, Interactive Seating Charts and Seat Views
Finding Chase Field seating charts with seat views or 3D views from your seat has proven to be a difficult task – until now. Event Tickets Center provides fans with unbiased Chase Field reviews on our venue guides, including information on Chase Field seat numbers, row numbers, and tips on how to find great seats!
Are VIP Packages or Accessible Seating offered at Chase Field?
Chase Field VIP seating packages and accessible seating section locations may vary per event. Please click the seating chart below or contact our customer service department to discuss options for accessible seating or VIP package purchases.
Where is the Arizona Diamondbacks Sideline at Chase Field?
The Arizona Diamondbacks home bench is located in front of Section N, Section O, Section P, and Section Q and the away team bench is in front of Section C, Section D, Section E, and Section F.
Facts about Chase Field
Capacity:
48,519
Date Opened:
March 31, 1998
Event Dates and Pricing Information
| Performer | Date | Price | Tickets Available |
| --- | --- | --- | --- |
| Arizona Diamondbacks | Sep 29, 2023 | From $29 | 3,881 |
| Arizona Diamondbacks | Sep 30, 2023 | From $28 | 5,168 |
| Arizona Diamondbacks | Oct 1, 2023 | From $28 | 6,681 |
| Arizona Diamondbacks | Oct 3, 2023 | From $144 | 42 |
| Arizona Diamondbacks | Oct 4, 2023 | From $118 | 61 |
| Arizona Diamondbacks | Oct 5, 2023 | From $118 | 63 |
| Pink | Oct 9, 2023 | From $65 | 2,371 |
| Guns N' Roses | Oct 11, 2023 | From $63 | 4,321 |
| Enigma Norteno | Oct 21, 2023 | From $41 | 26 |
| Billy Joel | Dec 8, 2023 | From $163 | 2,225 |